New Wall Mounted Fireplace Suites from Flamerite - Exo 1500 & Iona 1500 Electric Fireplaces
The Glazer 1500 has been a huge favourite in the Flamerite range of designer electric fires for some time. A versatile electric fire with a striking, panoramic flame extending to a whopping 1500mm (59") in width which can be fitted into a custom enclosure to create a 1, 2 or 3-sided feature fire.
Flamerite have now introduced two dedicated suites which are designed to complement the Glazer 1500 and allow you to simply hang the complete surround and fire on to a flat wall without any need to recess. The Exo 1500 and Iona 1500 are simple designs and do not distract from the incredible flame visuals provided by the panoramic electric fire.
You have the option of choosing from two flame effect options on the Exo & Iona 1500 electric fireplaces. Flamerite's original 'Radia' flame effect produces a wonderful, warm and realistic flame designed to recreate the charm and character of a real fire. Tones or yellow, orange and red illuminate a dancing flame ribbon which provides a wonderful, ambient feature to enjoy with or without heat.
The Exo 1500 and Iona 1500 are also now available with Flamerite's latest, cutting-edge flame 'Nitra'. Nitra-Flame is a vibrant, colourful flame and fuel effect with a deep high definition reflection. With this flame option, you can scroll through a choice of colours using your phone/tablet or the remote control and select your desired colour for the flames and fuel bed to suit your mood!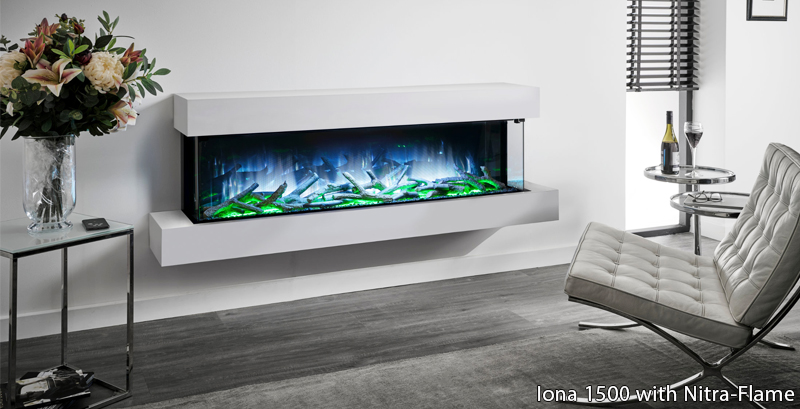 The modern hearth plinth and top shelf on both the Flamerite Iona 1500 and Exo 1500 suites are manufactured in timber and offered in a choice of Arctic White, Ivory Cream or Pastel Grey painted finish. The difference in the two models is the addition of a graphite detail on the top of the hearth and underside of the mantel shelf on the Exo model. Both models have been designed to frame the Glazer 1500 fire and hang on the wall using the brackets supplied as standard.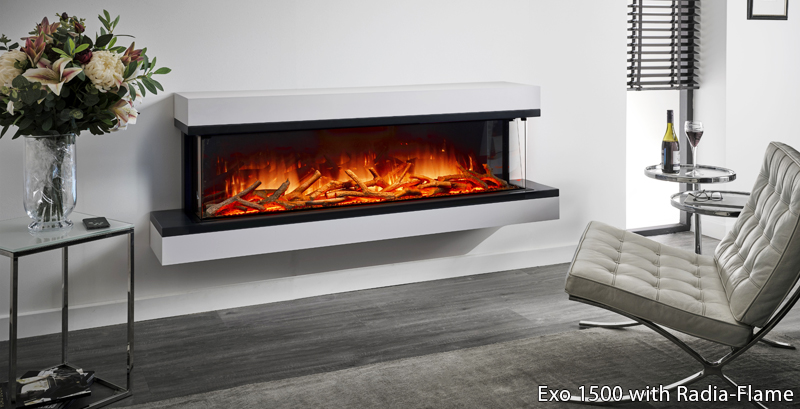 Cinderwood fuel effect set behind Flamerite's exclusive OmniGlide 2 position front glass. Operation of the fire can be carried out on the manual keypad on the fire or additional features are available when downloading the free Smart eControl app where you can use your phone or tablet to adjust fire settings. On the Nitra model, the fire is also supplied with a dedicated remote control.
As with all the award-winning electric fires and fireplaces in the Flamerite range, the Exo 1500 and Iona 1500 are made in Great Britain to the highest UK and European Standards (BS-EN).