Enjoy more outdoor living
In 2018, Chesney's introduced an exciting new range of outdoor living appliances which our customers in the North West loved. Now, this new range has been further enhanced and improved and, a keener price range, makes the collection even more affordable. So, what can Greater Manchester homes, gardens and patios expect in 2019?
The ultimate barbecue and outdoor heater experience
Three models offer the same unique functionality, namely, an easy to use and versatile cooking experience combined with a beautiful and effective way to stay warm outside when the temperature drops. The Heat Garden Gourmet, the Heat Garden Party and the Heat Terrace are both heater and barbecue which makes them the ideal accessory for British summer time.

Cooking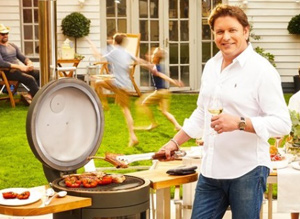 Other benefits on these models include a flue which means your neighbours won't complain about smoke as it is expelled cleanly and safely, ultra-fast start up which means you can start cooking in 15 minutes and variable height positions for comfortable cooking. And, when it comes to cooking, there is nothing you can't make on these versatile machines – grilling, smoking, roasting, baking and even pizza baking means you can really impress your guests. Better still, you won't have to spend ages cleaning – the appliances even self-clean.
Heating
Whether you are cooking or not, these clever appliances also double up as outdoor wood burning stoves. Thanks to their clean burn technology unlike gas patio heaters they are carbon neutral and don't release significant C02 into the atmosphere. The large glass windows offer a lovely view of the fire making them the perfect focal point to gather around on a cool spring/summer evening – and thanks to Chesney's technology, you and your guests won't smell like a 'bonfire' after going back indoors.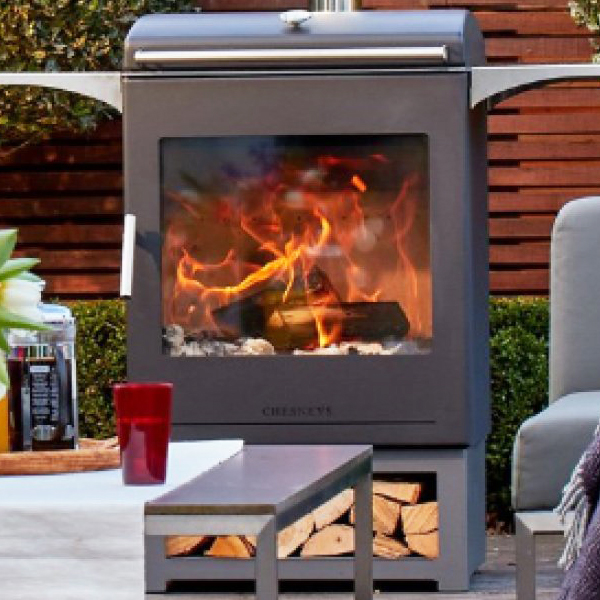 Each appliance shares the same incredible features but offer slightly different benefits and looks. The Heat Terrace for example, boasts a cylindrical body with two handy serving shelves on either side of the barbecue area. There is a compact log store on the bottom to keep logs tucked neatly away but close by so you can replenish the fire quickly.
The Heat Garden Party is the largest of the collection and is the perfect heater barbecue for those who love to entertain in a big outdoor space. These is the ideal choice for the barbecue 'show offs' as the large grill can cater for up to 15 people. It even comes with a digital thermometer for precise cooking and has space for Wok cooking. Delivering 700 degrees of radiant heat this will be the focal point of your garden from Easter onwards.
Finally, the Heat Garden Gourmet offers a square, chunky design with useful serving shelves and a log store tucked underneath the stove. This good-looking barbecue come heater is made from steel and cast iron which will ensure that whatever the weather, this year, you will be spending more time outdoors than in.
For those people who are looking for something more affordable the Heat & Grill Outdoor Barbecue Heater may be just the thing. This model offers many of the same great features of its larger sister models – good looks and the latest technology and is perfect for smaller parties of up to eight people. It offers six cooking methods which are ready to use in around 20 minutes.
And for those people who prefer to cook inside and eat outside, Chesney's have developed the Heat Clean Burn Outdoor Woodburning Stove which, as the name suggests, offer the latest in eco-friendly burning. The stove emits very little smoke as all emissions go up the flue meaning you don't need to be concerned if the wind changes direction.
Like all Chesney's products, these are built to last. Materials include cast iron components produced to the highest technical specifications and the toughest ceramic glass and internal panels mean Chesney's offer a five-year guarantee on the main body of the appliance.
Thanks to Chesney's, homeowners can spend more time outdoors this spring/summer.