The Elgin & Hall Arteon - An amazing new electric wall fire for 2021

We're excited to announce the brand new 'Arteon' landscape electric fires range from Elgin & Hall. The fires will be available from early January 2021 and will be available in a choice of 3 sizes; 1000, 1250 & 1500 which relates to the front glass width in millimetres.
All 3 models have a 1.5kW heater and are supplied complete with 2 x side blanking plates so that the fire can be installed as either a 3 sided, 2 sided or single sided fire, plus ALL fuel bed options including logs, crystals, pebbles, slate & bark are also included. A full thermostatic remote control operates the fire which also controls the base LEDs, flame effect and LED downlights.
There is also an optional LED 'Mood Light' strip which consists of a 1m lead cable plus a 3m LED light strip (this will be available as a standard additional light feature on the forthcoming 'Evento' Suite to go with the Arteon fires). With the LED 'Mood Light' connected to the fire, it is then controlled from the same remote control handset.
The Arteon fires range will exclusively offer up to 3 years warranty which will be 1 year plus an additional 2 years following online registration.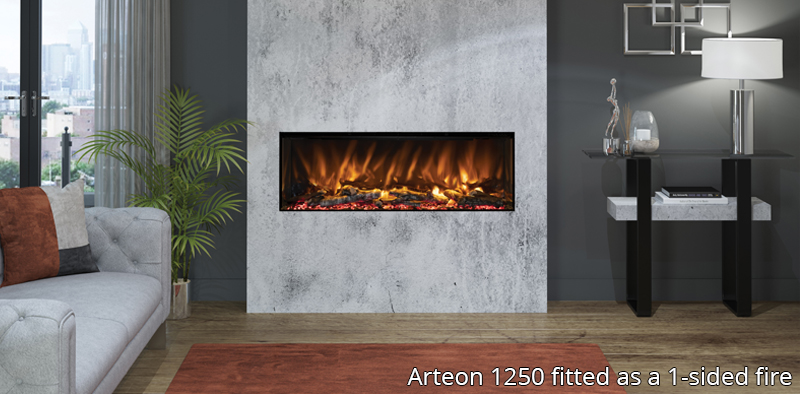 Designed to allow for a one, two or three sided installation, the Arteon 3 sided inset hole in the wall electric fire is an innovation in versatility. Available in 3 convenient sizes 1000mm, 1250mm & 1500mm, there is the perfect size to suit your home. The panoramic design creates a remarkable visual impact with 5D flame effect, glowing ember effect and new realistic, hand painted log display.
The shimmering fuel bed with multi-LED effect has 13 dimmable colour options and rotation setting whilst down lights illuminate the loose logs to offer the ultimate performance and captivate the room. Design your perfect fuel bed effect with the inclusive pebbles, bark, slate & crystals; the finished look will be bespoke to you.
Create your perfect mood with the optional LED mood lighting kit that simply works off the same remote control where you have on offer all the colours and settings as the fuel bed.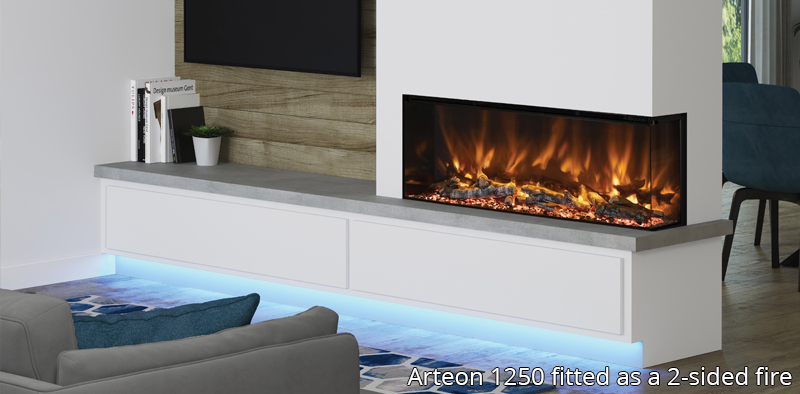 3 INSTALLATION OPTIONS WITHIN ONE PACKAGE: BESPOKE YOUR PERFECT CENTERPIECE
♦ 5D flame effect with three flame colour settings + 5 brightness options ♦
♦ A multi – LED effect fuel bed with 13 colour options and rotation setting + 5 brightness options ♦
♦ Glowing ember effect on fuel bed ♦
♦ Complete with 4 Fuel bed dressing options: Crystals, Pebbles, Slate & Bark ♦
♦ New design, realistic hand painted, loose log display ♦
♦ Down lights illuminate the loose logs ♦
♦ 1 Sided, 2 Sided or 3 Sided Installation ♦
♦ 7 Day Programmable Thermostatic remote control ♦
♦ Optional mood LED down lights available paired with fuel bed to match colours ♦
♦ Panoramic glass screen for optimum flame performance ♦
♦ Discreet 1.5kW heater system ♦
♦ Eco Design Compliant ♦
♦ Create your perfect bespoke centerpiece ♦
♦ 3 Years warranty with registration ♦