Electric Fires UK | Wall Mounted Electric Fires| Inset Electric Fires | Electric Fireplaces | Electric Stoves
If you're searching for an electric fire, we're sure you've been pleasantly surprised by the exciting range of models available. No longer are you limited to light bulbs underneath an orange plastic cover with fake coals! Modern electric fires are available in a huge selection so whether your tastes are classical or contemporary, there will be an electric fire that will suit your needs.
Electric fires also moved on massively with regards to running costs too with most of the models offered boasting low energy LED illumination. With the upcoming EcoDesign directive, the latest electric fires also incorporate the most up to date technology to give you the most convincing real fire effect available and include added features such as Thermostatic Heating, Daily Timer Function and allow you to enjoy the Flames independently from the heater.
This guide aims to show you the broad range of products currently offered by Flames.co.uk as well as picking out some of our favourite models which combine stunning styling with quality. We are here to help so if you have any questions about electric fires, please don't hesitate to call us on 0161 654 1610 or email us at sales@flames.co.uk where one of our friendly, impartial sales team will be delighted to help.
Wall Mounted Electric Fires (Hang on the wall)
Probably the most popular option for homeowners who favour the contemporary style, wall-mounted electric fires can be simply hung on to any flat wall in your home (except bathrooms) with no flue, chimney or recess needed. Supplied with a bracket which allows the fire to be hung on to the wall and an electric cable which is usually around 1.5 metres in length, you can just plug them in for instant ambience and heat. For a neater installation, the cable can be chased into the wall and connected to a fused spur if preferred. Most wall mounted electric fires distribute the heat from the bottom of the appliance allowing you to install a TV above the fire if you wish but on a small number of wall mounted electric fires, the heat will come from the top and this is not recommended for installations below a TV.

All modern models feature a flame effect only setting so you can use them just for the effect without any heat. This allows you to enjoy the lovely, realistic flames all year round. When heat is needed, the convected fan heaters provide a quick solution for giving the room a boost of heat. With most fires now using LED bulbs for the flame effect, the running costs are extremely low on flame only setting compared to standard bulbs (approximately costing less than £4 per year assuming 5hours/7 days per week usage). The heater will cost considerably more to run but most homeowners tend to only use the heater for short bursts during the warmer months and rely on their main source of heating in the colder periods.
An attractive feature offered on a number of 'hang-on-the-wall' electric fires is rear ambient lighting. When the fire if fitted on the wall, lights at the back of the appliance shine light against the wall to produce a lovely halo effect around the fire. This is often colour changeable allowing you to select, yellow, blue, red colours which really make the sire stand out in the room.

If you are looking for more than a simple fascia hanging on the wall, there are a selection of fires that can be mounted on a flat wall which include more of a surround around the fire screen which give the illusion of a floating fireplace on the wall. Referred to as 'wall mounted suites' they often combine surrounds in neutral stone effect colours with many incorporating additional feature lighting in the top shelf or plinths for added ambience.
More recently, a stunning range of 3-sided electric fires have been introduced. Again, these are designed to be fitted flush against a flat wall with the idea that you either build around them for a custom installation where you can incorporate a recess for a TV above or build alcoves within the stud wall to accommodate ornaments, books or create a handy storage solution for TV media boxes etc or they can be supplied with their own dedicated plinths and top sections. With a glass panel at the from and on both sides, you benefit from a unobstructed view of the flames no matter where you are in the room.

As well as being a perfect addition to your main living area, if you have any rooms in your home that would benefit from a focal point that will add a lovely centerpiece and provide ambience and heat when needed, a wall mounted electric fire is ideal and priced from only £184 including VAT & Mainland UK delivery, there's a model available for those on a more modest budget.

Wall Mounted Electric Fires (Inset)
Fires that are designed to be fitted raised up and recessed into the wall offer a stylish, space-saving solution whilst creating a contemporary focal point. Whilst a small number of electric fires are that shallow that they can be inset into a standard cavity wall, most will normally require a stud wall building into the room to accommodate the appliance depth. Building a stud wall is a great way to add extra character to a plain, rectangular room. You can paint it a different colour to the rest of the decor, create a recess for a TV above and conceal cables within the structure. Alternatively, if your home has a brick chimney breast, there are certain wall-mounted, inset electric fires that you can recess into it but some models such as the Gazco Radiance range are not suitable for this as any moisture/damp within the chimney can cause issues with the fire.

Inset wall electric fires are available in a large choice of sizes with some up to 2 metres in length! There is usually a minimum height from the floor that the fires should be fitted (refer to manufacturers instructions) but an average height is around 400mm from the floor to the bottom of the fire. Some models are designed to be plastered in up to the edge of the fire for a sleek, minimalist feature where the flames become the major feature. Others are offered with a trim or fascia frame around the fire. No hearth or plinth will be needed on this type of fire.


Electric Fireplace Suites
Free-standing suites that are designed to be fitted flush against a flat wall which include a dedicated electric fire as the centerpiece. Often more cost-effective than purchasing a separate fireplace surround, back panel, hearth and fire, most electric fireplace suites are a 'one box solution' to easily enhance almost any room in you home and can be fitted by anyone with basic DIY skills saving you money on professional installation. Most of this type of fireplace are made from lighter materials such as MDF with wood veneer, painted or stone effect finishes. Easily maneuverable, you can place them against a flat wall and plug in for instant ambience! Skirting board will need to be cut to allow the suite to fit against the wall and it is advising to fix the fireplace to the wall to avoid it moving.

Some of the modern electric fireplace suites incorporate lights within the surround which enhance the flames on the fire and create a gorgeous effect when your main room lighting is low. Some boast fires much larger than the standard 16" size for maximum impact with coals, pebbles and logs being popular fuel effects available. A massive choice of styles is available from oak style surrounds with cast iron effect inserts and granite style hearths to ultra-modern designs in bright white with landscape feature fires and LED downlights within the surround.
Manufacturers such as Elgin & Hall have introduced a range of complete electric fireplaces made from marble. These looks superb and will add a luxurious feature in your home but due to the weight of marble, they are supplied in sections (usually main body, hearth, back panel, mantel shelf and hearth) will need to be put together and properly fixed to the wall as well as the hearth being supported underneath so we would recommend using the services of someone who is familiar with fireplace installations.


Electric Stoves
The look of a stove either sat free-standing on a hearth or recessed into a fireplace chamber is a fashionable trend in interior design. However, woodburners may not suit everyone as they require a Class 1 chimney, a place to store fuel and regular maintenance. Electric stoves offer the looks but with very little installation as they can be just plugged in to a standard socket to provide a charming feature in any room.
Flames offer an extensive range of electric stoves. Starting from lightweight models from leading brands such as Dimplex that can be moved around your home to anywhere which needs extra heat and ambience. Made from MDF and painted in a classic black finish to mimic a cast iron stove, you can press a button on the fire to instantly display the warming flame effect and when chilly, the heater on electric stoves is normally located at the bottom of the appliance and is capable of producing up to 2kW of heat. Optional accessories include 'dummy' flue pipe to add to the realism and many of the models are offered with remote control.

Due to the popularity of electric stoves over recent years, several wood burning stove manufacturers now offer a range of their designs as electric. Utilising the same cast iron or steel casings, the inside of the stove now accommodates an electric fire engine making it ideal for those without the required flue for a woodburner or simply for those who prefer the convenience of electric and wish to enjoy a cosy flame without the need to produce any heat.
Each manufacturer has their own flame effect styles. From Dimplex's original and the world's most popular flame effect Optiflame®. A convincing illusion of dancing flame that will enhance your home throughout the year. The amazing Opti-Myst® is an incredibly realistic, three-dimensional flame and smoke effect that is difficult to distinguish from the real thing. Ultra-fine water mist combined with light produces a spectacular fire effect. Gazco's Veriflame™ technology featuring in their beautiful range of steel and cast iron electric stoves provides a versatile and an eye-catching focal point for any home.


Inset Electric Fires

This type of electric fire has been around for many years and are designed to be inset into a standard 16" fireplace back panel. If you're looking for a fireplace comprising of surround, back panel and hearth, chances are the cut-out in the back panel will be the universal 16" x 22" which means it will accommodate all 'standard' inset gas fires and electric fires.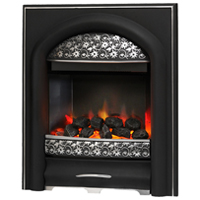 Pureglow Juliet Illusion Inset Electric Fire
The broad range of designs of inset electric fire include traditional brass models right up to the latest models in brushed stainless steel and black nickel finishes. With most of these fires having a engine depth of 75mm or less, they can be fitted on to a flat wall when combined with a fireplace surround with adequate rebate. A fireplace rebate is the distance from the face of the back panel to the wall behind. If you've not already purchased a fireplace and do plan on getting an inset electric fire for a property with no recess space available, make sure you choose a surround that has a 3" rebate to allow the space behind the back panel to take the fire when inset. If you don't have a fireplace with adequate space to fit the back of the fire into, many models are available with optional spacer frames which fits around the fire bringing it forward on to the hearth so they can be fitted free-standing, flush with the back panel.
Everyone loves having a mantelpiece in their home and in more recent times with modern homes being so well insulated, having double glazed windows and usually having an efficient central heating system, fitting a new electric fire into a fireplace or replacing an old, inefficient gas fire with a new electric model gives you the benefit of being able to use the fire for effect only providing a lovely ambient feature without the heater being used. The heaters on electric fires will help provide a boost of heat to a chilly room but its unlikely you'll rely on it as your main source of heating.
Choosing your ideal electric fire is very easy. Our vast range include both classical and contemporary models with numerous flame effects and control types. If you are considering purchasing a new fireplace and want to double check that the fire you like will be compatible, please don't hesitate to call us for help and advice during office hours.

Custom Electric Fires

Prefer something unique? How about opting for a custom electric fire that you can build into a bespoke setting in your home? Several manufacturers offer a choice of fires without a frame or surround that can be used as a main component of a custom centerpiece such as Dimplex's Opti-Myst cassettes or Flamerite's Glazer. The possibilites are endless with these types of fireplaces - tile a feature wall and have the fire set at the heart of the design or build a stud-wall as a room divider with an electric fire giving the impression of a floating feature in the middle.
With these types of designs, we recommend visiting our fireplace showroom in Manchester where our expert, knowledgeable team have created numerous custom feature designs for both domestic and commercial settings.