Dik Geurts - A stunning range of designer wood burning stoves
NEW COLLECTION – CONTEMPORARY STOVES
Flames is very excited to announce a fabulous new range of fires to add to our extensive collection.
Established in the Netherlands, Dik Geurts is a specialist in balanced flue gas fires and wall heaters – in fact, it is the largest producer in Europe. It also boasts a stunning range of wood and multi fuel stoves.
It's team of in house designers react to consumer demand and trends and the result is a stunning product line which reflects all that we love about Scandi design. And now these contemporary fires are available from Flames – Manchester's leading fire retailer.
We offer a number of Dik Geurts wood burning stoves for you to consider.
The Ivar wood burning stove comes in two different sizes. The Ivar 5 is available as a low leg (perfect to fit into the fireplace recess) a high leg and a log store model. It's a stove that is really easy to use and it offers high efficiency, low emissions and a contemporary design. It's ideal for a standard sized room.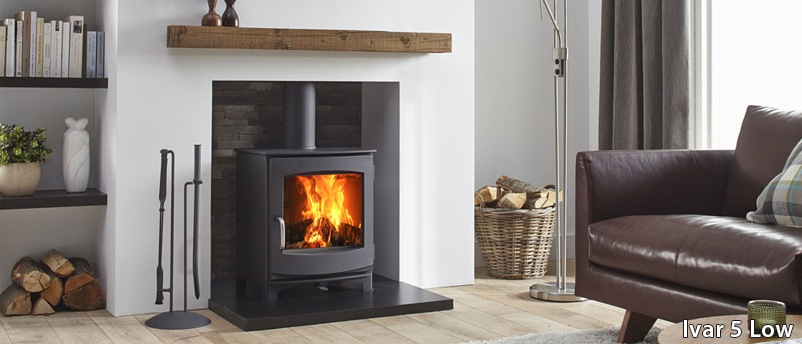 For larger, or open plan spaces, upgrade to the Ivar 8 which boast a heat output of 10kW and because both models have low emissions they can be used with confidence in smokeless zones.
The Die Geurts Jannik is also available in two sizes. This offers Scandi design at its best and uses a square model featuring a large window. We love the unique door mechanism – a ball shape which perfectly complements the distinctive design. The Medium Low stove is perfect for smaller spaces while the large wood burning stove works in standard spaces and has a heat output of up to 8kW.
The Dik Geurts Aste 5 low wood burning stove offers a classic design with contemporary touches such as the large glass window and splayed legs.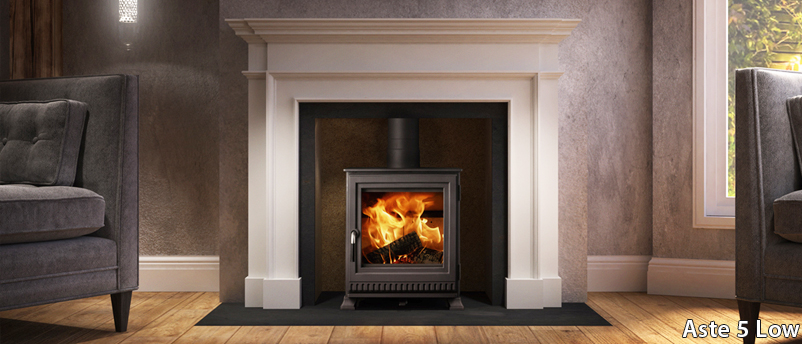 If you are looking to impress then the Dik Geurts Vidar Triple wood burning stove could be for you. This offer three sides from which to enjoy the fire and belts out an impressive 10kW of heat – making it ideal for larger rooms. With its compact log store underneath it's a true focus point and you can have it as either a suspended or built in model.
The stove on its own is also available as a wall mounted fire, the Dik Geurts Vidar Wall wood burning stove. This good looking fire boats the same three sided viewing and will be a talking point in any room of the house.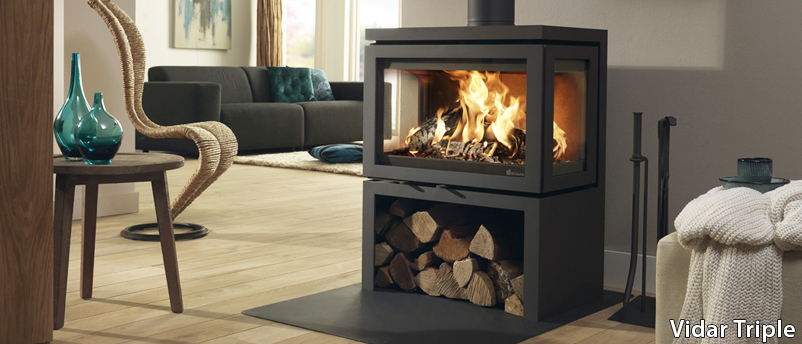 Finally, the Dik Geurts Keld 5 wood burning stove is made from a heavy gauge steel door and offers gently curved corners. It's a free-standing stove but it can also be installed into an inglenook chimney and it's perfect for a standard sized room.
Developed in a part of Europe that is proud of its green credentials, it should come as no surprise that the Dik Geurts stoves are designed to wood is burned as efficiently and cleanly as possible with most boasting an A+ energy efficiency standard.
If you are looking for an efficient wood burning stove with good looks and the latest design – browse the Dik Geurt collection at flames.co.uk