Choosing the right Gas Fire
A gas fire provides a convenient way to heat the room you spend the majority of your time in as well as creating a wonderful, cosy atmosphere. Easy to operate with many models now offered with slide controls or remote controls meaning you don't even have to leave your chair to enjoy the warmth and ambience. Most new models are highly efficient too with manufacturers following government policies to reduce climate change so most of the old gas fire models that look great but lose most of the heat produced up the chimney now being discontinued.
Whether your taste leans to the classical or ultra-modern, there are a vast array of gas fire styles now available and even if you live in a newly built property without a chimney or flue, there will be a gas fire suitable for your needs and here at Flames.co.uk, we've fitted them all so we're confident we can offer practical advice to make sure you get the right gas fire for the job that will provide many years of dependable service to your home!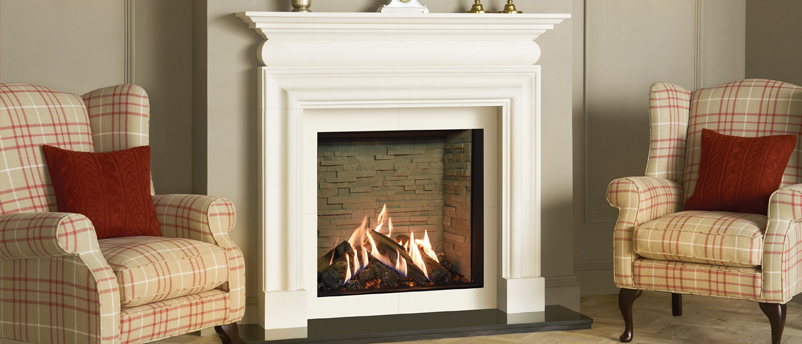 We would always recommend having a home survey prior to purchasing a new gas fire. This will confirm what type of flue you have, check its condition to make sure it is suitable for a new gas appliance and to offer advice on the best type of fire for your needs. Whether you are simply replacing an old, inefficient model or looking for a total change in style and opting for a complete new fireplace, we can provide a free home survey and professional installation conforming to Gas Safe regulations throughout Greater Manchester.
Class 1 flue
If you have one - Great! This means the your options are endless as most fires will fit into this. A Class 1 flue is normally a masonry chimney found in properties built before the 1970's. This is either built out into the room or on the outside wall and allows for deeper, more powerful gas fires to be fitted. Standard checks when installing a new gas fire into a conventional chimney include a smoke test to make sure there are no leaks, a chimney sweep is also recommended as there could be obstructions such as birds nests, lose masonry or if the chimney has been used to burn solid fuel in the past, this would mean there would be a build-up of soot. Certain gas fires do require the chimney to be lined as they burn extremely efficiently and therefore a cold, damp masonry chimney won't reach the required temperature to create a sufficient 'draw' to expel the fumes produced by the fire.
Class 2 flue
Found in modern properties, Class 2 flues are either Pre-Fabricated with a 5" pipe exiting the roof or a raised ridge tile incorporating a flue terminal. The main restriction with this type of flue is the depth restriction. Some deeper gas fires won't have the sufficient space for the fire to be recessed into but many gas fire manufacturers are aware that most new build homes aren't being constructed with a conventional chimney so there is still a large number of fires available for Class 2 flues.
No chimney or flue
Don't despair, even if your house doesn't have a chimney or flue, there are still options available to enjoy a new gas fire. Balanced Flue gas fires are designed to be fitted on to an external wall. All balanced flue fires are glass-fronted and rather than the fumes being vented up a flue, they have a co-axial pipe attached to them that vents the fumes and allows air to be drawn in to the fire which normally goes horizontally from the back of the fire to the outside. A major benefit of this type of appliance is that they are 'room sealed' and usually more efficient compared to a standard flued gas fire.
If there isn't an outside wall available, flueless gas fires incorporate a catalytic converter. This is a honeycomb which is coated with rare metals. Oxygen 'sticks' to the coating. If a carbon monoxide molecule meets it, the oxygen converts the carbon monoxide to carbon dioxide. Stipulations for flueless gas fires include a minimum room size (30m3 on average) and an air vent being fitted in the same room as the fire.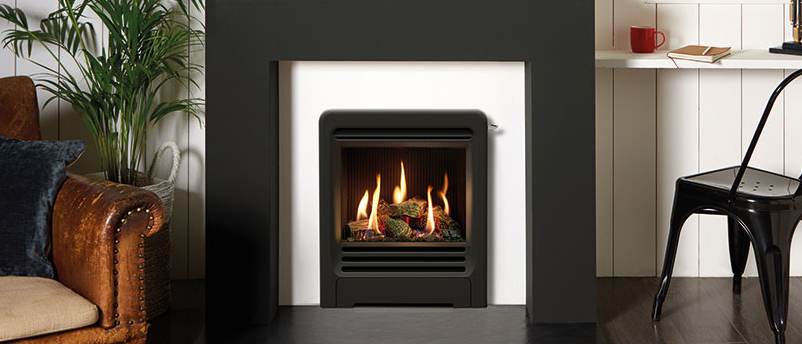 Gas Fires combined within fireplaces
Probably the most common of all gas fires, inset gas fires that are designed to be fitted into a hearth mounted fireplace are usually a standard size designed to be recess into a universal sized back panel cut out of approximately 420mm wide x 560mm high. Models of this type of fire are available for all flue types (Class 1, Class 2, Balanced Flue) and in a variety of styles. Traditionally referred to as 'living flame gas fires' we are finding most customers no choosing glass-fronted models as these boast improved efficiency compared to an open-fronted version with the fumes lingering around the fuel bed longer and therefore providing more heat for less gas used. Another benefit of a glass-fronted model is that you won't lose any heat from the room up the flue or get draughts coming down the flue into the room with a glass-fronted fire.
More recently, there has been an increase in the popularity of larger fires being fitted into fireplaces. This makes the fire a major focal point and in many cases the majority of the back panel area of a fireplace is taken up by a widescreen, glass-fronted gas fire which looks superb! This style is mainly only suitable for Class 1 conventional chimneys however, Elgin & Hall produce a range of complete fireplace suites with oversized gas fires which have been cleverly designed and taper at the back making them compatible with Class 2 Pre-Fabricated or Pre-Cast flues. Models include the stylish Cassius 950. There are also a small number of similar suites designed for installation on to a flat, external wall in homes with no flue.
Hole-in-the-Wall gas fires
Contemporary in style, wall-mounted gas fires that recess into the wall provide a great way to save valuable floor space as when fitted to a certain height from the floor, a hearth is not required. A huge range of designs of this type of fire including frameless options which when plastered into the wall let the flames become the major feature. Alternatively, a simple frame around the fire in steel, stone, marble etc will help to protect the area around the fire limiting any hairline cracking of the plaster which may occur over time due to the heat produced. One of our favourite ranges of landscape hole-in-the-wall gas fires is the Gazco Studio range Whilst again, due to their depth, many hole-in-the-wall gas fires require a deeper Class 1 flue, there are now models offered with reduced depth which can be fitted into shallower Class 2 flues.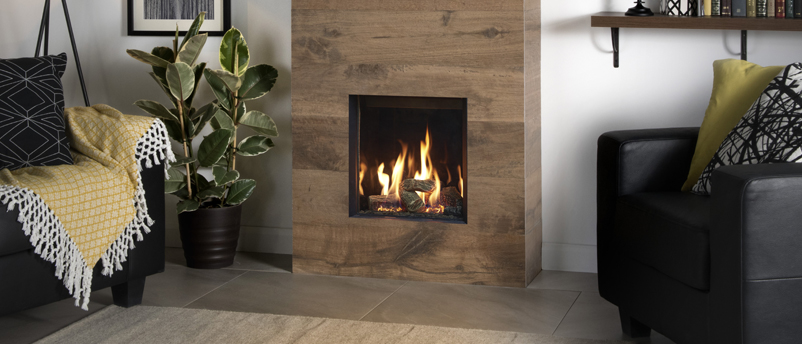 Gas Stoves
Following on from the huge popularity of wood burning stoves, gas stoves will appeal to those looking to create the 'look' of a wood burner but who prefer the convenience of instant on/off and flame adjustment that gas provides. Available as a traditional style with coal or log effect fuel beds that can be fitted in exactly the same style as a real stove with character beam above or into an inglenook chamber. Contemporary gas stoves include freestanding cylindrical models which are a great way to add heat and style into many rooms with models featuring sleek, black glass doors and glass windows at the side giving a 180° view of the mesmerising flames.
Most gas stoves are designed to be fitted on to a 125mm (5") flue making them compatible with Class 1 conventional flues and Class 2 Prefabricated flues or there are balanced flue models also offered for no chimney homes.
Larger custom sized gas fires
Also increasing in popularity over recent years, larger gas fires from European manufacturers will make a huge impact whist boasting incredible heat output. Stunning designs include panoramic strips of flames up to 2.4 metres in width, 3 sided glass gas fires or double sided and room divider gas fires allowing to living spaces to enjoy the stunning flame visuals. Fires of this type are often too large to fit into a standard chimney or flue and are balanced flue only meaning you have to build around them with a custom wall whilst the fumes are expelled from a dedicated balanced flue pipe either horizontally or vertically.
Fires of this type are high-end and require more detailed installation.