Celsi Ultiflame VR - Amazing New Electric Fires That Will Stimulate Your Senses!
Electric fires were once favoured with home-owners who couldn't have a gas fire or real open fire due to chimney/flue constraints. However, with most houses now boasting excellent insulation, double-glazed windows and consumers fast paced lifestyles, electric fires have become hugely popular. The benefit of being able to enjoy a ambient glow even when the heater is not in use and highly efficiency convected heat whenever needed that will quickly take the chill off a room has resulted in this versatile fuel being the desired choice for many!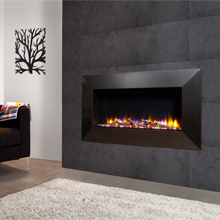 A popular model in the Ultiflame range - Celsi Instinct Wall-Mounted Inset Electric Fire
With this in mind, electric fire manufacturers have brought out some fantastic new designs with authentic flame effects and innovative features that result in the fire becoming the main feature of any room. Celsi Fires know how important it is to create a stylish and relaxing living environment. That's why they've developed this collection of premium electric fires that feature a brand new, innovative virtual reality 'Ultiflame' effect that captures the charm and ambience of a real fire combined with the convenience of electric.
A hypnotic flame created using state-of-the-art LED technology rises from a glowing crystal bed designed to emulate burning embers. Warm tones of yellow will bring any room to life plus you also have the option of choosing a function which adds a subtle blue tone to the flame effect for added realism. Adding to the appeal of the Ultiflame range is a high definition ceramic log effect fuel bed which provides an attractive feature even when the fire is not in use.
The brand new Ultiflame virtual reality effect is available on many types of fires in the Celsi range. For those looking for a contemporary 'hole-in-the-wall' style which is designed to be fitted inset raised up on the wall, the Celsi Ultiflame Instinct in landscape format or the Impulse which has more square proportions will definitely be worth considering. If you plan to update the fire in an existing fireplace surround or prefer the classic style of a hearth-mounted fireplace, there are many fascia options available on the standard 16" inset electric fire engine using this technology including the popular style of the Ultiflame Camber or Essence which are favourite models that have previously used the original 'Electriflame' effect by Celsi.
In addition to the above, Celsi are now offering a selection of designer electric fireplace suites. These free-standing fireplaces allow you to easily create a feature in almost any room in your home. Just place up against any flat wall and plug-in! A surround, back-panel, hearth and fire in a convenient one box solution!
See the sensational Ultiflame VR electric flame effect in all its glory on the Orbital Illumia suite promotional video below: