Gorgeous New Showroom Display - Gazco Reflex 75T Gas Fire
After looking forward to it for some time, we're delighted to have the truly amazing Gazco Reflex 75T now fitted in our Manchester Fireplace Showroom. If you're looking for the ultimate feature fire for your home, look no further as the Reflex 75T is guaranteed to take centre stage in any room!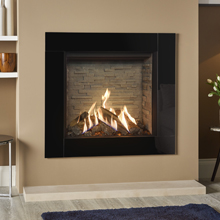 Reflex 75T Icon XS front with ledgestone lining
A new model to Gazco's expansive gas fire collection, the Reflex 75T boasts a breathtaking dancing flame picture created by a highly advanced 'multi-burner' gas fire. It is virtually indistinguishable from a real wood burning fire whilst fully controllable allowing you to set the optimum level for your home. This designer gas fire's captivating visuals can be accentuated further with a broad range of stunning lining and framing options.
The Gazco Reflex 75T Edge can be installed as either a 'hole-in-the-wall' style raised up and without a hearth (subject to minimum height from floor) which is popular if you're looking to reduce protrusion into the room. Alternatively, the Reflex can be fitted into a fireplace surround where it will create a stunning impact as it will take up most of the back panel.
A unique feature of the Reflex 75T is an amazing LED up-lighting system beneath the fuel bed which produces a burning emberglow effect. It gives the extra benefit of all-year enjoyment, as this ambient lighting can be turned on without the gas flames and heat allowing you to enjoy the fire's inviting glow even on a warm summer's evening.
You can tailor the fire to your individual tastes with a choice of four interior linings. These are Black Reeded, Brick-effect, Fluted Vermiculite, Ledgestone effect or, for a dramatic and entrancing backdrop, the new Black Glass lining which give an added dimensions as they reflect the dancing flames giving the impression of a deeper fire bed.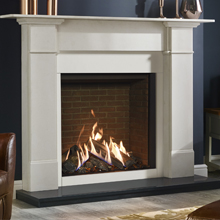 Reflex with brick-effect linings fitted into fireplace surround
If you plan to fit the Reflex into a fireplace, a dedicated slip set is normally all that is needed to allow the fire to fill most of the back panel area. If you prefer the modern 'hole-in-the-wall' style, there is a vast selection of framing options available. The standard Edge model boasts a minimalist look with its frameless design or opting for one of Gazco's distinctive frames give you the ability to extend the styling possibilities. The choice of frames include the gentle curving Reflex 75T Verve XS, sleek glass Icon XS or the popular Evoke in steel or glass.
Designed to be fitted into a standard brick-built chimney, this conventional flue gas fire is suitable for either homes running on Natural Gas or LPG. With three sets of twin burners, the front and rear flames can be independently controlled to achieve the perfect mood.
The latest technology on this designer gas fire extends to the comprehensive remote control system that is supplied as standard boasting comfort and convenience. There is also the ability to choose an optional extra where you can control the fire from your tablet of phone via a comprehensive app. Both control options provide complete control of the powerful 8.6kW heat output as well as the thermostatic temperature control.
Even if your home does not have a chimney suitable for a gas fire. This model is now available as a Balanced Flue which vents the fumes horizontally through a wall or vertically up through a single storey roof. You get to enjoy all the innovative features, incredible flame picture and choice of trims such as the Gazco Reflex 75T Balanced Flue with Evoke Steel fascia frame.
The Gazco Reflex 75T is on live display in our Manchester Fireplace Showroom set inside a custom limestone fireplace. For more information or to arrange a full demonstration of this incredible fire, please contact our showroom on 0161 654 1610.