Best Wood Burning Stoves 2018
BEST WOOD BURNING & MULTI-FUEL STOVES 2018 - OUR PICK FROM THE VAST RANGE OF STOVES AVAILABLE IN THE UK
So, you've decided you want to join the stove revolution and start looking at the huge choice available of wood burning stoves.

Which are the best brands?
What size do I need?
Do I choose a dedicated wood burning stove or opt for a multi-fuel model?
Steel or cast iron?
Modern or traditional?

We know the feeling – it seems like every stove looks great in a showroom with its air-controls cranked up and roaring flames pumping out glorious heat. In places like this it can be really hard to tell which stove is really good and which ones ... well, aren't.

Whether you're on a budget or looking for the best of the best, we've considered quality, controllability, ease of use, efficiency and performance for our recommendations below using extensive research from our showroom stoves (that burn for 8 hours everyday), feedback from customers and installers plus from our sales team who many have had to make the same decision for their own stoves.

Chesneys Salisbury 5 Wood Burning Stove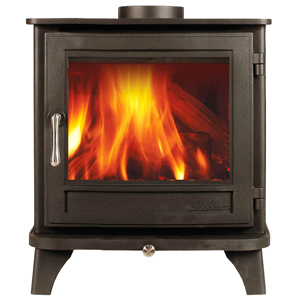 A showroom exclusive stove on live display in our Manchester Fireplace Showroom, the Salisbury 5 Series from Chesney's is a superb stove providing simple to use control from its single air control and instant control of the burn rate. It's timeless design ensures it will blend well into both classical and contemporary settings and being DEFRA exempt, it can be used in smokeless areas to burn wood.

Constructed using a combination of steel for the casing to ensure air-tight operation and a sturdy cast iron door, the Chesneys Salisbury 5 is capable of providing up to 4.9kW of heat making it the perfect size for standard sized rooms. It has a completely flat bed which is the optimum choice for burning wood. Wood gets its air from the top to when burning so it's best to burn on a flat bed rather than on a raised grate as found in multi-fuel stoves. Whilst there's no ashpan in the Salisbury 5, wood burns best on a bed of ash so there's no need to empty the ash after each firing. Once the ash gets to a certain level, simply use a companion set shovel to remove some of the ash ready for the next fire.

So simple to use, you pull the air lever out fully for maximum air when igniting the fire. After a few minutes push the lever in and see the flames instantly change to the perfect level giving the best efficiency. The glass window is kept clean with an active Airwash system. Airwash is a specific design feature that uses a specially placed vent or vents to draw in cool air from the room; the air is then heated and ducted to 'wash' over the inside of the glass. This feature helps to keep the glass clean for longer, allowing you to enjoy the glow and flames to the full.

Flavel Arundel Multi-Fuel Stove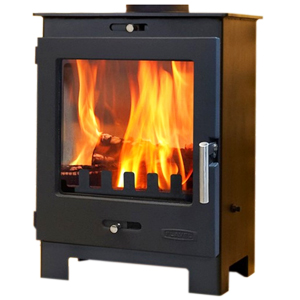 This is our recommended stove when customers are looking for exceptional value for money. The Flavel Arundel is a steel bodied stove capable of burning either wood or approved solid fuels with an external riddling facility. Updated last year with a new, heavy duty cast iron door and more robust top plate, the Arundel boasts all the features you see on high-end models yet is priced below £500.

Simple primary and secondary air controls ensure a perfect burn rate providing efficiency up to 76.3%. With a nominal heat out of 4.9kW, it's another model that is ideally suited to standard sized rooms and in most instances, an air-vent is not normally required. Even if you live in a smoke controlled area, the Arundel can be used to burn wood or smokless fuels as it is DEFRA exempt due to its clean burning.

Supplied with a 5 Year Guarantee, the Flavel Arundel is ideal for both newcomers to wood burning or seasoned stove experts. The stylish design with large glass viewing area giving you a lovely view of the flames is what most stove buyers look for now and this popular model will look stunning in any setting.

ACR Rowandale Multi-Fuel Stove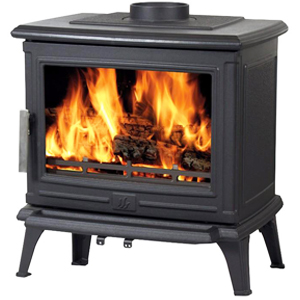 A full cast iron bodied stove providing excellent heat retention after the fire dies down. The Rowandale is a multi-fuel stove from renown British stove designers ACR Heat Products featuring a huge panoramic glass viewing window normally only found on stoves with a much higher heat output. It's ideal for those looking for a large stove to make the most impact but want to keep it below the 5kW threshold to avoid having to fit an air-vent in the room.

Premium quality cast iron with attractive edge detailing make this a classic design that works well in both traditional and contemporary interiors. The cast body has a 10 year warranty and is ideal for those looking for a stove that will be used frequently. The wide body of the ACR Rowandale results in the stove being able to accept large logs up to 40cm in length plus with multi-fuel capability, you also have the option of burning approved solid fuels.

Offered in a choice of standard matt black finish or for those looking for something different, you can choose the Rowandale in one of three gloss enamel finishes. Easily controllable with primary and secondary air control levers and designed for connection to a 125mm (5") flue.

Fireline FX5W Multi-Fuel Stove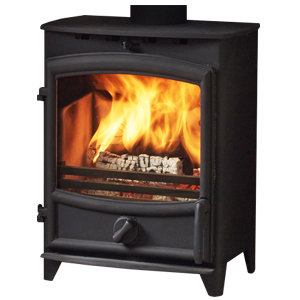 Quality stoves are much more than just a metal box at the bottom of the chimney. Considerable efforts are required to ensure that the stove can be thermally efficient and many further developments are required to make a stove fully clean burning. Stoves are often incorrectly considered 'clean burning' just because they have an air wash, but the hard truth is that even stoves with an air wash and good thermal efficiency can still be dirty burners.

Fireline stoves are both highly thermally efficient and genuinely clean burning, with DEFRA wood burning exemption achieved on all 5kW and above models.

The Fireline FX5W gives the large looks of the 8kW wide screen model but maintaining the nominal heat output at 5kW. This is achieved by a subtle reduction in depth of the grate area whilst the over-all 500mm width of the stove is the same as the larger 8kW model. This means that full 14.5" logs (375mm) can be accommodated on the standard multi fuel capable grate which incorporates a rotary riddle mechanism using well proven principles.

With a firebox lined with compressed vermiculite insulating board and Fireline's own patent pending firebox air supply technology means that clean burning was assured from the beginning – CE and DEFRA compliance were a formality. 79% efficiency ensures top levels of fuel economy and the highly effective, proven Fireline air wash system gives fabulous views of the fire through the large glass panel.