Best Log Burners 2022
This list has been compiled by a selection of our team. They have chosen their favourite from our extensive range going off design, performance, reliability and feedback received from our customers.

Stovax County 5 Wide Multi-Fuel Stove - Hannah's favourite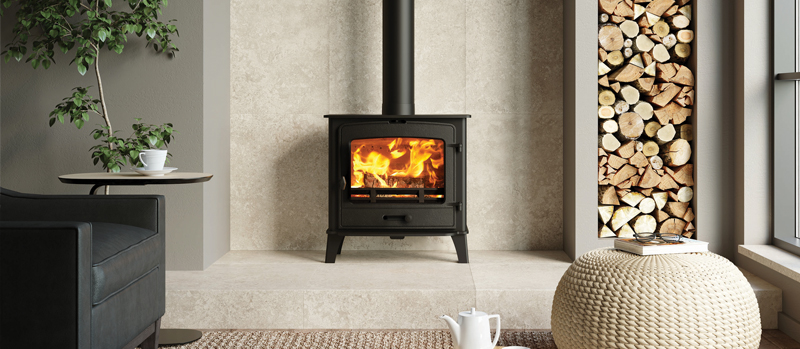 The Stovax County 5 Wide is my favourite stove, it is one of the latest ranges by the Stovax group. It is DEFRA approved as standard which means it can be burned whether you live in the countryside or a busy town.
A key feature for me is that it has an impressive efficiency rating of 80.2% and is listed A+ on the efficiency label which of course, these days especially, the more efficient the better.
They are Ecodesign ready and meet the new regulations of 2022. Ecodesign stoves burn much cleaner and because of that have lower emissions by a considerable amount.
It's reassuring to know that Stovax's products are designed with not only today's requirements in mind, but also those of the future.
We receive a great deal of positive feedback from customers who have purchased this stove or one within the County collection as the stoves are available in a variety of sizes to suit each customers requirements.
I love how the County 5 Wide has a spectacular large glass window to capture the immense striking flames along with an average heat output of 5kW but can range between 2.5kW – 7kW.
The Stovax County range are manufactured using heavy gauge steel for the body with a high quality cast iron door. The brilliant rustic exterior is designed to suit both traditional and modern interiors which makes it simple for homeowners who like this style. The arched window and door bevelling are balanced with clean lines which I really like.
Another feature I really like is the advanced air wash system to help maintain the glass clear of the build-up of soot, using specially placed vents to draw cool air in from the room, washing over the front of the glass. It is really easy to use, responsive slide controls adjust airflow for easy heat management.
The stove has a brilliant slimline depth of 268mm designed to be installed where a shallower depth is required.
Last but not least there is an Extended Warranty available for your Stovax Stove this extends the standard 12-month Warranty by a further 4 years to a total Warranty period of 5 years, providing the product has been registered within one month.
Parkray Aspect Eco Wood Burning Stoves - Louise's favourite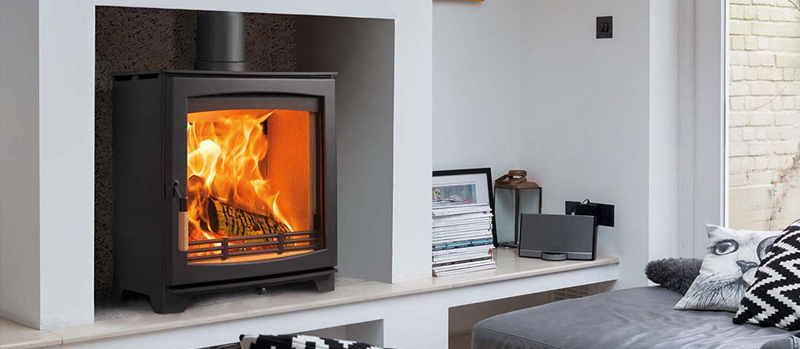 The Parkray Aspect Wood Burning range is my favourite set of stoves as it is offered in a variety of sizes including double sided and compact making it the perfect match to customer preferences. These stove's also have a large portrait window giving a superb view of the flames regardless of the size of stove selected.
Inclusive of this is the wide range of optional extras available to complete the stove, from the choice of colour for the handles (Black or Silver), helping it incorporate beautifully into your home whatever the interior, to the log store and benches to personalize the product to your needs & height requirements.
A real benefit to the Parkray Aspect range is the air wash system which is designed to keep the glass clean on the stove preventing the need to manually clean it yourself.
An impressive 10-year stove body warranty comes included with any Aspect stove from the range, as long as it has been registered within a month of having the product.
A key feature to this product is the interchangeable flue, either rear or top to again to suit installation requirements.
Even with their generous maximum outputs these stoves have low emissions which means you can keep warm whilst being environmentally friendly. The wood burning model is Defra approved for smoke control areas allowing you to use its triple burn technology to burn wood no matter where you are in the UK. The three streams of air create an incredibly efficient burning of the fuel, which results in an increased heat output, less smoke and a cleaner environment.
For standard sized rooms, my choice out of this superb collection would be the Parkray Aspect 5 Eco
Dik Geurts Odin Wood Burning Stove - Jake's favourite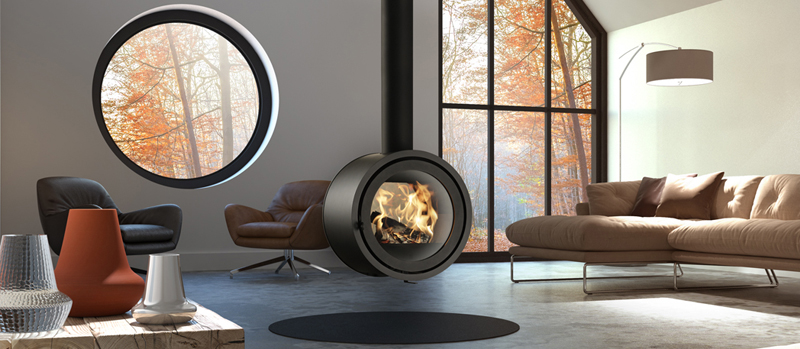 Finding the right fire choice for you and your home can seem complicated.
I think the Odin Wood burning stove is a real eye catcher it is designed to look unique with its circular glass window. The Dik Geurts Odin's internal lining is made of cast vermiculite that perfectly reflects the heat and ensures faster heating of the fume channel and more heat in the fire. The result of this will keep the room warm and cosy for all of those cold winter nights.
The special characteristics of Dik Geurts can be found in many elements of the One single sturdily constructed air slider with three settings for the entire operation of the stove. The primary ventilation is for igniting the fire, the secondary ventilation is for burning waste gases and the ventilated glass creates a window that always stay clean.
I love that the Odin has a natural look and is an efficient stove, the Odin also has the option for an external air connection. This means that no air is drawn from the living room, resulting in clean burning and efficient performance for well insulted homes. If you are considering different options to have the Odin installed look no further.
We receive a lot of positive feedback on the Odin from customers who have purchased this stove or one within the Dik Geurt collection due to the stoves versatility.
You can have the Odin fixed to the wall with a wall mounting kit.
If you want a remarkable 360º view of the flames from either side of the appliance the Tunnel model gives you this option. The fixed Tunnel model is ceiling hung and can only be mounted on a horizontal non-combustible and robust ceiling, whereas the Tunnel Plateau is displayed on the plateau bench either left or right-handed, dependent on your preference.
All the stove options give the Odin a remarkable look for your home with stunning flame pattern effects.
The reason this is my perfect stove to choose is it has everything you need from performance, the heat output is from 4 to 10KW depending on the model you choose, with a heat efficiency of 75% and is also beautifully decorative.
Eco-design stoves burn much cleaner which means considerably lower emissions. I think this is a very important thing for the protection of the environment when looking for the perfect product.
There is a 2-year warranty when purchasing this product, ensuring the appliance has been registered once received.
I find it appealing there is so much to choose from this stove this is what makes this stove attractive in every way.
Stovax Vogue's Wood Burning Stove - Sharon J's favourite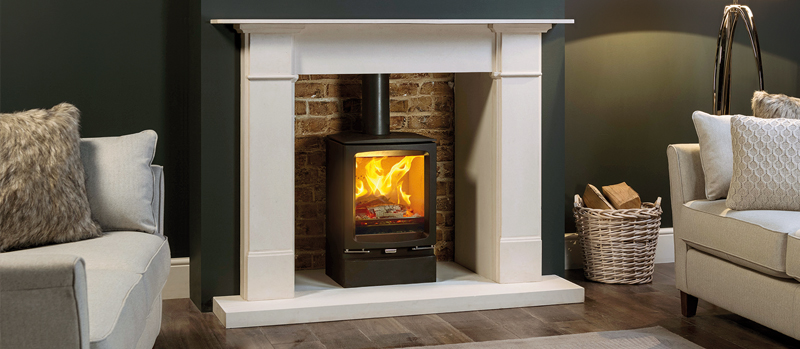 The Stovax Vogue woodburning stoves are a gorgeous range constructed of cast iron door with a Steel body and large viewing windows to see the mesmerising flames making them my favourite choice of all the stoves on our website and the reasons why are below:
They are available in multiple sizes with optional plinths, logstore bases or choices of benches. They can also all be installed into a fireplace opening or freestanding. These impressive stoves maintain their high efficiency levels and burn so clean they produce minimal emissions with a powerful Airwash system that keeps the glass clean so the flame picture is always clear to see and are eco design ready.
All the Stovax range including the Vogue models are approved for use in smoke control areas. The most popular model in the range of the Stovax Vogue Midi Eco.
The Vogue Small and Small T are cute little stoves which will look stunning as a feature in smaller rooms with an average 5kw output but ranges from 2 to 7kw that is usually more than sufficient with an impressive 80% efficiency.
The Vogue Midi and Midi T are the next size up in the range and there is the added versatility of the wall hung model which would look superb in any home. This is again a 5kw output and 80% efficient but as a little bigger than the small version will create more of a feature for slightly larger spaces.
The Vogue Medium is the one for larger rooms which need more heat, this one has an impressive heat output range of 7.5kw to 11kw but still has the stunning looks of the others and has a slimline version available too for added versatility for a fireplace with a shallower depth.
Nordpeis ME - Lee's favourite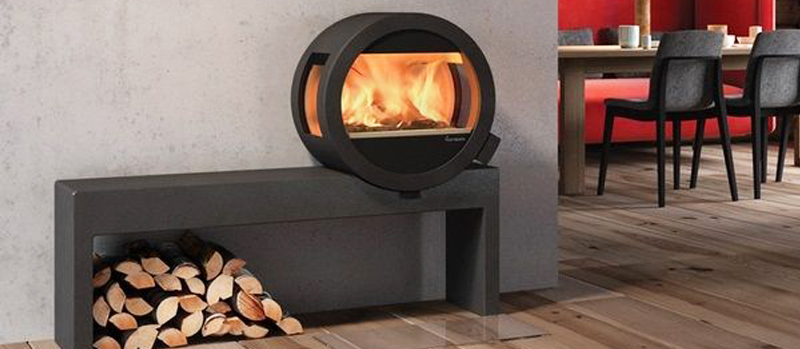 With its circular look and cylinder-style shape, I particularly like the Nordpeis ME because it encompasses a unique look for your modern home.
Available with a range of multiple installation options, the ME stove can be installed with a pedestal, wall mounting kit or, to absorb some of the heat when installing directly on to a plastered wall there is also the option for a firewall back panel, a Chimney ceiling kit for twin wall flue, a glass log store or can even be used with the concrete bench giving you an ideal place to store your logs for convenience.
In addition, I am reassured knowing this innovative Nordic designed stove is, having passed the strict independent emissions tests, Eco-design ready, meaning it is also DEFRA approved for use in smoke-controlled areas. It also benefits from a powerful air wash system, helping to keep the viewing windows clean granting clear views of the flames.
Furthermore, the Nordpeis ME stove is available in two versions, with or without glass side windows. Personally, I prefer the glass side windows as they allow the owner to have lovely panoramic views of the mesmerising flames. Featuring advanced combustion technology I am impressed with the high 79% efficiency, 5.8Kw average heat output and a 3kw-6kw heat output range, the ME can also be supplied with an external air kit essential for hermetically sealed constructed homes.
The Nordpeis stove range is also available with a great 5-year warranty.