Best log burner for 2023 under £1000
Whether you're looking for your very first wood burner or you're a seasoned stove owner that is looking to replace an older model, the huge selection of wood burning stoves available can result in confusion when choosing the right model. We often get asked questions such as:
Can i have a wood burning stove if I live in a smoke controlled area?
What is an Airwash system?
What is better, steel stoves or cast iron stoves?
Can you recommend a stove that is easy to operate?
What is the biggest window I can get on a stove that is being fitted in a standard sized room?
Over the years, we been asked every question about stoves you can imagine but as we deal directly with the UK's leading brands and receive feedback from thousands of satisfied customers on their stove purchases from us, we think we're in a great position to come up with our favourite stove under £1000 for 2023!
A wood burning stove is a superb way to provide heat to your home. It's a different kind of heat compared to a gas fire or electric fire. Since 2022, all new stove manufactured have to pass the new EcoDesign tests to improve energy efficiency and reduce air pollution. This means a new EcoDesign approved stove is extremely clean burning and highly efficient.
Our 'Best Stove 2023 under £1000' aware goes to the fabulous Woodpecker WP5 and Woodpecker WP5 Plus models of highly advanced multi-fuel stoves.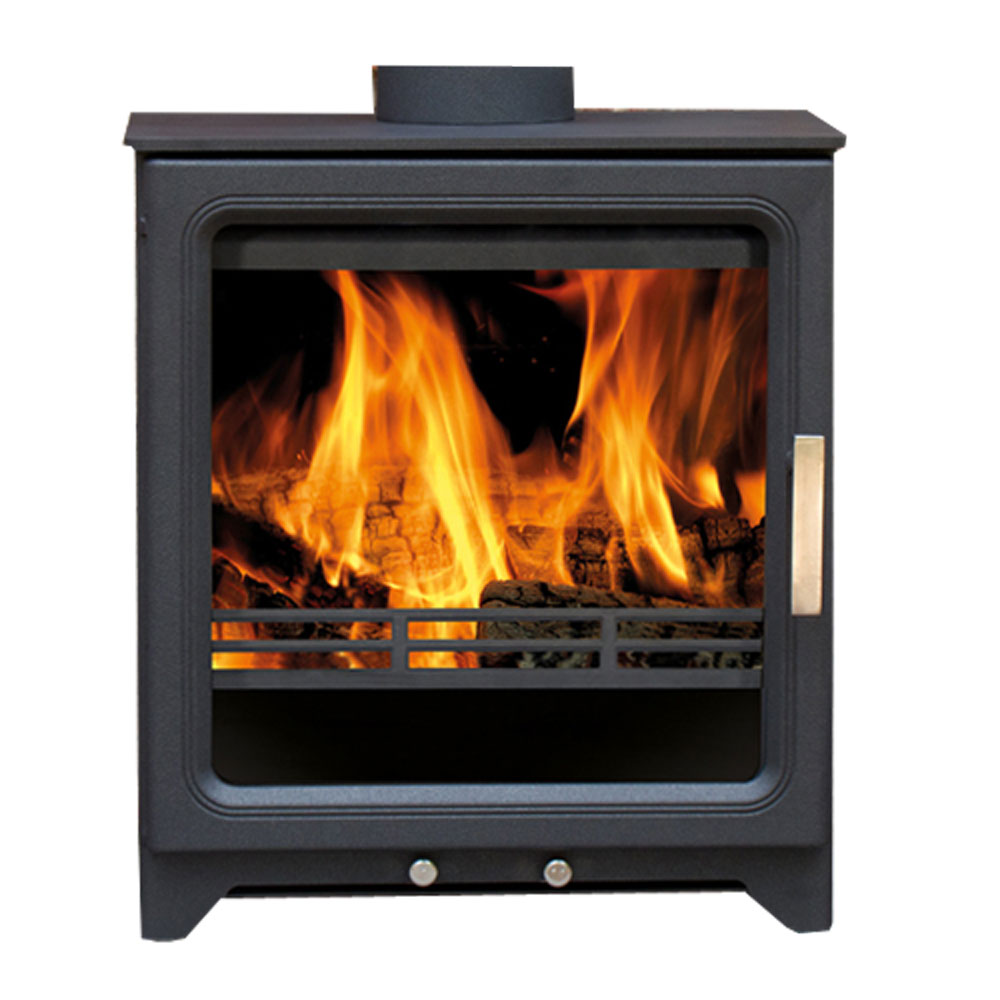 Woodpecker Stoves are a brand brought to you from ACR Heat Products. Woodpecker stoves have been created using their extensive knowledge of 35 years in the industry. They are EcoDesign Ready meaning you are investing in some of the cleanest, most efficient, low carbon stoves to provide you with sustainable heat.
The WP5 is available in two variants. The standard Woodpecker WP5 features a large viewing window with subtle curved edge around the glass. Timeless in design, this stylish multi-fuel stove with enhance both classical and contemporary settings.
The Woodpecker WP5 Plus boasts a 70mm wider footprint compared to the standard model. ideal for those looking to fill a larger inglenook chamber or simply for homeowners who want to enjoy maximum impact whilst retaining the optimum 5kW nominal output.
Of the thousands of log burners we have sold, the majority fall into the 5kW output. This is the optimum heat output for a standard sized room and stoves that have a nominal heat output of 5kw or lower do not normally need an air-vent fitted into the room. The 'nominal' output figure is when the stove is running on the same sort of setting that you would enjoy in your home - running nice and efficiently. If a stove was fully loaded with fuel and air controls were set high, the stove would achieve a higher heat output but obviously not run as efficiently.
Both stoves are crafted from the ideal combination of steel for the body with a robust cast-iron door. This ensures an air-tight combustion for easy, instant controllability using the primary and secondary air controls discreetly located at the base of the appliance.
Whilst the design of a stove is subjective, we have found that most customers prefer simple, clean lines with a large glass viewing window to enjoy the mesmerising flames dancing. Our 'Best Log Burner Under £1000 for 2023' will look fantastic in any setting!
Whilst we would always recommend burning quality, seasoned or kiln dried wood only on a stove, we are aware some homeowners want the ability to also burn smokeless fuel, which, whilst it won't have the charm of flickering flames like wood produces, it will normally burn for longer periods between re-fuelling. Both the Woodpecker WP5 and WP5 Plus are 'Multi-fuel' models as standard and therefore giving you the choice to burn wood or smokeless fuel.
In most installations of the Woodpecker WP5 and Plus models, additional ventilation an (air vent) is not normally needed. However these stoves benefit from the ability of Direct Air making it ideal for new build installations where building regulation do require the stove to have access to a fresh air supply. As well as being EcoDesign Ready, the Woodpecker WP5 and WP5 Plus are also DEFRA exempt meaning you can use them to burn wood or smokeless fuels even if you're located within a smoke controlled area. Both have a top or rear 125mm diameter flue outlet.
Being EcoDesign ready means it is among some of the cleanest stoves on the UK market making it an ideal choice for sustainable heating. Backed by an impressive 5 year manufacturers warranty for piece of mind.

We consider these 2 stoves to combine quality construction with the latest technology whilst offered at a competitive price. They look great, are simple to operate and ideal for modern day living. Developed using ACR's extensive experience in the stove industry, they will provide efficient and dependable heat to your home for many years!