Be Modern 'Plus' Fireplaces - Stunning range of exclusive marble fireplaces & electric suites

For over 50 years, Be Modern have been any the forefront of quality fireplace design and manufacture. Based in Tyne & Wear, they create a stunning range of marble fireplace suites, wooden mantels, wood burning stoves as well as having a separate bathroom furniture facility. Their extensive range of fireplace designs have always proved popular with discerning homeowners thanks to their high quality, British manufacture, fashionable designs and vast product range.
In addition to their existing range, they have released a brand new, exciting range of products named Be Modern 'Plus' and Flames are proud to be named as one of a small number of dealers who will be allocated this stunning range. Currently comprising of marble and wooden fireplace suites suitable for combining with your choice of gas or electric fires and free-standing electric fireplaces in wood or marble, they offer the ultimate combination of style, functions and value.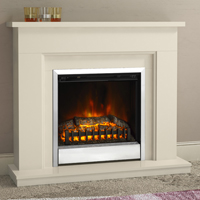 Be Modern Plus Trowbridge free-standing electric fireplace suite
The Be Modern Plus beautiful electric fireplace suites provide a simple, yet highly effective way to add a charming focal point to classical or contemporary interiors. No chimney or flue needed and as free-standing units, they don't even require to be inset into the wall behind as the fireplace surround has adequate depth in-built to accommodate the depth of the electric fire.
Offered in a choice of soft white finish, natural oak and even real marble, the 'Plus' range incorporate stylish electric fires boasting eco friendly, LED technology costing approximately £3 a year to run on flame only setting! Enjoying the ambient flame effect all year round and when the room does get chilly, all Be Modern Plus electric suites incorporate a concealed convection heater with 1kW & 2kW heat settings that will quickly give your home a boost of warmth.
The cream and timber suites are supplied as a 'one-box' solution meaning you simply unpack the suite, push up against a flat wall in living areas, dining rooms, conservatories etc and plug into a standard electric socket. Due to the weight of marble, electric suites such as the Be Modern Plus Temperley will be supplied in sections and require a more permanent installation.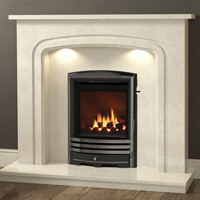 Be Modern Plus Mirandola fireplace in Manila micro-marble
As you would expect from a leading British fireplace manufacture, the Be Modern Plus marble fireplaces are stunning designs that have been created to suit combination with both gas and electric fires. Attractive designs made using luxurious Manila micro-marble which provides a warm, neutral solution guaranteed to compliment any interior design colour scheme.
A popular feature with the standard range of Be Modern fireplaces is the addition of under mantel lighting. Spotlights discreetly fitted under the mantel chest illuminate a striking glow down on the the fireplace and create a gorgeous effect especially appealing when the rooms main lighting is set low. Normally a cost option, all fireplaces in the Be Modern Plus range include this feature as standard.
Whether you choose to combine any of these beautiful fireplaces with a gas fire or electric fire, a Be Modern Plus fireplace will transform the quality of life for the whole family to experience!