Herald Allure Wood Burning Stoves - A Contemporary Addition to the Hunter Stove Range
The fantastic Herald Allure wood burning stoves from Hunter are designed to blend seamlessly even with the most modern of houses. Their clean lines and large glass viewing window allow the flames to become that main feature creating a wonderful ambience within your home. The Allure stoves have performance to back-up their handsome good looks - all three models have already passed the EcoDesign tests for lower emissions due to come into force in 2022.
This exciting new range comprises of 3 models; the Allure 04, 05 and 07. Whilst all models have the same nominal heat output rating of 5kW, they have different proportions plus as the size of the stove gets larger, so does the maximum heat output level. Hunter Stoves were keen to keep the nominal heat output for all the Herald Allure stoves at 5kW as this is the optimum heat for standard sized rooms and in most installations, an air vent is not needed.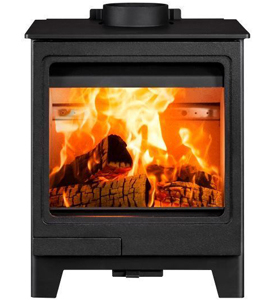 The smallest model is the Allure 04. Ideal for smaller enclosures where space is at a premium, this stylish dedicated woodburner is constructed using heavy gauge steel for the body with a cast iron door guaranteeing an air-tight combustion. Simple, clean lines with attractive stepped detail around the large glass window, the Hunter Herald Allure 04 has easy to operate controls at the base of the body with a neat door handle integrated within the bottom of the door to complement the modern, minimalist design of this highly advanced model.
Far cleaner burning than an older stove, the Allure 04 is EcoDesign ready so it's an ideal choice if you're replacing an older stove or open fire. SIA EcoDesign Ready stoves are designed to reduce PM emissions by burning wood more efficiently and completely. The stoves have been independently tested by an approved test laboratory and met the emissions and minimum efficiency criteria for EcoDesign. The test results have also been verified by HETAS and listed on the HETAS web site.
The medium sized Herald Allure 05 boasts a highly controllable temperature output, this stove allows you to change from a low to high output of 5kW - 6kW in a matter of seconds. It will look amazing recess inside a fireplace chamber where you can enjoy the superb flame visuals from the highly efficient fire chamber. Capable of taking logs up to 400mm in length, like all models in the new Allure range, the Allure 5 is also a DEFRA smoke exempt appliance meaning it can be used to burn wood in any part of the UK including smokeless areas.
The largest model is the stunning Hunter Herald Allure 07. The wide format body allows for a landscape door with panoramic glass window providing a spectacular flame view. Most customers looking to purchase a stove want the biggest model to create the maximum impact. This can cause issues as a larger stoves usually means higher heat output and if you have a standard sized room, a stove that is too powerful will end up being uncomfortable to use. The Allure 7 manages to retain the optimum 5kW heat output which is perfect for the average UK room size despite it's impressive footprint.
With a total heat output range from 5kW to 7kW, it is capable of extra heat when needed to keep you warm and cosy on the coldest of winter evenings. High efficiency of 81% and a Energy Efficiency Class rating of A+, the Herald Allure 7 is a great way to heat your home whilst being a stylish focal point. It can burn logs up to 450mm in length and built to last with all Allure stoves supplied with an extended 10 year warranty on the stove body.
Whether you plan to inset the Allure stove into a inglenook chamber or sit freestanding in the room, they will enhance any modern interior. A striking option available with these models which accentuates the modern design is fitting the stove on one of Hunters contemporary benches. This will raise the fire box up to the optimum eye level whilst seated and provide extra storage beneath for logs if required.