AGA Stoves now offer an exciting new range of Gas & Electric Stoves!
We've started 2020 by adding a superb range of new stoves from renown manufacturer AGA. Following on from the huge success of their wood burning & multi-fuel models, AGA have kept up with current trends and have introduced both gas stoves and electric stoves that use timeless Ellesmere steel body and cast iron door. All of these stoves are available in the standard EC5 size or for those wanting to fill larger spaces or simply enjoy even more of the stunning flame effects, the gas and electric engines can also be supplied in the EC5W (Wide) formats.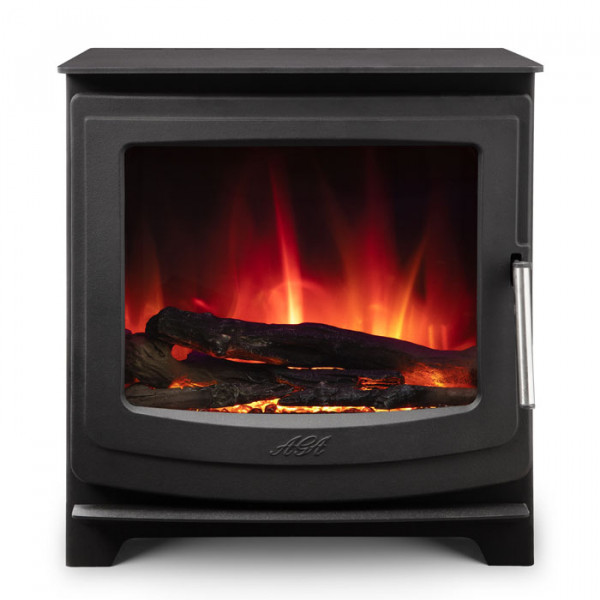 The AGA Ellesmere EC5 electric stoves provide a superb solution to easily add a centerpiece in any room. If you've recently had an extension built or want to use your conservatory during thew colder months, electric stoves are ideal as they do not need a chimney or flue and can be simply plugged in to a standard electric socket. They provide instant ambience bring any interior space to life allowing you to enjoy the mesmerising flames without any heat (ideal for the summer months) plus when the room needs a boost of heat, the concealed convector heater will quickly distribute heat into the room.
To add to the realism, the AGA Ellesmere electric stove bodies are built from strong steel with the shaped door made from robust cast iron which features the iconic AGA logo. Using cutting edge technology to produce a remarkable flame which colour can be changed to suit your mood! Red or Orange for a cosy feel during winter or Blue for a cool, modern look during the hotter months. The stoves are also supplied with both Logs and Clear Glass Beads giving you the ability to easily change at home to create a different look.
Both the Ellesmere EC5 and EC5W are EcoDesign compliant and include a 7 day timer and thermostat on the remote control for added convenience and comfort. Low energy bulbs are used to create the flames so you don't need to worry about the running cost of the effect - just sit back and relax if front of this stunning stove which is guaranteed to become the main focal point of any home!
For those who prefer gas, the Ellesmere gas stoves have been designed to replicate the character of a real wood burning stove. Highly authentic ceramic logs with real, dancing flames create a effect that will mimic real wood burning but with the benefit of instant control and on/off whenever required. If you have a busy lifestyle or don't want to worry about keeping a stove fuelled, a gas stove may be the perfect option for you. The AGA Ellesmere Gas Stoves are offered for homes running either mains Natural Gas and LPG and being 'Balanced Flue' gas stoves, they don't even require a chimney!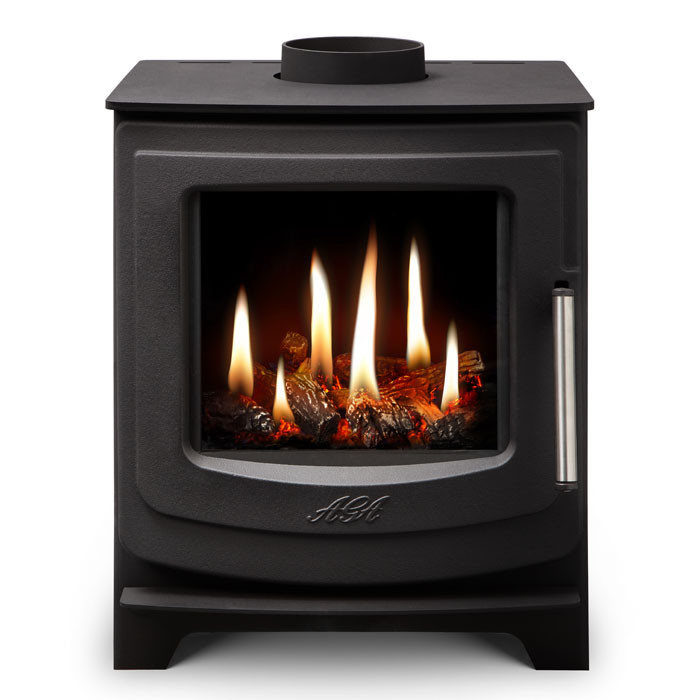 Once you choose you size of either standard EC5 or EC5W (wide), you then select your balanced flue kit. The simplest option is fitting the stove against a flat, external wall. The Rear Exit balanced flue kit will then attach to the back of the appliance and vent the fumes horizontally through the wall to a terminal located on the outside wall (as you would find on a combi boiler). The pipe expels fumes produced by the fire as well as allowing air in from outside for the combustion process. This results in the stove being completely sealed from the room with no noise or draughts to worry about.
Other flue options offered on the AGA Ellesmere gas stoves are a 'Top Exit Up & Out' kit which works in the same way as the rear exit but attaches to the top of the stove before bending 90º to run horizontally. Alternatively, for those living in properties which do have a conventional brick chimney (Class 1), a 'Chimney Renovation kit' can be used which allows you to install inside a chimney when used in conjunction with a 5" flexible flue liner.
We're really excited about the new gas and electric stoves from AGA. Contact our team today for more information or to place an order and take advantage of free delivery on all AGA stoves direct to your door throughout Mainland UK.