5 Of The Best Gas Fires for Homes Without A Chimney Or Flue
2 Comments
Monday, 20 June 2016
A fireplace is the main focal point of any home. A place to design your whole room around, to cosy up to on those cold, dark winter evenings and with the latest advances in technology, it can be a highly efficient heating source. Most newly built properties do not feature the required flue for standard gas fires but most gas fire manufacturers are bringing out new products to ensure that people living in modern homes can enjoy the warmth and ambience that a real flame offers!
We have compiled a list of five of our favourite 'no chimney' gas fires that can be fitted in properties that do not have a chimney or flue. Whether you want a mantelpiece to display your treasured ornaments on or prefer the contemporary, minimalist looks of a hole-in-the-wall design, there will be a design to suit!

1. Gazco Studio Slimline Balanced Flue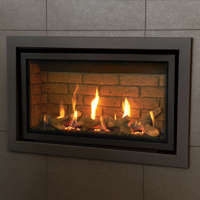 Gazco Studio 1 Slimline Balanced Flue gas fire with Profil trim and brick-effect interior
The Studio range of fires by Gazco have proved extremely popular since their release for those looking for a modern, hole-in-the-wall style fireplace. Originally offered as conventional flue plus a balanced flue model that had the same, full-depth engine that would require a false chimney breast constructing in the room to accommodate the appliance.
Gazco recently introduced a 'Slimline' version of the Gazco Studio that took into account most people looking for this type of fire did not want the hassle of building out a stud wall in the living room which would mean losing valuable floor space. The Studio Slimline has been developed with a reduced firebox depth of only 155mm meaning it can be fitting on a flat, external wall with no need to build out into the room. A horizontal balanced flue pipe attaches to the back of the fire and allows the fumes to be vented horizontally through the external wall to outside.
The glass-fronted Gazco Studio Slimline balanced flue can be styled to suit your interior perfectly. Available with a choice of four interior linings; cream vermiculite, black reeded, brick-effect or the new depth enhancing, reflective black glass. You can also choose between classic, authentic logs or modern white stones fuel effects.
The frames offered with this fire can transform the overall look too. For those with simple tastes that prefer the flickering flames to take centre stage, the Studio Slimline 'Edge' is the frameless option. Due to the proximity of the fire area to the wall, we would always recommend either tiling the wall behind or adding stone slips around the fire to prevent any cracking of plaster etc on this version. Alternatively, you have the option of being able to add one of Gazco's designer trims or fascia frames to create a truly stunning feature fire.
Although the firebox depth has been reduced on the Gazco Studio Slimline model, there hasn't been any compromise on performance. The Studio 1 size has a glass viewing area of 654mm and has a impressive heat output of 4.25kW. For larger rooms or wall spaces, there is a wider, Studio 2 model which is capable of providing a powerful 5.0kW heat output. Both models are high efficiency appliances rated at 82%. Operated by a programmable, thermostatic remote control system as standard.

2. Kinder Revolution Balanced Flue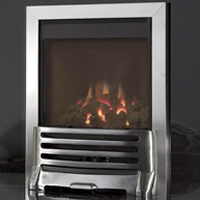 Kinder Revolution Balanced Flue gas fire with brushed steel trim and Aegis fret
Suitable for installation on a flat, external wall when combined with fireplace surrounds that have a 3" rebate, the Kinder Revolution is a glass-fronted balanced flue gas fire that manages to combine aesthetics with state-of-the-art performance. Boasting a superb high heat output of 4.3kW and a market leading net efficiency of 94%!
Giving you an exceptionally large viewing area, this popular gas fire can be tailored to suit your individual taste as it is offered with a vast choice of trim, fret or one-piece fascia frames in silver, brass or black finishes. There is also a choice of control options from manual, Piezo controls discreetly located at the bottom of the fire to a hand-held remote control system that switches the fire on and allows you to adjust the flame/heat settings from the comfort of your favourite chair!
As a 16" balanced flue gas fire, the Kinder Revolution is designed to fit into a standard (16" x 22") back panel cut-out. When fitting on a flat external wall, the internal brickwork behind the fire will need to be removed allowing the firebox to recess into the cavity. This is normal practice when fitting balanced flue gas fires and will create a neat installation that will also give the impression or more depth in the room.
The fire is supplied with a dedicated balanced flue kit that vents the fumes produced by the combustion process as well as allowing fresh air into the fire. The kit is adequate for flat wall installations however, if the proposed installation does require a longer flue such as fitting into a decommissioned chimney breast, a balanced flue extension is available. As with all gas fires in the Kinder range, the Revolution balanced flue is excellent quality and backed by the companies exclusive 15 year guarantee. This is subject to annual servicing of the appliance.

3. Infinity 780BF in Edgemond Limestone Fireplace Suite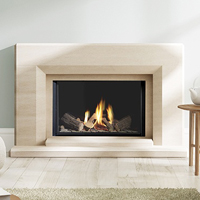 Infinity 780BF balanced flue gas fire is Edgemond limestone fireplace suite
In rooms with no chimney breast, a the addition of a hearth mounted fireplace will create a stylish feature and also add extra dimension to four flat walls. A recent fashionable trend is for fireplaces to feature a much larger gas fire ensuring that the dancing flames become a major part of the overall design.
The 780BF is a wide aspect, glass-fronted balanced flue gas fire featuring a realistic log effect fuel bed. Infinity offer this fire in a selection of the gorgeous limestone fireplace designs that benefit from being able to be fitted to a flat wall with no need to build a stud chimney breast. A combination of a shallower firebox size and the rebate on the fireplace mean that the back of the fire can easily sit within the external wall cavity whilst a rear balanced flue pipe expels the fumes horizontally through the wall.
This low, wide and sleek fireplace crafted in beautiful Portuguese limestone has proved extremely popular since being displayed in our fireplace showroom in Manchester. Whilst similar designes have been around for some time, the Infinity 780BF is one of the very few fireplaces of this type that are suitable for flat wall installations so it is a superb solution to add a stunning focal point.
Operated by a comprehensive remote control system, you have full control of the flame heigh adjustment and on/off settings. Choose from cream, brick-effect or black mirror glass interior panels plus as well as the imposing Edgemond limestone fireplace surround, there are two other designs to choose from. Infinity fires are showroom exclusive products and not suitable for selling online.

4. Gazco Marlborough Balanced Flue Gas Stove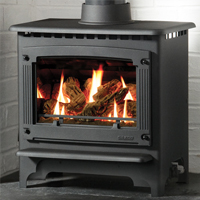 Gazco Marlborough Medium Balanced Flue Gas Stove
Following on from the immense popularity of wood burning stoves, the charming good looks that fitting a stove offers have become a popular trend in interior design. Gas stoves provide the same visual appeal as a real woodburner but with the added convenience of gas. They are often a more practical heating solution if you spend less time at home and require heat and ambience for shorter periods.
The Gazco Marlborough Medium can also be specified as a balanced flue stove for homes without a chimney or flue. Standard balanced flue kits for rear or top exit installations are offered plus you also have the option of creating a custom flue run in unusual settings.
Boasting a excellent high output of 5.25kW with efficiency equally impressive at 82%, the Marlborough Medium balanced flue has the performance to back up its good looks. Matt black finish with realistic log effect set behind a glass window, you can instantly add warmth and charm to your home by using the manual controls located at the base of the stove. For those looking for the ultimate in convenience, Gazco also offer two remote control upgrades if preferred.
For added authenticity in properties without a chimney, a false stud wall can be built to allow the Marlborough to be inset into a chamber. You may also want to add a fireplace surround or wood effect beam to replicate the cosy style of a wood stove. Alternatively, if space is at a premium or you'd prefer not to lose any floor space in the room, the stove can be fitted free-standing on a suitable hearth with a rear exit balanced flue kit taking the fumes directly from the back of the stove outside.

5. Verine Marcello Balanced Flue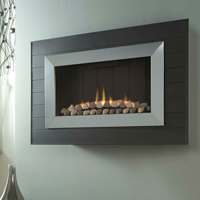 Verine Marcello Wall-Mounted Balanced Flue Gas Fire
Another wall-mounted gas fireplace that is especially suited to modern interiors.Featuring an unusual 'lava rock' fuel bed set behind a glass panel, the Verine Marcello also offers a simple way to add a reliable heat source and attractive feature in properties without a flue.
This contemporary, slimline gas fire is designed to be fitted raised up on an external wall and does not require any additional stud wall constructing and therefore saves on installation costs. You can simple hang the Marcello on to the wall so that the only building work is putting a hole through the wall for the rear exit balanced flue pipe to go through. Alternatively, for the fire to fit flush with the wall, an optional wall plate is available that allows you recess the fire body into the cavity.
An excellent way to create a modern centrepiece whilst not losing any floor space. The Verine Marcello is also capable of being an efficient way to heat the room you spend the majority of your time in rather than heating the whole house using central heating. 4.2kW maximum heat output combined with a net efficiency of 87% will help reduce heating bills compared to your main source of heating.
Landscape graphite grey fascia frame with the option of adding a brushed steel silver inner trim will compliment all interior colour schemes whilst the remote control operation will give simple operation of flame height settings. A balanced flue extension pipe is also available for deeper walls.

For further help and advice on choosing a new fire for your home, please don't hesitate to contact our team!