Wood Burning Stove Review! The stunning new Flavel Rochester 5
Flavel Fires are synonymous for the manufacture and distribution of a huge range of gas fires and are an established brand name in home heating. Part of eight established consumer brands which include; Kinder, Verine, Global, Kohlangaz, The Collection by Michael Miller, Celsi, and Portway, Flavel are the fastest growing gas fire manufacturer in the country with an unequalled reputation for quality and service. Their success is due to a combination of uncompromising attitude to design and manufacturing standards and an unprecedented investment in technology and personnel.The company is based in Stoke-on-Trent with a 51,000 sq ft purpose built plant, housing the most up-to-date manufacturing, sales and training facilities in the industry.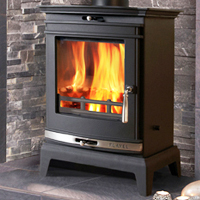 Flavel Rochester 5 with polished silver door detail
They have used their extensive knowledge within the heating industry to produce a range of wood burning stoves that are designed specifically for the UK market. Attractive designs combined with the very latest innovative features to aid combustion, efficiency and performance.
Flavel introduced the original Rochester approximately 12 months ago and thanks to it's attractive design, durability and performance. This model had a nominal heat output of 7kW but had the benefit of being able to add optional reducing bricks to lower the output to 5kW making it more suited to standard room sizes whilst still retaining a impressive overall size.
The new Flavel Rochester 5 has more modest dimensions which make it perfect for fitting into virtually any size room. With a 5kW nominal heat output as standard, the Rochester 5 will not require additional ventilation in most circumstances and it will provide plenty of efficient heat into your home.
Instantly recognisable with its attractive cast leg plinth and decorative shaped top plate, the Rochester 5 takes design inspiration from a classical era yet is equally at home when combined with modern fireplaces. The main body of the stove is constructed from heavy-duty steel ensuring an air tight fire chamber which allows you the ultimate in control using primary and secondary control sliders. The stainless steel door handle provides a lovely contrast to the matt black finish and you now have the opportunity to choose the section at the bottom of the door in a polished silver finish or matt black.
A multi-fuel stove capable of burning wood logs or a variety of solid fuels that will give you longer periods in between refuelling. Simple to use air controls result in you being easily to set the burn rate to your requirements depending on what fuel is being burnt. With a interchangeable 127mm (5") flue outlet at the top or rear of the stove, the Falvel Rochester 5 will fit easily into virtually any Class 1 flue whether you opt to inset into a chamber or fit the appliance free-standing on a suitable plinth.
The Flavel Rochester 5 Multi-Fuel Stove has been independently tested CE Approval to standard BS EN 13240 and is so efficient and clean burning they have received DEFRA's recommendation for exemption from the Clean Air Act 1993.
It can be used in Smoke Control Areas when burning wood, as well as authorised smokeless fuels. They can also be used in smoke free zones in the Republic of Ireland when burning wood or peat briquettes.
This superb model carries a peace of mind manufacturers guarantee for 2 years against material and manufacturing defects subject to the terms and conditions as specified in the guarantee document supplied with the product.
Offered at a superb price for a limited time!