New dedicated Chesneys wood burning stove area in our Manchester fireplace showroom!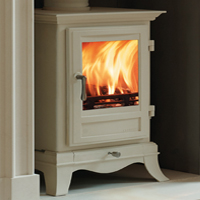 Chesneys Beaumont 6kW Wood Burning Stove in Parchment finish

Over the past quarter of a century Chesney's has created a range of hand carved fire surrounds that are widely recognised as the finest in the world. This reputation has been achieved by a rigorous and uncompromising commitment to the finest craftsmanship and integrity of design
Now, following an exhaustive programme of research and development, Chesney's is manufacturing a unique range of wood burning stoves that employ the very latest technology to deliver outstanding levels of efficiency with minimal emissions.
Chesney's has produced a range of stoves that incorporate traditional, retro and contemporary styles and which display a design aesthetic and degree of sophistication that is entirely unique in the world of stoves.
Five reasons to buy a Chesney's stove
When Chesney's decided to produce a range of stoves they asked their engineers and designers to create a stove that would be the best – totally dependable, ultra efficient, environmentally friendly, easy to use and great to look at. And that's exactly what they've done!
Reliable
Chesney's stoves are designed to last. Using only the very best materials, including cast iron components produced in British foundries and the toughest ceramic glass, their stoves will provide a safe and dependable source of heat for years to come. Their confidence in the product is reflected in the five year guarantee they offer for the bodies of their stoves and the one year guarantee they offer for all non-consumable body parts.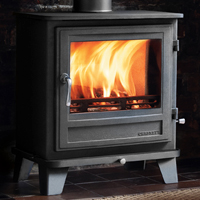 Chesneys Salisbury 8kW Wood Burning Stove in matt black finish
Efficient
Their sophisticated manufacturing process uses state-of-the-art robotic welding techniques which ensure that every stove is tightly sealed. This means that the air supply to the stove can be easily controlled, reducing for a slow burn or opening up for an intense, roaring fire. Providing heat by both radiant and convection methods and incorporating the latest clean-burn and air-wash technology, delivering maximum warmth and underpinning the outstanding efficiency rating that they have demonstrated in independent testing.
Clean
The clean-burn and air-wash technology means that the polluting by-products emitted by the initial burning are re-ignited and burnt again in the stove. This double combustion substantially reduces emissions and contributes to a cleaner, healthier environment. All Chesney's stoves are DEFRA exempt for use in smoke control areas. This means that any stove can be safely and legally used to burn logs in all major cities and towns throughout the UK.
Easy to use
One of the most important challenges facing their engineers was to design a stove that was genuinely easy to use. In addition to a simple fuel selector, a Chesney's stove is operated by means of a single air control lever. With its smooth operation, this lever allows easily controlled temperature adjustment from a gentle flame to an intense burn.
Attractive
Stoves have for too long just been viewed as utilitarian heating appliances with little emphasis on their appearance. Their collection of stoves is beautifully designed to include both traditional and contemporary styles to suit a wide range of interiors.
Our new dedicated Chesney's stove display area is currently under construction and is due to be completed soon. We have a selection of their stoves currently on display around the showroom but if you would prefer to wait to view this stunning range complimented by installation into designer fireplaces, inglenooks and beams, please contact us for an update.
All Chesney's wood burning stoves are showroom exclusive products and not available for purchasing outside of our local serviceable area.