Home is where the hearth is for home buyers
Looking to add a stylish centrepiece in your living room? How about being able to enjoy your conservatory all year round? What about bringing that new extension to life?
A fireplace can add so much to a home including being the main focal point and a high efficient heat source. With endless design choices, several fuel options (gas, electric or wood burning) and fires available for homes with or without a chimney, now any home can enjoy the warmth, ambience and charm that a fireplace offers.
An article in The Daily Telegraph by Nicola Harley: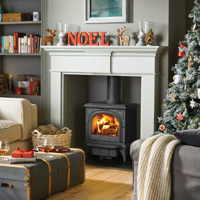 Hugely popular Wood Burning Stove fitted with a painted grey fireplace surround
Home is where the hearth is for home buyers
Fireplaces are the "luxury" item most likely to sway a home sale, with buyers going nearly £19,000 over budget in parts of the UK when their heart rules their head.
Friendly neighbours and nice décor were listed as the second and third most important factors, respectively according to new research. A third of buyers admitted their emotions had ousted plans to stick to budget when it came to buying a home. And those who did go with their hearts spent, on average, £16,193 more than they had planned, according to the property website Zoopla.
Almost half of those who broke their budget said they did so after finding a property too attractive to resist. As well as fireplaces, features such as bay windows, original floorboards, walk-in wardrobes and free-standing baths also proved highly seductive to buyers. Range cookers also made it into the top ten property features that most tempted people to buy a property for more than they had planned to spend.
Lawrence Hall, a Zoopla spokesman, said: "Buying a property is a significant financial commitment, and all house hunters want to find a home that they love, so it's understandably a process often fraught with emotion."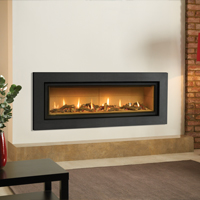 Panoramic Gas Fires - A stunning feature in contemporary interiors
"In a competitive property market where stock is low, demand is high, prices are rising and interest rates are at an historical low, it's hardly surprising to see the original budget levels creeping up. However, buyers do need to be careful to not let their hearts take over completely."
"The key to the process is to do as much research as possible before making an offer and striking a balance between the heart strings and the purse strings."
The survey revealed that buyers in the East of England were the most willing to go over budget, with those who did splashing out an extra £18,908 over and above their planned spending limit to get their dream home. They were followed by those who exceeded their budget in the North West of England who spent £18,436 more than planned, and Londoners, who managed to find £17,386 more.