High Efficiency Gas Fires - Lower running costs without compromising on performance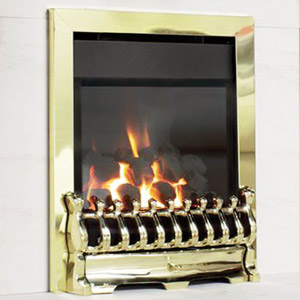 Kinder Oasis 'HE' High Efficiency Gas Fire - 89% net efficiency!
What was once considered a mostly decorative feature in your home, gas fires have moved on considerably over recent years due to rising energy prices. With homeowners now wanting an appliance that is capable of providing decent warmth into the room rather than just looking appealing, manufacturers main focus is now on efficiency and the latest high efficiency gas fires are designed to look great and be used as a genuine heat source for your home whilst boasting low running costs.
Whether you have an existing fireplace, fancy a complete change and looking for a fashionable 'hole-in-the-wall' style fire or love the charm that a woodburner offers but prefer the convenience of gas, there is a high efficiency option for you. Even if your property doesn't have a full chimney, there are shallower models designed especially for Class 2 prefabricated and pre-cast flues as well as balanced flue gas fires designed for installation on a flat, external wall in homes with no flue at all.
For the ultimate in high efficiency, glass-fronted gas fires will offer the highest rating. The glass panel prevents the hot, toxic fumes produced by the combustion process from entering the room so they can remain around the fuel bed liner resulting in more heat radiating from the fire prior to the fumes going up the flue. Therefore, the gas consumption to the fire will usually be far lower than an open-fronted model whilst achieving the same, if not a higher heat output. A popular inset gas fire that would be a ideal replacement for an existing open-fronted fire is the Kinder Oasis HE. This stylish model is designed for standard 16" openings and boasts a net efficiency rating of 89% and up to 4.0kW of heat.
Another benefit of updating your existing fire to a glass-fronted version is that it will prevent done-draughts from the flue coming into your room. The glass will also stop heat from your home going up an open flue. A question that does pop-up in the showroom however is concerns over keeping the glass clean. Many customers will make reference to a friend or family member who has has a glass-fronted appliance that suffered from discoloration. The fuel bed on glass-fronted fires has been designed to eliminate the flames touching the glass which could cause marks over time. If a glass panel does stain this is normally an indication that the flue is not working as it should be rather than an issue with the fire. In normal circumstances, annual cleaning of the glass during servicing is adequate.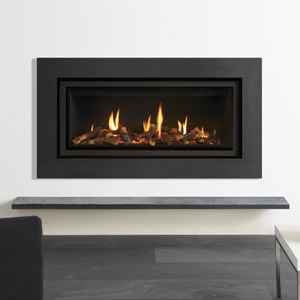 Gazco Studio (glass-fronted version) - A popular, wall-mounted high efficiency range of fires
For those who want to retain the charm of an open-fire but are looking for an improvement over the average efficiency of around 50%, a new breed of appliances have been introduced. Often referred as 'Plus' models, they do not have a glass panel but a deeper canopy which allows the main flue outlet to be reduced in size resulting in efficiency of 70%-75% and superb heat output of up to 4.6kW. Popular models in this range include the full-depth Flavel Caress Plus or for modern homes that feature a shallow, Class 2 pre-cast flue, the Verine Midas Plus which is offered with a vast selection of trim and frets.
A fashionable option for modern properties are 'hole-in-the-wall' gas fires. Fitted raised up in the wall, they provide a stunning, contemporary focal point and in most instances, do not require a hearth protruding into the room so therefore saving valuable floor space in smaller sized rooms
Most of these wall-mounted designs are glass-fronted with log effect being the most common fuel option. Often featuring a much larger fire chamber than a standard 16" inset gas fire, heat output can be over 7kW on some fires so you could use it to heat large, open plan living spaces.
Sit back, press the button on the remote control handset and operate the flame height to your desired setting whilst enjoying reduced heating bills from a high efficiency gas fire!