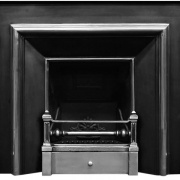 An imposing, square edged cast iron insert that takes inspiration from classical Georgian designs. The Carron Royal is offered in three finishes; black, highlighted or full polished and is available to combine with a variety of fire options to suit your individual requirements.
£410.00

---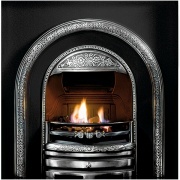 A versatile, decorative cast panel which can be combined with a variety of fires including a powerflue gas fire designed for properties without a chimney or flue. The Gallery Bolton is finished in matt black with the raised sections on the arch, front bars, ashpan and canopy highlighted in silver.
---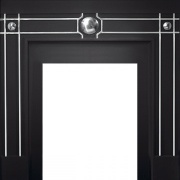 A complete, cast iron back panel suitable for combining with standard fireplace surrounds/ The Gallery Chamberlain fascia is finished in matt black with the ornate detail of the panel picked out in a polished highlight finish. It can accommodate any standard 16" x 22" gas or electric fires.
---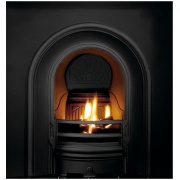 The plain, arch detail on the Gallery Coronet cast iron insert mean it's equally suited to classical or modern fireplace surrounds. Available in matt black or half polish finish, the Coronet can be combined with a range of dedicated gas or electric fires or a solid fuel kit for burning coal and logs.
---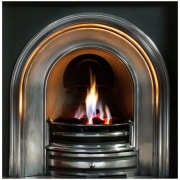 The Crown insert is a firm favourite in the Gallery Fireplaces range thanks to its high quality cast iron construction, versatile installation options and choice of striking finishes. A gorgeous cast insert designed for fitting within a fireplace surround and offered with a range dedicated fire options.
---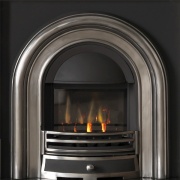 A new breed of cast iron inserts for modern living. The Efficiency Plus range from Gallery are based on three of their most popular fireplace inserts and have been specifically designed to allow you to combine with a variety of gas fires boasting high output and high efficiency or even 'no chimney' gas fires.
£660.00

---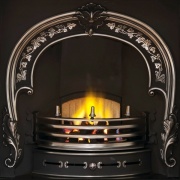 The largest horseshoe insert in the Gallery range that is perfectly suited to imposing fireplace surrounds. The Fitzwilliam comprises of a wide, sweeping arch with charming, decorative embellishments at the top and sides in highlight finish. Capable of accommodating gas, electric or solid fuel fires.
---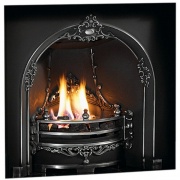 The epitome of classical fireplace design that is the ideal accompaniment to a broad range of fireplace mantels. The Gallery Gloucester is a striking, horseshoe style cast iron insert offered in a highlight finish with embellishments and scroll detail picked out in a contrasting silver finish.
---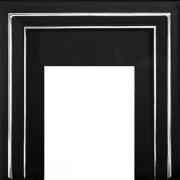 Cast iron fascia panels offer a excellent solution for combining virtually any standard sized gas or electric fire into a fireplace whilst retaining a beautiful, classical feel. The Gallery Hamilton is finished in matt black with two raised bars of the tiered section highlighted creating a striking contrast.
---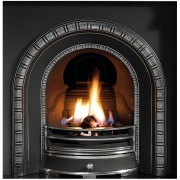 Giving you the opportunity to burn several types of fuel such as wood, coal, gas or electric, the Henley cast iron insert will take pride of place within a wide range of fireplace surround styles. Gorgeous embellishments extending across the arch detail and offered in a choice of black or highlighted finish.
---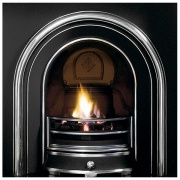 High quality, cast iron construction using traditional methods, the Gallery Jubilee fireplace insert manages to work well combined with both traditional or contemporary mantels. Finished in matt black with a polished silver, highlighted arch and front bar detail and suitable for a variety of fires.
---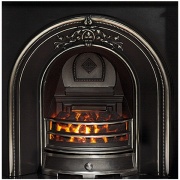 A delightful cast iron fireplace insert supplied with its own dedicated cast back that will grace a large range of mantel styles. The Gallery Landsdowne is offered in a choice of traditional matt black or highlight with the raised arch bead and intricate detail picked out in a satin silver finish.
---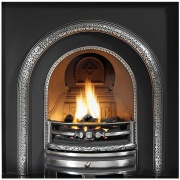 The Lytton is a popular model that is often featured in many of the stunning fireplace surrounds within the Gallery range. Supplied with its own cast iron back, the Gallery Lytton is offered in a choice of black or highlighted finish plus a choice of option fires. Quality cast construction with stunning detail.
---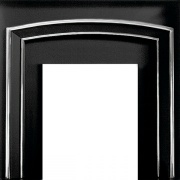 Boasting a gentle arch detail in polished silver, the Gallery Monroe provides a stylish alternative to flat back panels whilst also being suitable to combine with virtually all standard sized gas or electric fires. Robust cast iron construction crafted using traditional methods and ideal for most surrounds.