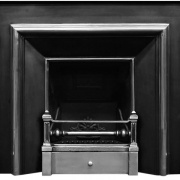 An imposing, square edged cast iron insert that takes inspiration from classical Georgian designs. The Carron Royal is offered in three finishes; black, highlighted or full polished and is available to combine with a variety of fire options to suit your individual requirements.
£475.00

---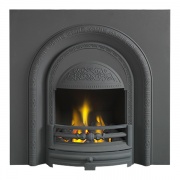 The Ashbourne Integra is a decorative arched cast iron fireplace insert. Offered in matt black or highlighted with the intricate detail on arch and front bars polished silver. Being part of the Integra range of inserts, the Ashbourne is compatible with any of the versatile Integra fire options.
---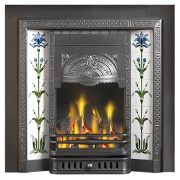 Shown here in the Antique finish, the Aston Integra cast iron insert features attractive detail on the canopy and outer band making it almost indistinguishable from original Victorian inserts. However, this innovative model is designed to accommodate a range of cutting-edge gas fires.
---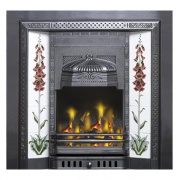 The Eden Integra is a traditional style tiled cast iron insert featuring an ornate patterned canopy and intricate detailing echoing the Victorian era. It is available in matt black or Antique finish as shown which has a lovely graphite colour. Compatible with all of the cutting-edge 'Integra' gas fires.
---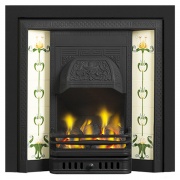 The Glen Integra is from Cast Tec's beautiful range of Victorian styled cast iron fireplace inserts. Offered in a choice of matt black, highlight polished or antique (graphite) finish. Despite it's traditional looks, it has the benefit of being compatible with a range of highly sophisticated, dedicated gas fires.
---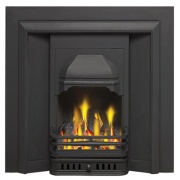 Compared to most cast iron inserts of this type, the Jesmond Integra is a plain design which will appeal equally to both traditional or contemporary settings. Shown here with Art Deco cast panels, you also have the option of accentuating the design by choosing decorative, hand-painted tiles.
---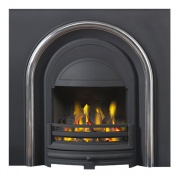 The Majestic Integra is a plain arched cast iron insert in matt black with its outer band polished to a beautiful silver. This rather simple style allows the Majestic Integra to suit both traditional and contemporary rooms settings. Choose from a large selection of dedicated fires including high efficiency!
---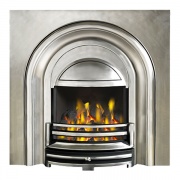 With a stunning, fully polished finish, the Marquis arched cast iron insert is equally suited to both traditional or contemporary settings. Combine with one of Cast Tec's exclusive 'Integra' fires and fit into almost any fireplace surround to create a truly spectacular feature in your home.
---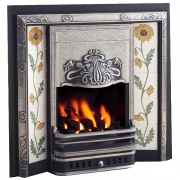 With beautiful Art Nouveau detailing on the canopy and around the insert band, the Oxford Integra oozes classical charm. Available in a choice of matt black, highlighted or antique graphite, this popular cast iron insert can be combined with a high performance gas fire and a selection of ceramic tiles.
---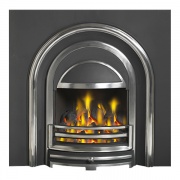 The Regal Integra is a plain arched insert in matt black with the inner and outer bands polished along with the canopy rim and fire front. This stylish insert combines traditional cast iron construction with the latest developments in technology to allow you to add a highly advanced fire.
---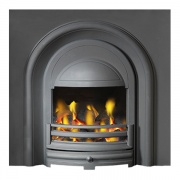 From the innovative Integra range of cast iron inserts from Cast Tec, the Royal is a plain arch design in a simple matt black finish. It will provide a striking contrast to lighter fireplace surrounds and has the benefit of being compatible with a wide range of high performance gas, electric or real fires.
---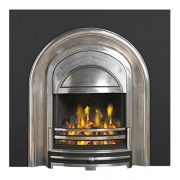 Offered in an elegant half polished finish, the Viscount Integra arched cast insert will make a exquisite feature for your home when combined within a suitable fireplace surround. As with all models in the Integra range, you a choose from a large range of dedicated, highly advanced fires.
---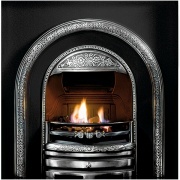 A versatile, decorative cast panel which can be combined with a variety of fires to create a beautiful interior for your fireplace. The Gallery Bolton is finished in matt black with the raised sections on the arch, front bars, ashpan and canopy highlighted in silver.
---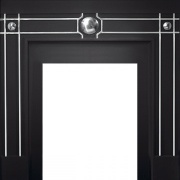 A complete, cast iron back panel suitable for combining with standard fireplace surrounds/ The Gallery Chamberlain fascia is finished in matt black with the ornate detail of the panel picked out in a polished highlight finish. It can accommodate any standard 16" x 22" gas or electric fires.