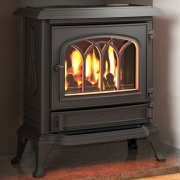 The Broseley Canterbury gas stove is a extremely elegant model manufactured from high quality cast iron making it a ideal alternative to a real woodburner. The slimline design of the Canterbury gas stove make it ideal for hearth mounting.
---
A spectacular, contemporary gas stove which incorporates the sleek, cast iron casing of its wood burning counterpart. The Broseley Evolution 5 gas stove is brand new for 2017 and offers the stylish looks of a modern woodburner combined with the convenience of gas!
CALL

---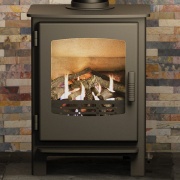 Following on from the phenomenal success of its electric counterpart, the superb Desire 5 gas stove allows you to add a charming feature in your home that has the attractive looks of a wood burning stove combined with the convenience of gas. Operated by a choice of manual or remote controls.
CALL

---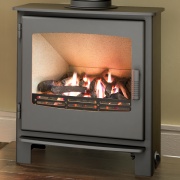 A conventional flue gas stove designed and manufactured in Britain giving you the charm and character of a real wood burning stove with the added convenience of gas. The Evolution Desire 7 has a 4.7kW heat output with easy to operate controls located at the bottom side of the appliance.
CALL

---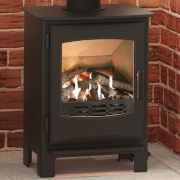 A stylish, neat gas stove that is perfect for combining within a fireplace or fitting free-standing on its own. Proudly made in Britain, the Ignite 5 gas stove is manufactured with a strong steel body and heavy duty cast iron door. Authentic log fuel effect with maximum output of 4.6kW.
CALL

---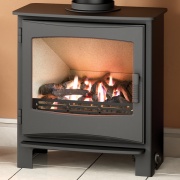 Providing warmth and character, the Evolution Ignite 7 gas stove features a huge glass viewing window which reveals a authentic log fuel effect and mesmerising flames that can be adjusted instantly using the discreetly located manual controls. Designed and manufactured in Great Britain!
CALL

---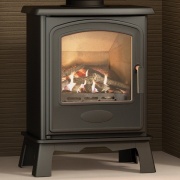 One of the exciting new products from Broseley for 2016 is their Hereford 5 gas stove. Suitable for conventional flues, this gorgeous, neat stove provides all the charm and looks of a wood burner with the instant controllability of gas. Authentic log fuel bed and sturdy steel body construction.
---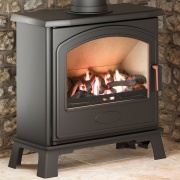 The Hereford 7 is a stylish conventional flue gas stove manufactured in Britain. With a steel body and cast iron door, you can enjoy a superb view of the flames from the Hereford's large arched viewing window. Realistic log fuel bed and powerful 4.7kW heat output.
---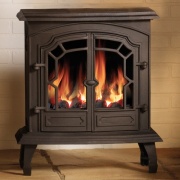 The Broseley Lincoln gas stove is a classically inspired design with delicate detail on it's double doors and manufactured from cast iron for the ultimate in authenticity. Enjoy up to 4.6KW of glorious heat whenever the room requires it using the concealed manual control.
---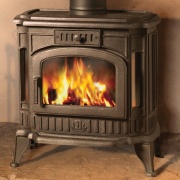 Like its woodburning and electric counterparts, the Broseley Winchester gas stove features triple aspect viewing windows giving the ultimate view of the mesmerising, dancing flames. The highly efficient gas burner generates up to 5.5kW of warming heat and 80% efficiency!
---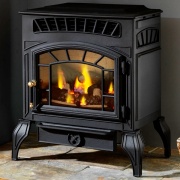 A real alternative to a wood burning stove with the benefit of not requiring a chimney or flue! The sensational Burley Ambience Flueless Gas Stove has a authentic log effect fire bed with real flickering flames producing a impressive maximum heat output of 3.5kW whilst boasting 100% efficiency!
---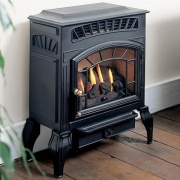 Flueless gas stove that provides flickering flames over a glowing coal fuel bed whilst not requiring a chimney or flue. Using state-of-the-art catalytic technology, the Burley Esteem 4221 oxygen depletion sensor constantly monitors the air quality in the room whilst boasting incredible efficiency!
---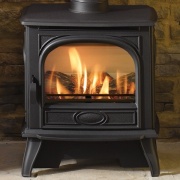 Offering the character of a real woodburner but with the convenience of gas, the Dovre 280 balanced flue gas stove is designed for homes with no chimney or flue and incorporates a dedicated balanced flue kit which vents the fumes directly though an outside wall.
---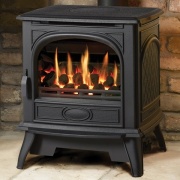 Offering a realistic alternative to a real wood burning stove, the Dovre 280 Gas Stove provides instant warmth and ambience at the touch of a button or even from the comfort of your armchair with one of Dovre's optional remote control systems.