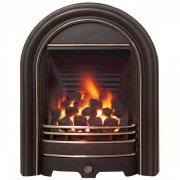 An unusual, inset gas fire that features a striking, cast arched fascia available in highlight black or full polish silver. The Be Modern Abbey gas fire is designed to fit into a standard rectangle fireplace opening and with two inset depth models available, is suitable for all flue types.
---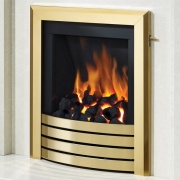 You can rely on the new Be Modern Alcazar open fronted gas fire to give you an open hearted welcome. In minutes you can achieve that shimmering ember stage of burn which takes hours with a carefully tended conventional open fire. Up to 3.6kW heat output and operated by a slide control.
---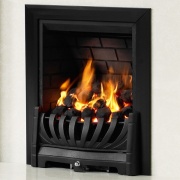 The Avantgarde has been a firm favourite in the Be Modern range of gas fires for many years. This versatile model is available in two depths - a Slimline model ideal for shallow pre-cast flues and a Deepline model giving a realistic fuel fire bed well suited to brick chimney homes.
---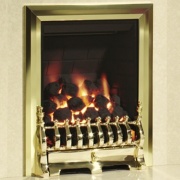 Flickering, open flames with a beautiful glow under the coal fuel effect give the Be Modern Classic gas fire an authentic feel whilst be capable of providing up to 4kW of warmth into the room. Choose from brass, black or chrome finish plus Slimline or Deepline depth to suit all flue types.
---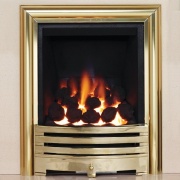 A perfect companion for any classically inspired fireplace, the Be Modern Contessa is a open-fronted gas fire offered in two depth options and capable of providing up to 4kW of heat. Brass finish with shaped trim, beautiful fret and a glowing coal fuel bed. Manual controls located at base of fire.
---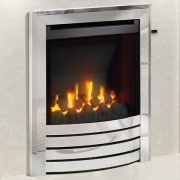 If heat could be picture perfect, this is it, thanks to the glass front which showcases the beautiful panorama of flames. The new Be Modern Imperium boasts maximum efficiency, greater heat output of 3.4kW to fill the room, a handy slide control and a large selection of designer trims.
---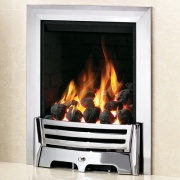 An ideal companion for a wide variety of fireplace designs, the Be Modern Mayfair gas fire is capable of providing up to 4kW of heat to your room as well as offering an abundance of ambience with open, flickering flames and a authentic coal fuel bed. Available in brass or chrome finish.
---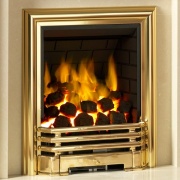 Providing a stylish compliment to any style of fireplace, the Be Modern Savannah inset gas fire is a open-fronted model offering all the realism of a real fire combined with the convenience of gas. Available in brass, black or chrome finish and in two depth options to suit any flue type.
---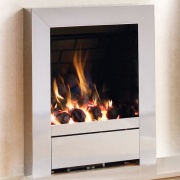 Ultra modern, open-fronted gas fire that oozes contemporary style. The Be Modern Sensation gas fire features a striking fascia offered in full polished silver or brass and is a popular choice to combine with modern fireplaces. Two inset depth models making it suitable for all flue types.
---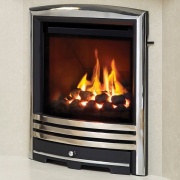 The most generous of the new Be Modern Gas Fire Collection in terms of the heat output of 4.5kW plus it's deeper fuel bed provides an array of glowing and warming flames. The Titanium achieves a triumphant 89% efficiency rating and all the while the interplay of flames remains clear for all to enjoy.
---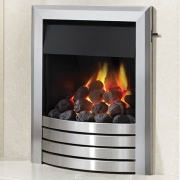 The Velocity is the hottest open fronted fire in the new Be Modern Gas Fire Collection. That's because the radiant heat from the deep coal bed is supplemented by a convection system. This technology not only boosts the heat output to 3.8kW but also the efficiency to 62%.
---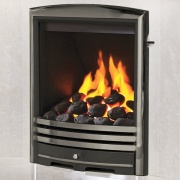 The fascinating natural variation of intense flame endlessly captivates your attention. Generating over 3kW of heat, the Be Modern Vortex has the power to make a substantial improvement to your comfort. The deepline fitting for brick or pre-fabricated chimney types is more than a practical consideration.
---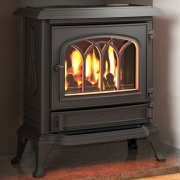 The Broseley Canterbury gas stove is a extremely elegant model manufactured from high quality cast iron making it a ideal alternative to a real woodburner. The slimline design of the Canterbury gas stove make it ideal for hearth mounting.
---
A spectacular, contemporary gas stove which incorporates the sleek, cast iron casing of its wood burning counterpart. The Broseley Evolution 5 gas stove is brand new for 2017 and offers the stylish looks of a modern woodburner combined with the convenience of gas!
CALL