Tuesday, 5 December 2017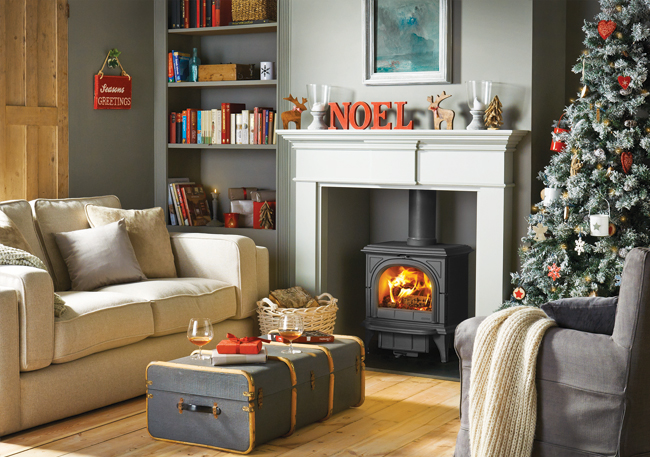 In this festive blog, we provide some hints and tips about making your Christmas fire and fireplace as appealing as possible using two different interior design ideas.
Saturday, 18 November 2017

If you like your interior design theme to change with the seasons, this blog provides some ideas for giving your home an autumnal feel.
Monday, 6 November 2017

If ever there was a season for wood burning stoves – this is it. Read how our latest appliances meet the EU's Ecodesign legislation making them a good way to reduce emissions.
Monday, 16 October 2017

Halloween is a key event in the winter calendar and so we had a bit of fun in our Middleton showroom and dressed a few of our fires for the season. We've also pulled together some great ideas for Halloween decorations and we hope this blog about decorating your fire for Halloween inspires you.
Thursday, 5 October 2017

With electric fires becoming increasingly popular due to their ease of installation, convenience and the ability to provide an lovely, ambient effect without the need to provide heat, new exciting designs are being released with authentic flame effects and the latest technology. A range that is guaranteed to become a huge success is the Ultiflame VR by Celsi Fires. Available as standard 16" inset electric fires, wall-mounted inset fires and a beautiful selection of free-standing electric fireplace suites, all versions boast a truly spectacular 'virtual reality' effect of rising flames above a bed of glowing crystal embers.
Friday, 29 September 2017

As autumn/winter sets in we are going to get warm and cosy at home and what better way to do this than with a real, wood or coal fire? However, you must ensure that your fire is prepared and safe to use in the winter months and that means having your chimney swept. This guide will help you check that your fire and your property are ready to enjoy the benefits that come with real flames.
Tuesday, 15 August 2017

Marketed as the most realistic fire ever produced by Gazco, the spectacular Reflex 75T gas fire needs to be seen to believed that this is not a real log fire! A huge non-reflective glass panel sits in front of an incredibly authentic log fuel effect. A state-of-the-art multi-burner gas fire produces a mesmerising flame which can be adjusted to your ideal setting whilst an innovative LED lighting effect beneath the fire bed can be used to accentuate the flames or even used to create a warming glow without the gas fire on at all! Capable of providing heat for the largest of rooms, the Reflex 75T has a incredible high output of 8.6kW combined with excellent efficiency.
Friday, 7 July 2017

Hugely popular, the Gazco Studio range of modern gas fires are offered in a variety of sizes and suitable for homes with or without a chimney. A great feature on the Studio fires is the extensive options allowing you to tailor the fire to your exact requirements making it perfect for your individual style. Both glass-fronted conventional flue and balanced flue versions have recently been improved and are now available with a choice of three fuel effects; realistic Logs, bleached Driftwood or a modern Pebble & Stone combination plus your choice of black Reeded, Black Glass or Vermiculite interior linings.
Friday, 16 June 2017

Mendip Stoves are renown for their extensive range of high quality wood burning and multi-fuel stoves which are designed especially for the UK market. With a long history of making cutting-edge products, their latest addition to the range is the superb Woodland stove which boasts multi-fuel capability and is one of the largest 5kW stoves on the market giving you a beautiful view of the flames. The Mendip Woodland stove won best stove under 5kW at the Hearth and Home Awards in 2016 and £10 of every sale of this stove goes to the Woodland Trust for planting native trees in the UK.
Wednesday, 4 January 2017

Brand new for 2017, Celsi have released a version of their popular Famonik electric fire with a distinctive glass mirror fascia that benefits from simple installation allowing you to easily add a striking focal point to virtually any room in your home. Featuring a LED flame effect with four settings, this innovative fire will create a cosy atmosphere in homes with or without a chimney and allows you to enjoy the authentic flame effect without the need to use the heater function. Supplied with a remote control for ease of use and an attractive coal and log fuel bed.