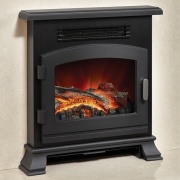 A new model from Be Modern, the Banbury electric inset stove allows any home to achieve a 'woodburner' look without the need of a chimney. Designed to be fitted into a fireplace with a standard 16" opening, the Be Modern Banbury incorporates the latest LED technology.
---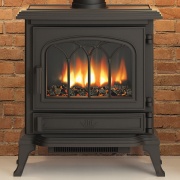 Using the same cast iron body as the multi-fuel version, the Broseley Canterbury electric stove is popular with home-owners wanting the look of a woodburner but do not have the required flue or for people who just want a stylish feature that can be used throughout the year.
---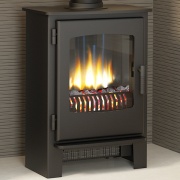 Incorporating a heavy duty, authentic body in steel, the new Evolution Desire 5 electric stove from Broseley offers a realistic alternative to a real stove with a pleasant flickering flame pattern and glowing coal bed that can be enjoyed at all times. Flame only setting plus heater function with thermostat.
CALL

---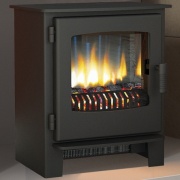 Quality, steel construction and featuring an extremely realistic flame picture that can be enjoyed with or without the heater function. The Broseley Evolution Desire 6 is a stylish electric stove made in Great Britain and provides a genuine alternative to a real stove without requiring a chimney.
CALL

---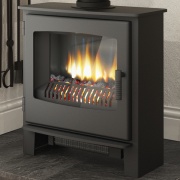 The largest model in the stylish Evolution Desire range of electric stoves from Broseley, this authentic model is perfect for fitting on its own as an attractive focal point that is also capable of providing heat quickly to your room or within a suitable fireplace. Realistic flames in a heavy duty steel body.
CALL

---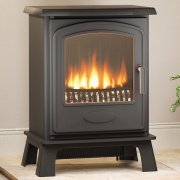 Choose from two sizes on the fabulous Broseley Hereford electric stove. Using the same, sturdy steel casing as the wood burning version, you can create a stylish feature within any room that can provide an attractive dancing flame effect without the need to have the heater setting on.
---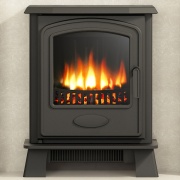 A stylish, electric 'inset' stove that designed to be fitted into fireplaces with a standard cut-out in the back panel. With a slim 69mm inset depth, the new Broseley Hereford Inset can be fitted on a flat wall fit with any 75mm rebate surround. Coal bed arrangement and distinguished flame pattern.
---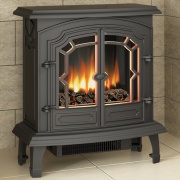 With its realistic flame effect and classical charm, the Broseley Lincoln electric stove offers instant warmth and ambience in any home. Cast iron construction, this popular appliance can be combined within a fireplace or simply used as a free-standing feature on its own.
---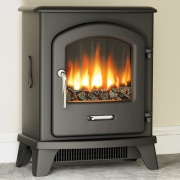 Simple, clean lines on the Broseley Serrano 3 electric stove result in it being equally suited to both modern or classical interior design schemes. Robust, cast iron construction and a extremely realistic ribbon flame effect plus 2kW fan heater.
---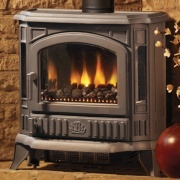 With side windows crafted into it's quality cast iron casing, you will benefit from an excellent view of the realistic flame effect no matter where you sit in the room. The Broseley Winchester electric stove will provide instant warmth and ambience in any home.
---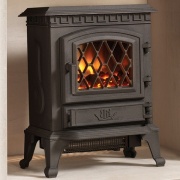 Sit the Broseley York Midi electric stove next to it's gas or wood burning counterparts are you'll struggle to see any difference. Using the same high quality cast iron casting, it features a realistic electric engine that you can enjoy every night of the year.
---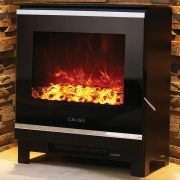 Money saving LED flames producing a realistic effect that can be enjoyed independently of the heater function. The new Celsi Electristove XD Glass is a stunning, contemporary designed electric stove that provides an extremely simple solution to quickly add a stylish focal point to any room.
---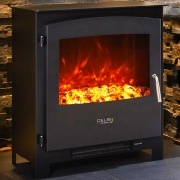 A simplistic design that allows the low running cost, smouldering flames to take centre stage! The attractive Celsi Electristove XD metal really sets the standard with innovative LED technology creating a mesmerising, 3D flame effect which can be used on its own plus a soothing fan heater when needed.
---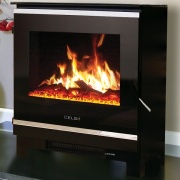 Fashionable and functional, the fantastic new Purastove Glass 2 is a designer, black glass free-standing stove incorporating a state-in-the-art LCD engine allowing you to display three realistic flame movies! Stylish and contemporary with the option for flame effect only plus up to 2kW of heat.