The Ador is from the contemporary range of designer electric fires from Flamerite. Finished in a striking Starlight White, the textured side panels to this fireplace are accentuated by the addition of two down lights hidden in the top shelf. Authentic LED flames with choice of fuel effects.
Showroom Exclusive
CALL

---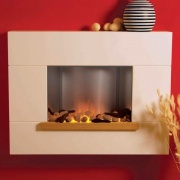 Easy installation allowing to simply hang the Flamerite Akaroa electric fireplace suite on to virtually any flat wall in your home without he need to inset. Attractive Portland stone effect finish with oak shelf plus contemporary pebble fuel effect. Fully remote control with low energy LED flame effect.
Showroom Exclusive
---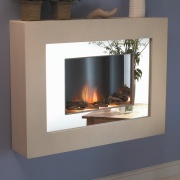 The Flamerite Aspiration Suite offers simple, 'hang-on-the-wall' installation making it an ideal option for all homes. Stylish, Portland stone effect surround with mirror inner panel and curved electric flame picture. Hidden heater with 1kW and 2kW settings plus advanced LED flame technology.
Showroom Exclusive
---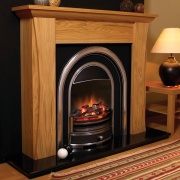 If you're looking to add a beautiful, classical inspired fireplace into you home but don't have a chimney or flue, look no further than the Flamerite Austen electric fireplace suite. This free-standing fireplace can simply be placed against any flat wall without the need to inset.
Showroom Exclusive
---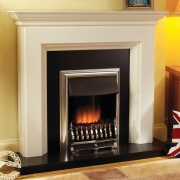 The contrast between the classical, stone effect mantel and the black granite effect back panel and hearth create a striking feature fireplace. The Flamerite Balao electric fireplace suite is completely free-standing and requires no chimney or flue.
Showroom Exclusive
---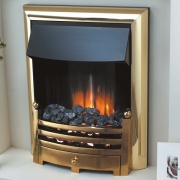 One of the longest established inset electric fires from Flamerite. The Berkeley is offered in a choice of brass or silver and coal or log fuel effects plus LED technology. It features a 70mm inset depth and is designed to fit into any standard fireplace opening. 1kW and 2kW heat settings.
Showroom Exclusive
---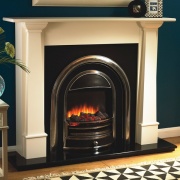 The Flamerite Bronte is a gorgeous, free-standing electric fireplace suite that combines a classic, stone-effect mantel, cast effect arched insert with realistic, LED electric flame effect and a granite effect hearth. Simple installation allow the fireplace to be fitted flush against a flat wall.
Showroom Exclusive
---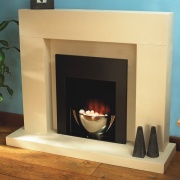 This chunky, modern electric fireplace suite has the benefit of easy installation which doesn't require any building work. Simply place the Flamerite Cadenza suite against any flat wall and plug in to enjoy the unique electric fire flame effect and fan heater.
Showroom Exclusive
---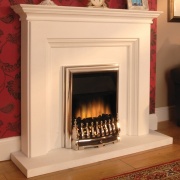 The Flamerite Cassia electric fireplace suite is a classical design which is offered with a choice of silver or brass fire. The stone effect suite will blend well into any room
décor
style and it boasts simple installation as it will fit flat against the wall with no need to inset.
Showroom Exclusive
---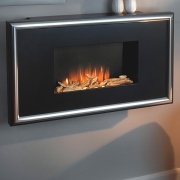 The same base fire as the standard Flamerite Corello but with the addition of a stylish, polished silver trim around the main fascia. The Corello 'Extra' is offered in graphite or stone effect finish and with a choice of coal or pebble fuel effects. Suitable for wall hanging or inset.
Showroom Exclusive
---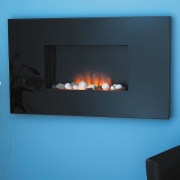 Available with a choice of black or bright mirror effect front panel, the Flamerite Corello Mirror wall-mounted electric fire will create a striking feature in any modern home. As well as it's sensational looks, it incorporates a concealed fan heater with up to 2kW of instant heat.
Showroom Exclusive
---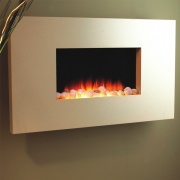 One of the most popular, wall-mounted electric fires available offered in a choice of colours and sizes. The Flamerite Corello Standard can be fitted flush on to any flat wall or if you have depth available, it can be inset so only the fascia protrudes. Now with the latest LED flame effect as standard!
Showroom Exclusive
---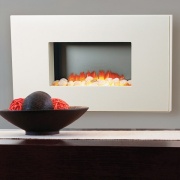 The Flamerite Cygnus wall mounted electric fire will create a stunning visual impact in contemporary homes. The cool, white mirror finish meets current design trends and with this fire being suitable for wall hanging or inset, there are very few installation limitations.
Showroom Exclusive
---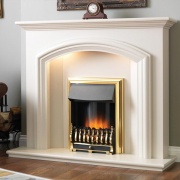 Freestanding electric suite finished in a beautiful stone effect finish with ambient downlights and a fire boasting LED technology. The Flamerite Dalton can be fitted almost anywhere in your home including living rooms, dining room and conservatories. No chimney or inset depth needed!
Showroom Exclusive