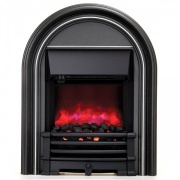 Whilst designed to be fitted into a standard, rectangle fireplace opening, the Be Modern Abbey electric fire features a beautiful, arched cast frame giving the impression of a classical cast insert. Low energy LED flame effect plus instant heat from the 2kW fan heater when needed.
Showroom Exclusive
---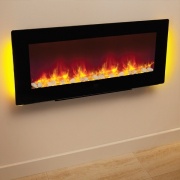 The Be Modern Amari is a stunning, LED electric fire that gives you the option to mount on to any flat wall or display it as a free-standing appliance using the plinth supplied. Panoramic low energy flame effect with ambient back lighting in a selection of colours to suit your mood.
Showroom Exclusive
---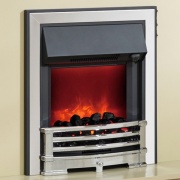 The Be Modern Aspen inset electric fire will compliment both classical and contemporary fireplaces. Offered in your choice of chrome or brass finish, this highly efficient electric fire features a realistic flame effect, a coal fuel bed and easy to operate controls located at the top side of the trim.
Showroom Exclusive
---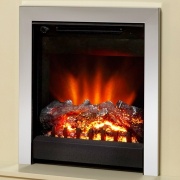 Available in two sizes, the Be Modern Athena inset electric fire provides a stylish, contemporary feature suitable to combine with virtually any fireplace surround. Realistic glowing log fuel bed with state-of-the-art LED flame technology for exceptionally long life and low energy consumption.
Showroom Exclusive
---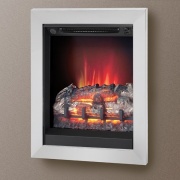 Contemporary styled, wall-mounted inset electric fire with a striking 4-sided chrome trim. The Be Modern Athena wall-mounted electric fire features thermostatic control for added energy efficiency and the latest LED flame technology producing an authentic, smouldering fire flame effect.
Showroom Exclusive
---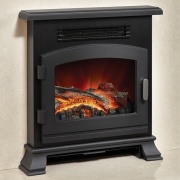 A new model from Be Modern, the Banbury electric inset stove allows any home to achieve a 'woodburner' look without the need of a chimney. Designed to be fitted into a fireplace with a standard 16" opening, the Be Modern Banbury incorporates the latest LED technology.
Showroom Exclusive
---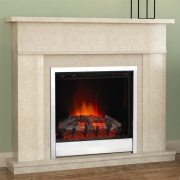 Crafted in Great Britain using luxurious Manila marble, the Be Modern Benito is a complete electric fireplace suite that can be fitted against a flat wall without the need to inset. At the heart of this beautiful design is a large aspect, LED electric fire with glowing log fuel effect basket feature.
Showroom Exclusive
---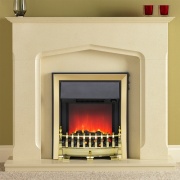 The Be Modern Bramwell Eco electric fireplace suite is a complete, free-standing unit that is ideal for properties with or without a chimney. The beautiful marfil marble effect finish will compliment any interior style and the suite benefits from a highly efficient electric fire.
Showroom Exclusive
---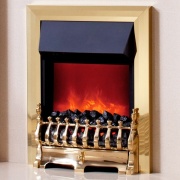 With two trim options giving you options of inset or free-standing, the Be Modern Camberley electric fire is a popular choice for home-owners with or without a chimney. Low energy, LED flame effect available in brass, chrome or black finish with all models supplied with a matching Blenheim fret.
Showroom Exclusive
---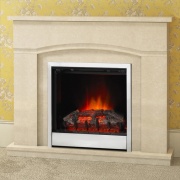 The Camilla is a complete electric fireplace suite comprising of a surround with arched chest detail, back panel and lipped hearth in the popular Manila marble combined with a extra large chrome electric fire with logs in a basket feature that has flame only LED setting plus up to 2kW of heat.
Showroom Exclusive
---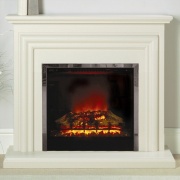 A stylish addition to both classical or contemporary homes, the Be Modern Carina Eco electric fireplace suite will create a beautiful feature whilst boasting low running costs. The large, panoramic log effect electric fire makes a bold statement and benefits from LED technology.
Showroom Exclusive
---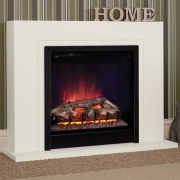 A compact, free-standing electric fireplace suite that incorporates a widescreen LED electric fire. The Be Modern Colby is a modern inspired design suitable for any home with or without a chimney. Surround and hearth finished in soft white ideal for a variety of interior colour schemes.
Showroom Exclusive
---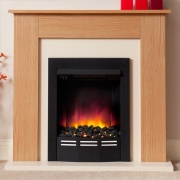 Anyone looking for a wooden fireplace surround combined with a electric fire should consider the Be Modern Colston Eco electric fireplace suite. This free-standing, complete fireplace includes a choice of natural or warm oak mantel, Marfil effect back panel & hearth plus a low energy, LED electric fire.
Showroom Exclusive
---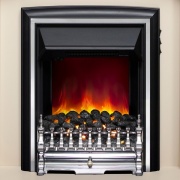 Despite its low price, the Be Modern Comet electric fire is packed with the very latest technology normally only found in higher priced models. LED flame technology, high level switches and a twin spacer kit supplied as standard make the Comet an extremely appealing model.
Showroom Exclusive