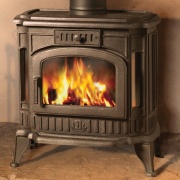 Like its woodburning and electric counterparts, the Broseley Winchester gas stove features triple aspect viewing windows giving the ultimate view of the mesmerising, dancing flames. The highly efficient gas burner generates up to 5.5kW of warming heat and 80% efficiency!
Showroom Exclusive
---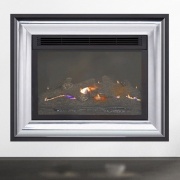 Designed for inset installation, the Burley Acumen 4111 boasts an incredible maximum heat output of 4.5kW! Offered with a choice of chrome or black trim, this stylish 'hole-in-the-wall' flueless fire is ideal for homes without a flue and will provide real, dancing flames set behind a glass window.
Showroom Exclusive
---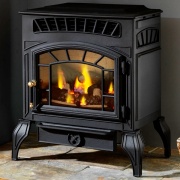 A real alternative to a wood burning stove with the benefit of not requiring a chimney or flue! The sensational Burley Ambience Flueless Gas Stove has a authentic log effect fire bed with real flickering flames producing a impressive maximum heat output of 3.5kW whilst boasting 100% efficiency!
Showroom Exclusive
---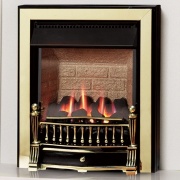 The Environ range of flueless gas fires from Burley is available in a wide variety of styles and is the perfect way to enjoy real, flickering flame even if your property doesn't have a chimney or flue. Suitable for inset installation into a fireplace or can be made free-standing using the optional spacer.
Showroom Exclusive
---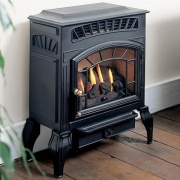 Flueless gas stove that provides flickering flames over a glowing coal fuel bed whilst not requiring a chimney or flue. Using state-of-the-art catalytic technology, the Burley Esteem 4221 oxygen depletion sensor constantly monitors the air quality in the room whilst boasting incredible efficiency!
Showroom Exclusive
---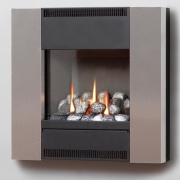 A contemporary, wall-mounted gas fire which features the very latest technology producing real flames and 100% efficiency without the need to fit into a flue. The Burley Image 4237 flueless gas fire features a brushed steel contrast fascia and boasts the very latest flueless technology.
Showroom Exclusive
---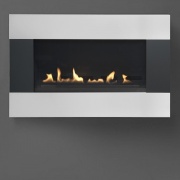 The Burley Latitude gives everyone the opportunity to enjoy a real flame fire that doesn't lose any of the heat produced up a chimney or flue. Supplied with a Contrast trim in black & stainless steel, the Latitude will add instant warmth and ambience in modern homes.
Showroom Exclusive
---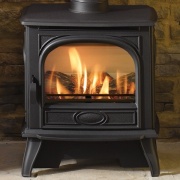 Offering the character of a real woodburner but with the convenience of gas, the Dovre 280 balanced flue gas stove is designed for homes with no chimney or flue and incorporates a dedicated balanced flue kit which vents the fumes directly though an outside wall.
Showroom Exclusive
---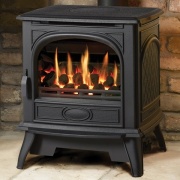 Offering a realistic alternative to a real wood burning stove, the Dovre 280 Gas Stove provides instant warmth and ambience at the touch of a button or even from the comfort of your armchair with one of Dovre's optional remote control systems.
Showroom Exclusive
---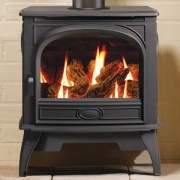 The balanced flue version of Dovre's popular 425 gas stove features state-of-the-art technology allowing homes without a chimney or flue to enjoy a real, living flame effect which will offer a beautiful, ambient feature as well as impressive heating performance of up to 5.3kW.
Showroom Exclusive
---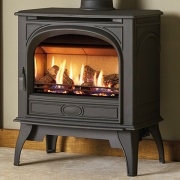 The Dovre 425 Gas Stove offers traditional styling combined with the latest technology that provides a highly realistic glow and gentle dancing flames around a authentic log fuel bed. Available for both natural gas and LPG homes.
Showroom Exclusive
---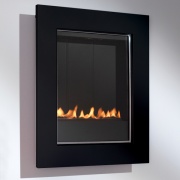 The popular Eko 5010 is a hang-on-the-wall flueless gas fire that gives virtually any home the ambience and beauty of a real flame feature fire. With no chimney or flue available, it's ideal for installing on a flat wall in living rooms, conservatories, kitchens and boasts 100% efficiency!
Showroom Exclusive
---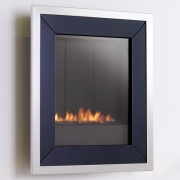 With a detachable chrome effect trim that elegantly borders the black mitred frame, the Eko 5020 will provide a wide range of interior styles with a much needed focal point. Simple, flat wall installation with no chimney or flue needed. Portrait dimensions allow for it to be fitted on narrow wall spaces.
Showroom Exclusive
---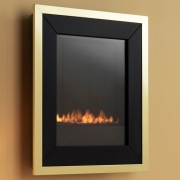 Including a polished, brass effect trim allowing the Eko 5030 flueless gas fire to work well in both classical or contemporary settings. Using Pure Heat™ catalytic technology and therefore all of the heat generated by the fire enters your room. Subsequently, neither a chimney or flue is required.
Showroom Exclusive