The ACR Tenbury multi-fuel inset stove is the perfect solution for enjoying real stove ambience in a standard 16" fireplace opening. Featuring attractive, contemporary styling and straightforward installation with its free floating flue collar and convection outerbox. Suitable for use in smokeless areas.
£850.00

---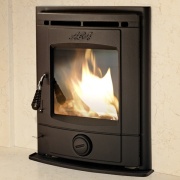 The AGA Stretton inset stove allows you to update an existing, inefficient open fire to a stylish, highly efficient heating appliance. Producing a nominal heat output of 4.9kW, fitting the AGA Stretton has the added benefit of not requiring an air-vent in the room.
---
The 'SE' version of the AGA Stretton inset stove allows you to legally burn wood if you live in a smoke controlled area. This stylish, cast-iron inset stove is a perfect solution for anyone looking to increase the efficiency, output and controllability of an existing open fire.
---
The Inset model of Cast Tec's popular Cougar stove is a great way to turn an existing fireplace opening into a highly efficient and clean way to enjoy wood burning. Quality cast iron construction, the Cougar Inset features a large glass viewing window providing a lovely view of the flames.
£799.00

---
Whether you're looking for a inset woodburning stove to recess into a fireplace or want to create a striking, modern feature by installing a stove raised up in the wall, the Titus 5 is a versatile cassette stove that can do just that! Steel and cast iron construction with a nominal heat output of 5kW.
---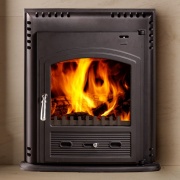 The Dimplex Westcott inset stove offers the perfect solution for anyone looking at updating their existing, inefficient 16" open fire with a inset, multi-fuel stove that will improve the efficiency greatly, produce more heat and allow greater controllability.
£420.00

---
The Ekol Inset 5 is a stylish option for anyone looking to update an existing open fire which will provide much improved efficiency and controllability. It is also suitable for wall-mounting giving a modern option for home heating. Available in matt black or a variety of enamel finishes.
£799.00

---
The largest model in the Ekol range of inset stoves, this 8kW model will be a welcome addition to larger rooms where powerful and efficient heat is required. The Ekol Inset 8 offers a superb solution to update an existing open fire and will give you far more heat, efficiency and controllability.
£899.00

---
An attractive, inset stove that benefits from DEFRA approval allowing you to burn wood and smokeless fuels even if you live in a smoke controlled area. The Helios Cleanburn Inset is designed to be inset into an existing standard open fire opening or combined within a fireplace.
£730.00

---
The latest addition to the Tiger stove range, the Tiger Inset is a popular choice for those want the classic fireplace look without compromising on heat and efficiency or to replace an old, inefficient open fire with an appliance that boasts a 5kW heat output and far superior controllability.
£666.00

---
Recently approved for wood burning in smokeless areas, the Hunter Telford 5 Inset Stove can be fitted into an existing fireplace opening and will provide much superior heating performance and efficiency compared to an open fire. The Telford 5 can also be run right through the night.
---
Boasting a powerful heat output range of 5kW to 8kW, the Hunter Telford 8 multi-fuel inset stove is the perfect solution for anyone looking to replace an existing open fire with a appliance that will easily be capable of heating most room sizes as well as burning its fuel far more efficiently.
---
The Burcott from Mendip Stoves is designed to fit directly into a standard British fireplace without removal of the fireback, making install quick and easy meaning you no longer have an excuse for not replacing your inefficient open fire, with a clean environmentally friendly inset stove.
£785.00

---
Made from premium constructed steel, the Mendip Christon 900 Inset Flatline convection stove can either be framed on all 4 sides or on 3 sides for flush mounting with the floor. Part of the innovative design is additional air ducting allowing 40% of the heat being re-directed to an additional room.
£2,112.00