New Showroom Display! The Parada Illumia 58L High Efficiency Fireplace Suite
Tuesday, 12 January 2016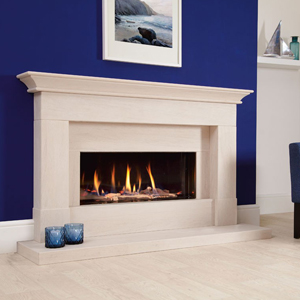 Parada Illumia 58L in Natural Limestone finish
Many home-owners are now looking for something bespoke and unique when looking to update their fireplace. Options used to limited to a separate fireplace and standard sized 16" inset gas fire, now has become much more extensive with the addition of a range of 'complete high efficiency fireplace solutions' such as the incredible suites offered by 'The Collection by Michael Miller.
A designer range of natural stone fireplaces especially adapted to accommodate a selection of highly advanced gas fires including models compatible with properties that do not have a chimney or flue. The fires incorporated within these fireplaces are often much bigger than the universal known standard inset fires and create a stunning visual impact allowing the flames to take centre stage.
One of the most popular suites within the range is the natural limestone Parada Illumia which we have recently fitted on live display in our fireplace showroom in Manchester. We opted for the 58L version of this model to show-off the low-wide dimensions which takes inspiration from contemporary European designs.
Beautifully crafted in natural Portuguese Limestone, the Parada Illumia 58L is supplied with a state-of-the-art, panoramic gas fire that combines stunning looks with superb performance and efficiency. Supplied with both authentic logs and contemporary white stones fuel effects, the fire produces a sublime flame pattern which is accentuated by the highly reflected black enamel interior panels. The glass-fronted fire boasts incredible high efficiency of up to 83% (net) and a impressive high heat output of 5.2kW.
Operated by a multifunction remote control which gives you armchair operation of the on/off and flame height settings as well as being able to adjust the brightness of the ambient halogen downlights fitted discreetly on the underside of the mantel shelf. The ambient lights provide a sublime effect that really shows the fireplace off as the main focal point in the room even when the fire is not in use.
For those who prefer the option of having this highly advanced fire fitted raised up on the wall without any fireplace surround, you can purchase the fire separately for minimalist frameless installations or with one of two optional trims. It is sold under BFM Europe's sister company Kinder Fires as the Eden HE.
Both limestone and travertine finish options on the Parada Illumia will compliment any interior colour scheme as they have neutral tones and are luxurious to touch. As natural materials, limestone and travertine can be subject to variation in colour and veining. Small fossils and crystal lines may also be apparent in some sections of the surround making it an inherent feature of the product. These are not defects but mean that every suite will be entirely unique.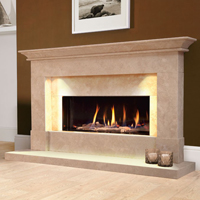 Travertine finish with ambient lights on
Whilst the larger 58L suite will definitely make a dramatic statement in any home, it may prove too wide for some chimney breasts or overpower smaller rooms. With this in mind, there is also a standard 54" version and for those who prefer a lower output fire, you may wish to look at the 'S' version that is supplied with a smaller gas fire with 3.5kW maximum output.
Even properties without a chimney or flue can enjoy this striking feature fireplace. The balanced flue version allows installation on an external wall and includes balanced flue components that take the fumes (and allows fresh air in to the fire) directly through the wall.
So, if you're looking for something special that will take pride of place in your home for many years as well as being a highly efficient heat source, visit our showroom to see the Parada Illumia in all its glory and for a limited time we are offering this beautiful fireplace at a special introductory price! All 'The Collection by Michael Miller' range of fires and fireplaces are exclusive to dedicated dealer showrooms and not available for purchasing via the internet.