A truly beautiful model, the AGA Dorrington wood burning stove adds inspiration to any space it fills. With a high efficiency at 80.4% and a 6kW nominal output it is ideal for medium and large living areas. Tall, imposing with the advantage of additional side windows for a full view of the flames.
---
The clean, contemporary lines of the Hadley wood burning stove will appeal to those looking for an honest, unfussy design. With its impressive height and beautiful flame effect, the Hadley will bring warmth and comfort to the coldest room. With an 8kW nominal heat output and 75.7% efficiency.
---
The grand proportions of the AGA Hanwood mean it will make a bold statement in any room. The extensive fire chamber with widescreen glass window allow the flames to take centre stage. As a smoke exempt appliance, the Hanwood is suitable for burning wood even in a smokeless area.
---
Two variants available which will create a stunning, stylish feature in contemporary living spaces. The pedestal version of the AGA Lawley wood burning stove allows the stove to be rotated giving you a full 360° view of the fire. Alternatively, you may wish to opt for the handy wood store base.
---
This popular model from AGA is an ideal solution for anyone looking for a compact woodburner which benefits from DEFRA approval. As with all AGA stoves, the Little Wenlock Classic SE is manufactured to a exceptionally high standard.
---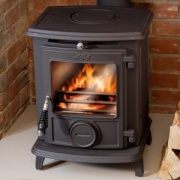 The Little Wenlock Classic, a compact multi-fuel stove from AGA which attains a very impressive 81.2% rating for energy efficiency. With a nominal heat output of 4.7kW the Little Wenlock Classic is perfect for the average room and needs no air vent in order for it to operate efficiently.
---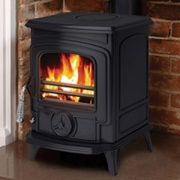 Don't be fooled by the AGA Little Wenlock's compact size as it has a heat output to rival much larger stoves. With a nominal heat output of 5.7kW when burning wood, running the stove on maximum sees a extremely powerful 8kW output!
---
The DEFRA approved version of the extremely popular AGA Ludlow stove has been designed for home owners living in smoke controlled areas who still want to enjoy a real wood burning fire. The AGA Ludlow SE is offered in matt black, cast iron.
---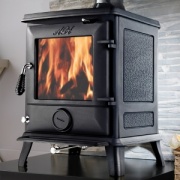 It's easy to see why the AGA Ludlow is a extremely popular multi-fuel stove. Robust, high quality cast iron construction combined with excellent heating performance from a iconic brand. Not only is it easy to use, it can be left to burn overnight so you're greeted in the morning by a beautifully warm room.
---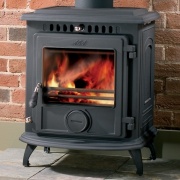 The AGA Much Wenlock is a medium sized multi-fuel stove designed for burning wood and approved solid fuels. Simple and easy to operate, the Much Wenlock can be left to burn overnight giving you the luxury of waking to a warm home!
---
A classic design that will compliment almost any interior, the AGA Shawbury boasts a panoramic viewing window allowing you a superb view of the burning logs. The Shawbury woodburner has a high quality steel body with a arched cast iron door and excellent heating performance of up to 7kW.
---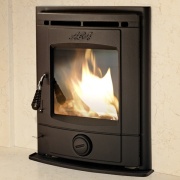 The AGA Stretton inset stove allows you to update an existing, inefficient open fire to a stylish, highly efficient heating appliance. Producing a nominal heat output of 4.9kW, fitting the AGA Stretton has the added benefit of not requiring an air-vent in the room.
---
The 'SE' version of the AGA Stretton inset stove allows you to legally burn wood if you live in a smoke controlled area. This stylish, cast-iron inset stove is a perfect solution for anyone looking to increase the efficiency, output and controllability of an existing open fire.
---
The ultimate in contemporary stove styling and featuring a huge feature glass viewing window allowing the mesmerising flames to take centre stage, the AGA Westbury will create a style statement in any home whilst being capable of providing a nominal heat output of 5.9kW plus superb efficiency.