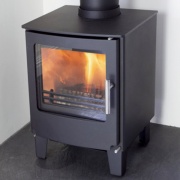 Danish design and engineering combine to produce a highly efficient multi-fuel stove designed specifically for the UK market. Simple, clean lines and packed with very latest features, the Wesfire Series One is offered with standard legs or with a convenient log store base options.
Showroom Exclusive
£990.00

---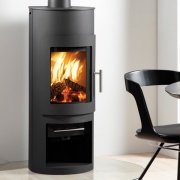 A modern, cylindrical design wood burning stove that is offered in a choice of black or grey finish. The Westfire Uniq 15 is designed to burn wood logs efficiently with a heat output of 5.3kW. If you also want the capability of burning smokeless fuels, there is an optional Coal Basket available.
Showroom Exclusive
£1,700.00

---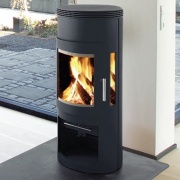 The Westfire Uniq 16 is built on age-old traditions and excels in terms of both design and functionality. This contemporary styled, cylindrical wood burning stove boasts cutting edge design with optional Soapstone accessories which help to retain heat once the fire has gone out.
Showroom Exclusive
£2,064.00

---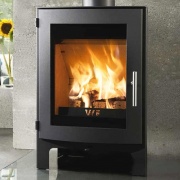 The Westfire Uniq 17 is a perfect example of this attention to detail and build quality. Beautiful yet functional wood burning stove with a convection body and insulated chamber. Its compact size make it ideal for smaller rooms and the modern Danish styling will add extra appeal to any interior.
Showroom Exclusive
£990.00

---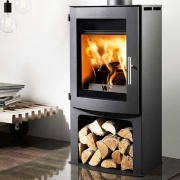 The Wesfire Uniq 18 features a convenient log store for easy re-loading and brings the fire to eye level for an enjoyable viewing experience. Cool to touch, this contemporary stove boasts full convection and is perfect for open plan living. DEFRA approved model available for smokeless areas.
Showroom Exclusive
£990.00

---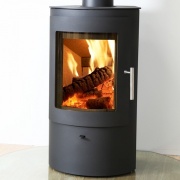 Available as a standard freestanding model in two heigh options, pedestal base or as a wall hung appliance, the Westfire Uniq 21 is a versatile wood burning stove capable of providing 5kW of heat. Perfect for the modern home, there is also a 'SE' version approved for smokeless areas.
Showroom Exclusive
£1,580.00

---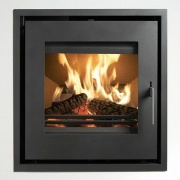 The inset version of the popular Westfire 23 allows you to enjoy the ambience and incredible heating performance that burning wood offers within a stylish, wall-mounted feature. Creating a window of fire, this 6.1kW wood burner allows for maximum viewing satisfaction from any angle.
Showroom Exclusive
£1,515.00

---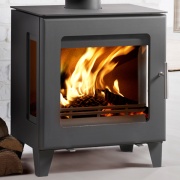 The Uniq 23 family of wood burning stoves from Westfire are a marvel of versatility with an option to suit wherever you decide your stove should be placed. With so many different options there are a multitude of ways in which the stove can be installed, each is guaranteed to be individual.
Showroom Exclusive
£1,278.00

---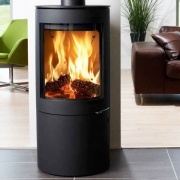 With its huge, curved glass window giving you an unobstructed view of the fire, the Westfire Uniq is perfect for modern day living. This contemporary model incorporates the very latest technology offering superb high efficiency and the SE model can even be used to burn wood in smokeless areas.
Showroom Exclusive
£1,849.00

---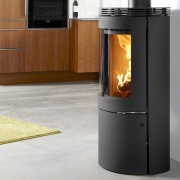 The Westfire Uniq 27 contemporary wood burning stove that features a cylindrical body for high efficiency burning while the huge glass area means the stove looks great with or without a fire burning! Available in black or grey with optional closed combustion kit and model suitable for smokeless areas.
Showroom Exclusive
£2,063.00

---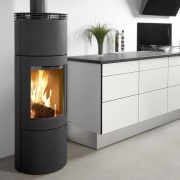 Extra tall with a slimline, cylindrical silhouette, Westfire's Uniq 28 contemporary wood burning stove creates quite an impression. Featuring all that is must-have about Danish design, its combustion system is innovative, environmentally friendly and delivers an efficient, clean burn.
Showroom Exclusive
£2,212.00

---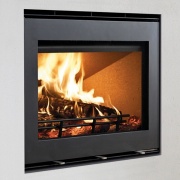 The Westfire Uniq 32 inset is a highly efficient wood burning stove with a stunning wide screen view of the fire. With its triple air supplies including pre heated secondary air wash to keep your glass clean you can be sure that this fire will give you more than just heat but a brilliant view as well.
Showroom Exclusive
£2,289.00

---
The modern inspired Westfire Uniq 33 secondary air wash system helps your glass stay clear while easy to use controls, an insulated chamber and clean combustion enhance the appeal. Including hidden log storage below the fire chamber there is also the option of adding side glass windows.
Showroom Exclusive
£1,852.00

---
The Uniq 35 brings the very best you have come to expect from Westfire in a beautifully crafted package. Bigger isn't always better as proved by this small stove, its impressive 4.3kW output and built in closed combustion make this new addition to the Westfire Stoves range something really special!
Showroom Exclusive
£1,320.00