The superb Ashcott SE multi-fuel stove is offered here in a delightful Ivory paint finish. Brighten up any fireplace chamber with this lovely model which is packed with the latest technology and benefits from being EcoDesign 2022 compliant with exceptional efficiency and is extremely clean burning.
Showroom Exclusive
£995.00

---
The latest addition from Mendip Stoves! The Ashcott is a simple, yet extremely attractive multi-fuel stove packed with highly advanced features that help with performance and efficiency. Eco-Design ready and with a large glass viewing window which provides a beautiful view of the flames.
Showroom Exclusive
£895.00

---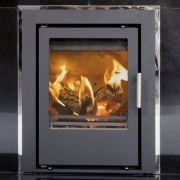 Inset stoves offer a different vision for a wood burning stove. A flush, built-in appliance ideal for the more minimalist rooms. The Mendip Christon 400 inset stove has simple, classic lines with a large window allowing the fire to really stand out giving an abundance of warmth and ambience.
Showroom Exclusive
£1,295.00

---
The freestanding Christon 550 is a wide, impressive contemporary wood burner that incorporates the very latest technology to provide extremely clean burning and optimum performance. It is offered with an optional Logstore base and Side Table - the ultimate style statement!
Showroom Exclusive
£1,225.00

---
Larger than the 400 model yet still retaining the optimum heat output for standard sized rooms, the Mendip Christon 550 wood burning inset stove will create a stunning feature either fitted into a fireplace at hearth level using the 3-sided trim option or raised up in the wall with a 4-sided trim.
Showroom Exclusive
£1,125.00

---
This contemporary, large format wood burning stove is designed for those looking for the ultimate in style, performance and efficiency. The Mendip Christon 750 Freestanding EcoDesign compliant stove provides a spectacular view of the fire through its panoramic glass front with heat up to 9kW.
Showroom Exclusive
£1,495.00

---
The Mendip Churchill 10 Logstore is the largest model in the range capable of up to 11kW of heat - more than enough for almost any room. It has been designed with ease of use and styling in mind its gently curving glass and door combined with cool touch handle and simple air controls.
Showroom Exclusive
£1,695.00

---
Ideal for heating larger, open plan living areas, the latest Mendip Churchill 10 Wood Burning Stove is equally suited to be combined within a fireplace or fitted on its own as a stand-alone feature. Despite its immense heating capability, the Churchill 10 is extremely easy to operate.
Showroom Exclusive
£1,335.00

---
A beautiful, contemporary inspired multi-fuel stove featuring a curved door boasting the latest technology. The new Mk4 Mendip Churchill 5 is features a convection top plate giving better heat distribution of heat and capable of heating larger spaces faster than a standard radiant stove.
Showroom Exclusive
£1,070.00

---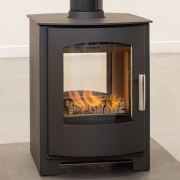 Based on the extremely popular Churchill 8 platform, the double-sided version of this multi-fuel stove features two large curved doors on either side of the appliance allowing you to enjoy the mesmerising flames and superb heat in two adjoining rooms. Matt black finish with stainless steel handle.
Showroom Exclusive
£1,835.00

---
The Mendip Churchill 8 Mk4 Logstore is one of the simplest, large output multifuel stoves to run. Boasting simple features such as a single air control, cool touch handle, adjustable feet for install and an air wash system to help keep your glass cleaner for longer.
Showroom Exclusive
£1,529.00

---
Giving you the very best in heating performance and efficiency, the Mendip Churchill 8 is a premium multi-fuel stove that boasts DEFRA approval allowing you to burn both wood and smokeless fuels in all parts of the country. Available with optional convection side panels.
Showroom Exclusive
£1,149.00

---
The Mendip Loxton 10 with Logstore base features everything you expect from a modern highly efficient wood burning stove whether it be an insulated chamber and large clear glass viewing area, or just simple ease of use with its highly technical user orientated design it can suit any room.
Showroom Exclusive
£1,339.00

---
Plain and simple design allowing the fire to become the main feature, the Mendip Loxton 10 is a powerful woodburning stove capable of providing an impressive 9.5kW of efficient heat to your home. The large viewing window is kept clear of deposits with a active Airwash system.
Showroom Exclusive
£1,219.00