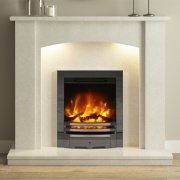 The Somerton is a stylish, marble fireplace available in a choice of colours. It is offered here complete with the highly advanced Beam 16" electric fire with either the Axton or Edge fascia. Designed for installation against a flat wall.
£1,059.00£1,318.00
---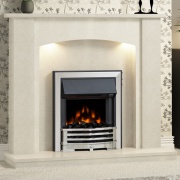 A lovely design from UK manufacturer FLARE Collection, the Somerton marble fireplace is a gorgeous design with all the attention to detail you would expect from this premium fireplace brand. Simple, stepped leg design with curved chest suitable for both modern and traditional room styles.
.
£549.00£669.00
---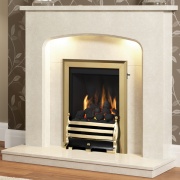 With its glorious arched chest with pencil detail edging, the Tasmin has been a popular model within the FLARE Collection range of marble fireplaces for many years. Offered in a choice of White or Manila micro-marble, the Tasmin will compliment a wide range of interiors.
£459.00£539.00
---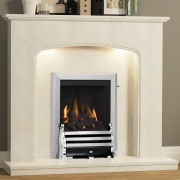 A lovely marble fireplace in the FLARE Collection range, The Viola fireplace is manufactured in the UK using state-of-the-art equipment which enables to create the stylish arch chest and intricate edge detailing on the legs. Optional Smartsense ambient down-lighting.
£569.00£679.00
---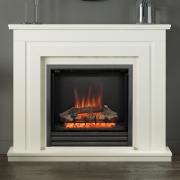 Proudly manufactured in Great Britain, the FLARE Whitham is a complete electric fireplace suite that can be fitted against a flat wall without the need to inset. At the heart of this beautiful design is a large aspect, LED electric fire in black nickel finish with glowing log fuel effect basket feature.
£559.00£699.00
---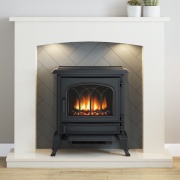 The Kingsbridge is a stunning solution from FLARE Collection for anyone looking to create a inglenook style fireplace feature that can be combined with a variety of electric fires and stoves. Creating the illusion of a deep inglenook chamber yet simple, free-standing installation against a flat wall.
£769.00£949.00
---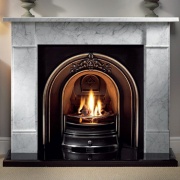 Crafted using natural Cararra Marble, the popular Brompton 56" fireplace surround from Gallery Fireplaces will add a charming, classical feature to your home. Shown here with the optional Landsdowne arched cast insert and available with a choice of fires and hearth options.
£659.00£829.00
---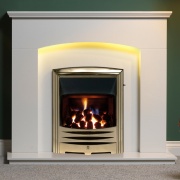 The Gallery Cartmel marble fireplace will make a dramatic impact in any modern home with its striking, Arctic White marble finish. This compelling suite is enhanced further by the ambient down-lights which create a remarkable effect and show your choice of gas or electric fire off beautifully!
£499.00£645.00
---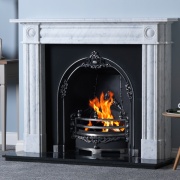 A spectacular, classically inspired fireplace mantel crafted in opulent Carrara marble. The Gallery Chiswick features attractive detailing and will take pride of place in any period property. Shown here with the optional Gloucester horseshoe insert in highlight finish and 54" polished granite hearth.
£1,049.00£1,315.00
---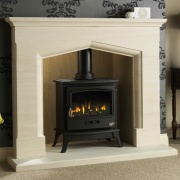 The Gallery Coniston 54" is offered here as a chamber fireplace which you are able to add the optional Tiger gas stove to create a fashionable 'stove fireplace' feature with the convenience of gas. Reeded fire board chamber with mantel and hearth in natural Limestone.
£979.00£1,225.00
---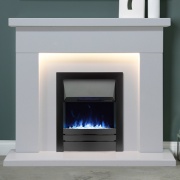 The Durrington 48" fireplace suite in Arctic White micro-marble represents classic design infused with a contemporary twist, aimed to complement a variety of interior styles. Comprising of a mantel, back panel and hearth, you have the option of adding your choice of gas or electric fire.
£575.00£715.00
---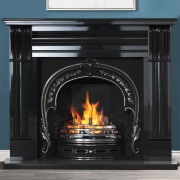 Guaranteed to make a powerful statement in your home, the Gallery Granite Corbel is a large fireplace surround crafted in sumptuous black granite. With a 60" mantel width, it is a popular companion for the stunning Fitzwilliam cast iron horseshoe insert as offered here as an optional extra.
£849.00£1,059.00
---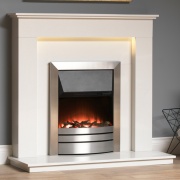 A compact fireplace suite finished in Arctic White micro-marble featuring recessed spot-lights under the mantel ideal for combining with either a gas fire or electric fire. The Gallery Hutton will appeal to those with limited space who prefer simple, clean lines and modern styling.
£449.00£559.00
---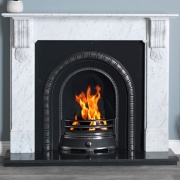 Guaranteed to add opulence to your home! The imposing Gallery Kingston 56" mantel is crafted in natural Cararra Marble with every mantel being unique in shade and veining. A popular fire surround for the discerning homeowner and offered here with the optional Henley decorative cast insert.
£899.00£1,129.00