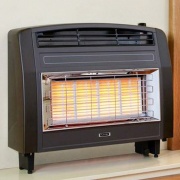 Suitable for hearth or wall mounting, the Flavel Strata is a outset gas fire with an incredible 5.2kW maximum heat output from its radiant bars. Operated by a easy to turn Electronic Top Control and available in a choice of brown, black or cream finish.
£419.00£535.00
---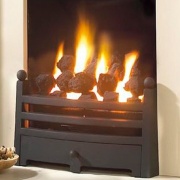 Offering a fantastic solution to bring an existing, open fire grate to life. The Flavel Waverley is a inset tapered gas tray that is designed to fit into a standard 16" fire back and will provide a beautiful ambient effect from it's realistic coal fuel bed.
£269.00£339.00
---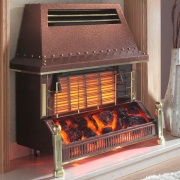 With a electrically illuminated coal fuel effect located at the base of the Flavel Welcome outset gas fire, you can enjoy a ambient glow even when the gas fire is not being used. When heat is needed, the Flavel Welcome offers up to 4.5kW of radiant and convected heat.
£529.00£679.00
---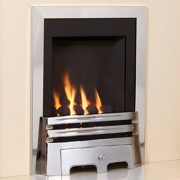 The clean lines of the Flavel Windsor Classic gas fire mean it will blend beautifully into any interior décor. Also, as a slimline gas fire, it will also fit into any flue type including Class 2 Pre-Cast flues.
£309.00£395.00
---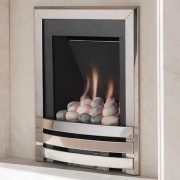 The Flavel Windsor Contemporary is a stylish, modern looking gas fire that is offered with a large selection of fascia colours and fuel effects. With a slimline depth, it's suitable for all flue types - especially shallow Pre-Cast flues.
£299.00£385.00
---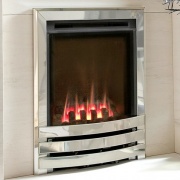 The glass-fronted, Flavel Windsor Contemporary HE is a highly efficient gas fire with a modern one-piece fascia available in either polished silver or brass finish. With a slimline fuel bed depth of 125mm it will easily fit into virtually any chimney or flue including Class 2 Pre-Cast.
£459.00£589.00
---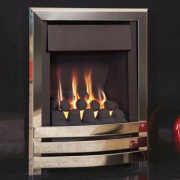 The Flavel Windsor Contemporary Plus is one of the warmest gas fires available that has been specifically designed to be fitted into a Class 2 Pre-Cast flue. Whilst this model will also fit any other flue type, its slimline 120mm depth make it best suited to shallow flues.
£399.00£515.00
---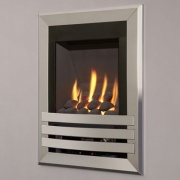 The new, wall-mounted Flavel Windsor Contemporary gas fire offers a simple solution to add a modern, hole-in-the-wall style feature in your home at a superb price. A sleek, silver 4 sided fascia frame and your choice of coal or pebble fuel effect.
£459.00£589.00
---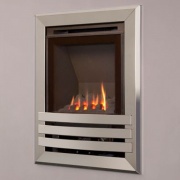 Anyone looking for a simple way to add a stylish, highly efficient centrepiece which is suitable for all flue types, look no further than the new Flavel Windsor HE wall-mounted gas fire. Slimline inset dimensions mean it is especially popular for shallow, Pre-Cast flues in modern properties.
£579.00£745.00
---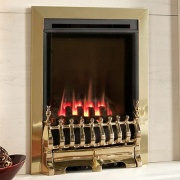 Supplied with the popular Blenheim fret and matching trim in a choice of brass or silver finish, the Flavel Windsor Traditional HE gas fire is well suited to a variety of fireplace styles. This living flame, inset gas fire boasts an incredible energy efficiency of 81.3%!
£459.00£589.00
---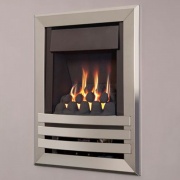 From Flavel's exclusive range of 'Plus' fires which offer improved efficiency compared to standard open-fronted gas fires, the Windsor Plus wall-mounted model will provide a stylish solution without compromising on performance. Impressive heat output of up to 4.0kW.
£519.00£669.00
---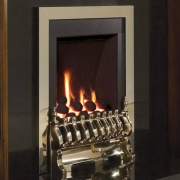 Ideal to combine within a classical fireplace surround, the Flavel Windsor Traditional will offer a beautiful, ambient feature in your home with its open, living flames. It's slimline inset depth make it a perfect choice to shallower flues including Class 2 Pre-Cast.
£299.00£375.00
---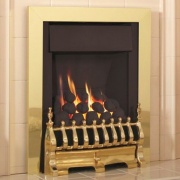 One of the most efficient, open-fronted gas fires available, the Flavel Windsor Traditional Plus also boasts a impressive heat output of 4.0kW making it ideal for most room sizes. All this from a slimline fuel bed ideal for all flue types.
£389.00£495.00





---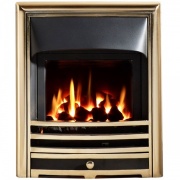 With three versions to choose from with an option suitable for all flue types, the Gallery Aurora provides a superb solution to modern heating needs without compromising on style. High quality cast fascia in antique brass, silver or black and conveniently operated by a slide control lever.
£549.00£660.00