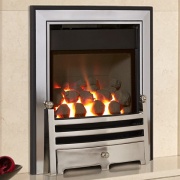 Giving optimum heating performance combined with cost cutting efficiency, the Kinder Oasis HE is the premium model in the range. This full-depth, glass-fronted gas fire provides up to 4kW of radiant and convected heat output with an amazing energy efficiency rating of 86.3%!
£719.00£899.00
---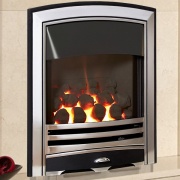 Kinder's premium, high efficiency inset gas fire is offered here with a selection of classy one-piece fascia frames as an alternative to the standard trim & fret combination. The glass-fronted Oasis HE boasts superb performance and it offered with manual, slide or remote control options.
£719.00£899.00
---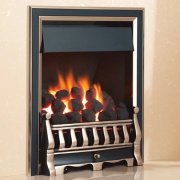 The Kinder Oasis Plus made its debut as the first, full-depth open-fronted high efficiency gas fire by Kinder with an incredible 4.1kW heat output! Realistic, open living flames with glowing coals and a selection of beautiful trims and frets make this model a popular choice for any interior style.
£609.00£759.00
---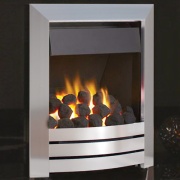 Highly regarded and boasting excellent performance and improved energy efficiency compared to standard open-fronted models, the Kinder Oasis 'Plus' is offered here with a choice of several one-piece fascia frames which will transform your living room giving warmth and ambience.
£609.00£759.00
---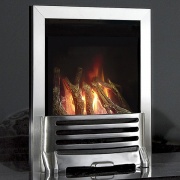 With amazing heating performance and incredible efficiency, the Kinder Revolution is a popular model for homes without a chimney or flue. This glass-fronted, balanced flue gas fire is available in manual, remote control or a fully automatic Easy Flame control option.
£1,049.00£1,319.00
---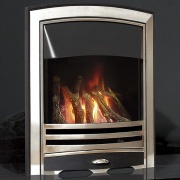 Adding a contemporary look to the Kinder Revolution balanced flue gas fire, this fascia model is offered with a choice fascia frames designed to create a simple, yet highly effective look to this innovative fire. This no chimney model will compliment any modern inspired fireplace.
£1,049.00£1,319.00
---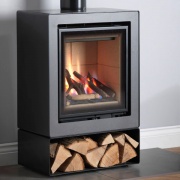 A stylish, freestanding gas stove from Legend Fires that mimics the charm, character and warmth of a real fire. The Ethos 400 is available with a choice of four interior linings which accentuate the flickering flames and authentic log effect fuel bed. A stunning, contemporary style statement!
£1,575.00£1,725.00
---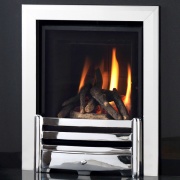 The Ethos 400 Inset is state-of-the-art, conventional flue gas fire designed to be combined within a fireplace to create a stunning feature with high efficiency and superb performance to match its stunning looks. The fire can be enhanced by a choice of trim & fret options from the Legend Fire range.
£1,275.00£1,375.00
---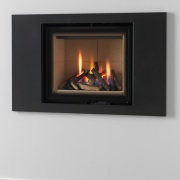 High efficiency and superb heating performance incorporated within a stylish and versatile gas fire. The Legend Ethos 550 is a glass-fronted appliance that can be fitted with various trims or fascia frame as a 'hole-in-the-wall' style fireplace or combined within a suitable fireplace surround without a trim.
£1,380.00£1,495.00
---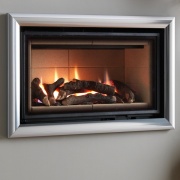 A new, high efficiency gas fireplace for 2014 from Legend Fires! The stunning Ethos Landscape wall-mounted gas fire offers the ultimate in contemporary styling combined with the very latest technology. Staggering 87% efficiency, fabulous heat output of 4.7kW and a range of designer trim options.
£1,590.00£1,695.00
---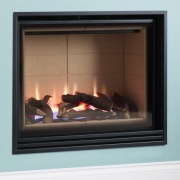 Giving you the option to fit raised up as a 'hole-in-the-wall' gas fireplace or hearth mounted into a suitable custom fireplace, the fabulous Legend Ethos 750 Portrait gas fire will create a bold feature in both classical or contemporary settings. Powerful heat output and amazing efficiency.
£1,690.00£1,795.00
---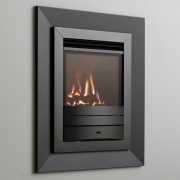 One of the few, wall-mounted balanced flue gas fires with a rear exit balanced flue kit allowing installation on to a standard, flat external cavity wall. The Legend Evora HE 4 Sided balanced flue gas fire combines stunning looks with state-of-the-art technology for homes with no chimney or flue.
£1,075.00£1,190.00
---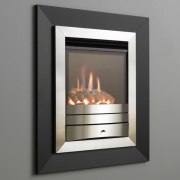 A contemporary styled, 'hole-in-the-wall' gas fireplace that features the popular Legend Evora HE gas fire combined with a sleek, 4 sided fascia frame. This glass-fronted gas fire offers excellent efficiency and impressive heating performance.
£825.00£930.00
---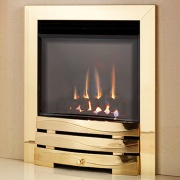 The Legend Evora Balanced Flue Gas Fire combines the latest technology with a stylish range of trims and frets to create a high efficient 'no chimney' gas ideal for new properties or older homes where the chimney has been removed. Balanced flue kit included for installation on an external wall.
£980.00£1,085.00