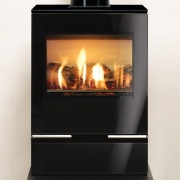 Featuring a newly enhanced fuel bed and highly realistic flame effect, the strikingly contemporary Gazco Riva Vision Midi balanced flue offers an excellent solution to add a much needed focal point into properties without a chimney or flue. Highly efficient gas stove available which remote control.
£1,839.00£2,309.00
---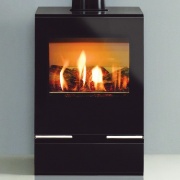 The Gazco Riva Vision Midi conventional flue gas stove is supplied with manual control as standard with the option to upgrade to one of Gazco's Command Remote Control systems. Ultra-modern, black glass finish with realistic log effect fuel bed producing up to 3.41kW heat output.
£1,739.00£2,175.00
---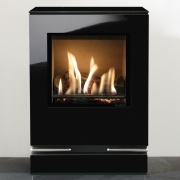 A small, compact balanced flue gas stove finished in contemporary black glass with a sublime, log-effect fuel bed. The Gazco Riva Vision Small balanced flue offers home owners without a chimney or flue the opportunity to add a striking, modern stove with optional bench plinths.
£1,739.00£2,175.00
---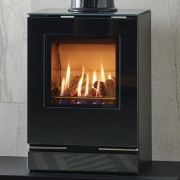 Sporting an eye-catching black glass-fronted door and integral black glass plinth whilst featuring Gazco's latest highly realistic log effect fire. The small, Gazco Riva Vision gas stove is offered with a choice of contemporary stove bench plinths to increase your interior design possibilities.
£1,409.00£1,769.00
---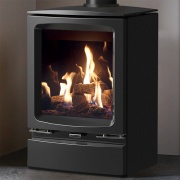 For those looking to create a charming stove feature in their home but doesn't have the necessary chimney or flue, the balance flue version of Gazco's gorgeous Vogue Midi gas stove allows you to combine with a choice of three balanced flue kits which vents the fumes directly outside.
£2,159.00£2,705.00
---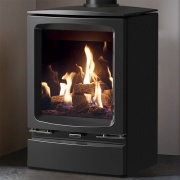 Following on from the hugely popular wood burning model, Gazco have introduced the stunning Vogue Midi in gas for those who prefer the instant control without compromising on the beauty of a real flame. Sleek lines complimented by a authentic log fuel effect and black gloss interior.
£1,959.00£2,449.00
---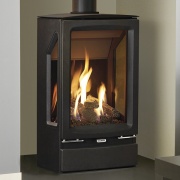 Allowing those living in properties without a chimney or flue to benefit from the warmth, efficiency and style that a Gazco gas stove offers. The Vogue Midi T balanced flue is a contemporary gas stove with taller proportions than the standard model plus windows on wither side for a greater flame view.
£2,369.00£2,959.00
---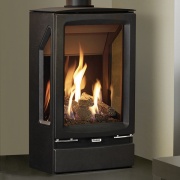 Based on the standard Vogue Midi but with an increase in the height and additional side windows, the stunning Gazco Vogue Midi T provides the ultimate view of the highly authentic log effect gas fire. Available with two base options and compatible with Gazco's Riva Bench bases.
£2,159.00£2,705.00
---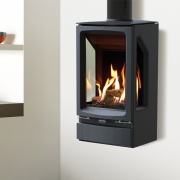 Break away from the norm with this truly stunning, wall-mounted gas stove from Gazco. Designed for fixing raised up on the wall, the Vogue Midi T Wall Mounted model will provide any home with a spectacular centrepiece that boasts superb performance and high efficiency.
£2,479.00£3,099.00
---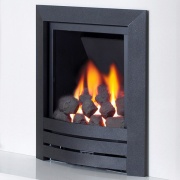 Providing a stunning, finishing touch to any modern fireplace, the sleek Kinder Black magic gas fire is a open-fronted model with a dramatic one-piece fascia in black textured paint finish. The black fascia and coal fuel effect really help to accentuate the dancing, open flames.
£659.00£825.00
---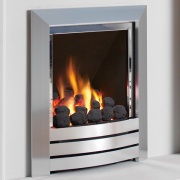 The Camber with its striking looks, clean design lines and highly realistic blazing dancing flames will captivate you on entering the room. Precision manufactured with its deep coal fuel bed, provides an individual combination of aesthetic beauty combined with high quality performance.
£739.00£919.00
---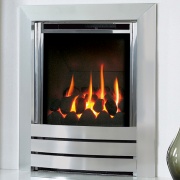 A perfect companion for any contemporary fireplace, the glass-fronted, Kinder Camber HE gas fire combines cutting-edge styling with the very latest technology to create a stunning, designer gas fire that offers low running costs with excellent energy efficiency. Manual or remote control options.
£869.00£1,085.00
---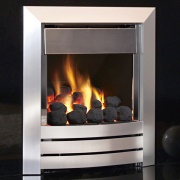 The fabulous Kinder Camber Plus gas fire is certainly a contemporary classic with a wonderfully sleek design that will never go out of fashion. Packed with state-of-the-art technology that produces up to 4.2kW of heat and a net efficiency of 68.3% whilst retaining the ambience of open fronted flames.
£779.00£979.00
---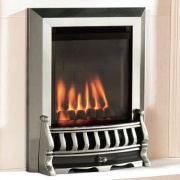 The Kinder Dakota is a inset balanced flue gas fire designed to be combined within a fireplace and is ideal for installation on to a flat, external wall in properties without a chimney or flue. Offered in a choice of brass, polished silver or black with any of Kinder's exclusive frets.
£899.00£1,129.00