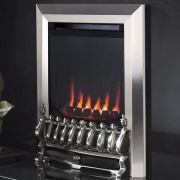 With a impressive efficiency rating of 80%, the Flavel Raglan balanced flue gas fire offers a solution for home-owners who don't have a chimney or flue to enjoy a real, living flame gas fire. The glass-fronted Raglan is designed for installation on a external wall.
Showroom Exclusive
---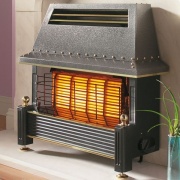 Available in a choice of black or bronze, the Flavel Regent is operated by a convenient electronic side control and boasts a impressive efficiency of 74%. Ideal for most room sizes, the Regent radiant gas fire also produces powerful heating performance of up to 4.5kW.
Showroom Exclusive
---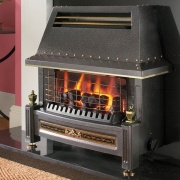 This outset gas fire is equally suited to combine within a fireplace or sat on a hearth on its own. The Flavel Regent LFE incorporated a living flame, coal effect gas burner within a stylish casing that is available in black or bronze finishes.
Showroom Exclusive
---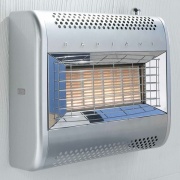 Whilst the Flavel Renaissance gas fire oozes retro charm, there's nothing dated about it's performance! With a immense heat output of 5.2kW and incredible net efficiency of 84%, you can rely on this model to keep you warm and cosy whilst enjoying low running costs.
Showroom Exclusive
---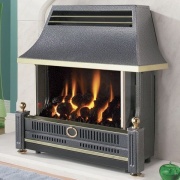 Allowing for easy operation of the fire, the Flavel Renoir outset gas fire features a battery operated, electronic ignition side control as standard. Boasting beautiful, flickering flames set behind a triple aspect glass window.
Showroom Exclusive
---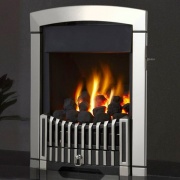 Using the latest gas fire technology to create open-fronted model with improved efficiency and incredible heating performance. The Flavel Rhapsody Plus gas fire is offered in a choice of four finishes to suit all interior styles.
Showroom Exclusive
---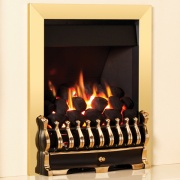 Offering an alternative to a real open fire, the Flavel Richmond boasts a full-depth fuel bed for ultimate realism with a powerful 3.7kW of both radiant and convected heat output. Available in three finishes and various control options.
Showroom Exclusive
---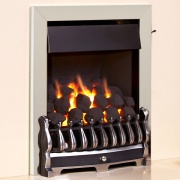 Recognisable by the deeper canopy which produces improved efficiency and helps to give an amazing maximum heat output of 4.1kW, the Flavel Richmond Plus gas fire is a real alternative to a open gas fire. Choose from brass, silver or black finishes.
Showroom Exclusive
---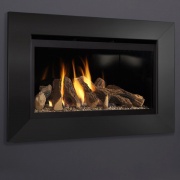 The stunning, glass-fronted Flavel Rocco gas fireplace offers incredible efficiency and heating performance combined within a stylish, wall mounted feature. Choose from a reflective silver or a dramatic black four sided trim which frames this high efficiency gas fire beautifully.
Showroom Exclusive
---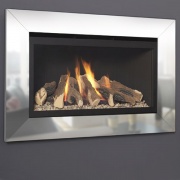 Designed to create an imposing, modern feature in properties which don't have a conventional chimney or flue, the Flavel Rocco balanced flue gas fire will provide a highly efficient heat output of up to 5.5kW and is offered with the choice of two trim colours.
Showroom Exclusive
---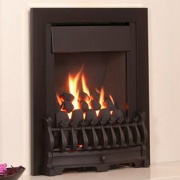 The Flavel Sirling offers one of the highest outputs of any gas fires designed for installation into Pre-Cast flues. This open-fronted, high efficiency model offers 4.0kW maximum heat output and is available in black or brass finish.
Showroom Exclusive
---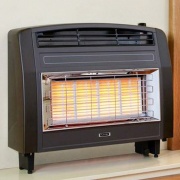 Suitable for hearth or wall mounting, the Flavel Strata is a outset gas fire with an incredible 5.2kW maximum heat output from its radiant bars. Operated by a easy to turn Electronic Top Control and available in a choice of brown, black or cream finish.
Showroom Exclusive
---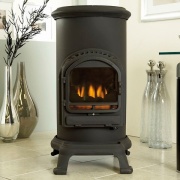 The Flavel Thurcroft is a fully mobile, flueless gas stove that is ideal for rooms that benefit from additional heat and ambience such as living rooms, conservatories etc. This cast iron effect stove has the appearance of a traditional stove.
Showroom Exclusive
---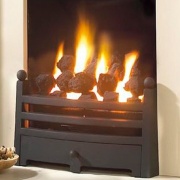 Offering a fantastic solution to bring an existing, open fire grate to life. The Flavel Waverley is a inset tapered gas tray that is designed to fit into a standard 16" fire back and will provide a beautiful ambient effect from it's realistic coal fuel bed.
Showroom Exclusive