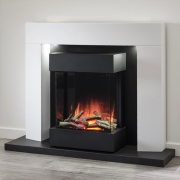 A complete, free-standing fireplace suite which houses the superb Luca 450 contemporary electric stove. Offered in a choice of three subtle colour finishes on the surround which provide a striking contrast to the graphite finish on the back panel and hearth. Cinderwood or Purity Crystal fuel effect.
£1,950.00
---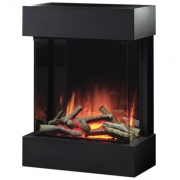 Either sat on it's own or combined within a fireplace, the Flamerite Luca 450 Freestanding electric stove will create a stylish and modern feature. The top and bottom section are finished in classic black finish with a stunning, 3-sided glass-fronted fire with OmniGlide 2 position front glass at the centre.
£1,424.00
---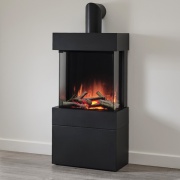 This contemporary styled electric stove from Flamerite features glass on three sides of the fire for a wonderful view of the amazing flame effect. This version of the Flamerite Luca 450 electric stove is sat on a reversible plinth with open log store area or closed as shown on main image.
£1,642.00
---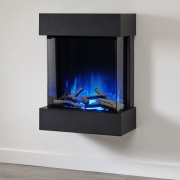 Designed to be hung on a flat wall, the Flamerite Luca Wall Mounted model offers a stylish alternative to a traditional electric stove. A lovely, contemporary feature fire providing a superb view of the authentic flames through 3 sides of glass. Controllable using your phone or tablet.
£1,424.00
---
Enhance any contemporary setting with the gorgeous Flamerite Luma 1200 electric fireplace. Simply hang on a flat wall or combine with the optional floor plinth to provide the room with a stunning, modern centerpiece. Offered with either a standard or 3D fire bowl fuel bed.
£1,157.00
---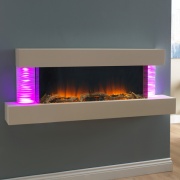 The largest model in the Luma range of wall-hung contemporary fireplaces, the 1360 is offered with Flamerite's original 'Radia' flame or the latest 'Nitra' colour changeable flame. Additional LED down-lights within the top shelf that give you the option of 16 colours to illuminate the decorative side panels.
£1,481.00
---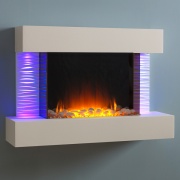 The fabulous Flamerite Luma 900 is guaranteed to create a striking feature within any modern interior. Easy to install, it can simply hang on a flat wall, the Luma 900 is available with a standard Pebble & Glass Beads fuel bed or a stylish 'Fire Bowl' fuel bed.
£1,157.00
---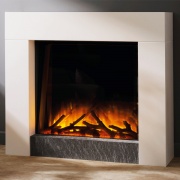 The Flamerite Magellan is a stylish, contemporary complete electric fireplace suite that benefits from freestanding installation allowing you to simply place against any flat wall. The simple yet highly effective surround is offered in three colours whilst the slate effect hearth plinth adds luxury and opulence.
£1,799.00
---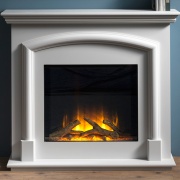 This alluring electric suite features a glorious curve across the chest which extends down each side and frames the glass-fronted electric fire beautifully. Offered in smooth or textured finish and with 3 stylish paint colours, the Manhattan will appeal to both classical and contemporary tastes.
£1,541.00
---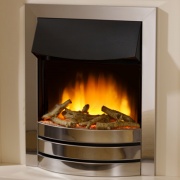 For anyone looking to add a modern fire to their fireplace which boasts a lovely, authentic flame effect, look no further than the Flamerite Mariner. Supplied with a contemporary silver fascia frame choice of fuel effects, you can enjoy the flames on their own and up to 2kW of heat when needed.
£524.00
---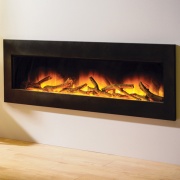 Incorporating a cleverly concealed heater capable of providing up to 1500W of convected heat, the OmniGlide 1300 not only offers an astonishing feature but will offer warmth whenever needed. A panoramic expanse of flickering, LED illuminated flames dance over an authentic Cinderwood fuel bed.
£1,908.00
---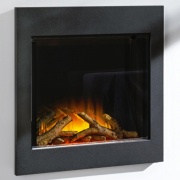 The OmniGlide 600 is a stylish inset electric fire designed for wall-mounting. Featuring Flamerite's unique 'OmniGlide' 2 position front glass panel which allows you to tilt the glass back giving the LED flames even more realism. Available frame-less or with either a dedicated silver or brass trim.
£1,110.00
---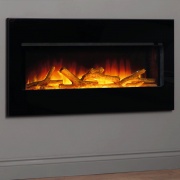 A wide, landscape 'hole-in-the-wall' style electric fire benefiting from Flamerite's innovative flame technology. The OmniGlide 900 is offered with a choice of four attractive fascia finishes plus two fuel effects and features the OmniGlide 2 position glass panel which accentuates the authentic effect.
£1,259.00
---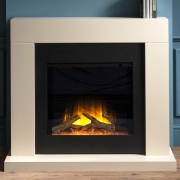 Boasting simple installation with no chimney or flue needed. The Flamerite Payton incorporates a highly advanced electric fire using LED illumination and OmniGlide glass front panel to produce a mesmerising flame picture. Smooth or textured paint finish in a choice of three colours.
£1,429.00