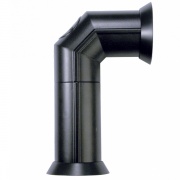 Designed for use with most of their electric stoves, the Dimplex Stove Pipe Kit add realism whilst offering easy installation through 'slot together' construction. Finished in black to match the stove, the stove pipe kit can be altered to two different height/depth options.

£55.00
---
Transform your home with the spectacular Dimplex Sunningdale Opti-V electric stove.The Sunningdale offers a virtual fireplace experience like no other with ultra-realistic 3 dimensional flames flickering amongst the LED logs, instant heat and the sound of crackling logs.
£1,295.00£1,600.00
---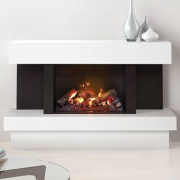 With its fresh monochromatic styling and bold, crisp lines, this complete suite creates the ultimate statement fireplace in any room. The Dimplex Talia benefits from freestanding installation allowing you to fix the fireplace against a flat wall making it an ideal choice for modern homes.
£1,299.00£1,500.00
---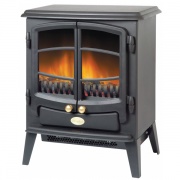 The Dimplex Tango is a traditionally designed, cast-iron effect electric stove with the unique Optiflame
®
coal effect with real coals. Simply plug in and enjoy the realistic effect on its own plus there's a 2kW fan heater within the stove for colder evenings.
£229.00£280.00
---
The Torridon is an undoubtedly stylish electric fire finished in contemporary chrome effect, further enhanced by its charming cast iron fret. For the first time, a 2D effect is given 3D depth, Optiflame 3D creates the illusion of seeing through the flames to the back of the fire.
£419.00£495.00
---
The Willowbrook is a medium-sized model which brings a modern twist to a classic stove design. Featuring the innovative Opti-Myst flame and smoke effect, the contemporary styling of the open window and chrome effect handle are offset by the traditional black cast-iron effect housing.
£449.00£550.00
---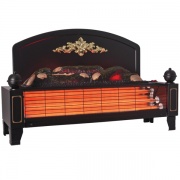 Offering up to 1.2kW of heat from a radiant bar heater rather than the common fan heater, the Dimplex Yeominster is ideal for anyone looking for a traditionally styled electric fire that can be fitted into virtually any room in your home.
£149.00£160.00
---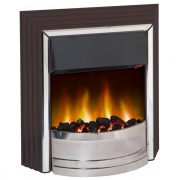 Supplied with both coal and white stones fuel effects, the Dimplex Zamora offers a simple solution to add instant warmth and ambience into virtually any room in your home. Completely free-standing, simply plug in to enjoy the flame effect and 2kW heater.
£249.00£320.00