Incorporating a handy log storage cupboard at the base of the stove, the Dovre Bold 400 will appeal to those looking for a wood burner which combines cutting-edge European styling and state-of-the-art technology. Offered in a choice of matt black or white / grey gloss enamel finishes.
Showroom Exclusive
---
The Sense 103 is wonderful addition to the growing collection of contemporary cast iron wood burning stoves from Dovre. With a subtly curved detail, highly distinctive legs and additional side windows this ultra-slim wood burning stove will blend seamlessly into any interior.
Showroom Exclusive
---
The Dovre Sense 113 wood burning stove has the signature ultra-contemporary styling, slim proportions and subtle curves of the Sense range, but features shorter legs that make it perfectly suitable height for a wide range of free standing and inglenook installations.

Showroom Exclusive
---
Add some retro charm in your home with the Dovre Vintage 35 wood burning stove. The distinctive design echoes the style of appliances for the '60s and '70s whilst being packed with the latest wood burning technology such as Cleanburn and Airwash.
Showroom Exclusive
---
The largest model in the Dovre Vintage range offering a powerful 9kW maximum heat output combined with excellent high efficiency of up to 84%. The Dovre Vintage 50 wood burning stove can be used to burn wood in smokeless areas using the optional DEFRA kit.
Showroom Exclusive
---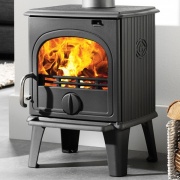 Designed for burning wood or approved solid fuels, the exceptional DRU 44 MF wood burning stove is constructed using the finest cast iron with intricate side detailing and a beautiful, arched viewing window. Nominal heat output of 4.9kW so an air-vent is not normally required.
Showroom Exclusive
£945.00

---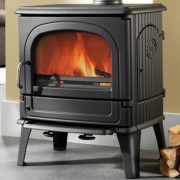 Designed to resist Scandinavian winters, the DRU 64 is offered as a 'Clean Burning' dedicated wood burner or if you also require the option to burn solid fuels, the 'MF' version offers multi-fuel capability. Robust, cast iron construction capable of keeping you warm during the coldest winters.
Showroom Exclusive
£1,680.00

---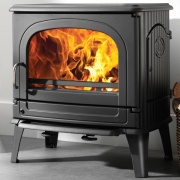 For the ultimate in heating performance, the DRU 78 stove is a rugged powerhouse constructed using premium cast iron and designed to withstand the coldest of Scandinavian winters. Offered as a 'Clean Burning' dedicated wood burner or a multi-fuel model with the ability to also burn solid fuels.
Showroom Exclusive
£1,850.00

---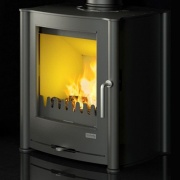 The first dedicated multi-fuel stove from Firebelly giving you the ability to burn either logs or solid fuels. The FB Eco has an output up to 5kW so additional ventilation is not normally needed. It also meets DEFRA requirements allowing you to burn wood or smokeless fuels anywhere in UK.
Showroom Exclusive
---
Finished in a gorgeous, gloss enamel Warm White, the Gallery Classic Eco will brighten up any interior - even when it's not in use! Packed with innovative feature, this stove can burn either wood or solid fuels and benefits from being both DEFRA approved and EcoDesign compliant.
Showroom Exclusive
---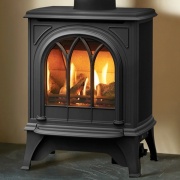 For smaller room and fireplace openings, the Gazco Huntingdon 20 balanced flue gas stove will add a warming atmosphere into homes that do not feature a chimney or flue. Providing real flame ambience which is instantly controlled either using the manual controls or optional remote systems.
Showroom Exclusive
---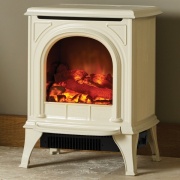 A new model from Gazco, the Huntingdon 20 electric stove is brought alive by the same 'VeriFlame™' technology than its larger counterparts giving you instant ambience for almost any room in your home. Neat and compact with hand painted logs and remote control operation for ease of use.
Showroom Exclusive
---
Designed specifically to fit well into British fireplace openings, the petite Gazco Huntingdon 20 gas stove is ideal for those looking to brighten up their living space. Instant control of the dancing flames either by using the standard manual control or with one of Gazco's remote control units.
Showroom Exclusive
---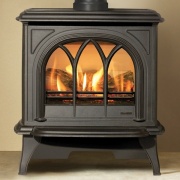 This authentic, cast iron balanced flue gas stove combines refined styling with efficient heating technology. The Gazco Huntingdon 30 balanced flue gas stove is offered in a wide selection of finishes with a highly realistic log flame bed. Plain or Tracery door options.
Showroom Exclusive