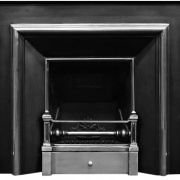 An imposing, square edged cast iron insert that takes inspiration from classical Georgian designs. The Carron Royal is offered in three finishes; black, highlighted or full polished and is available to combine with a variety of fire options to suit your individual requirements.
£475.00
---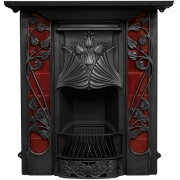 The Toulouse is a spectacular cast iron combination fireplace incorporating unique vine fretwork which compliments the partly visible tiles set behind. A decorative tulip Art Nouveau design is also featured on the canopy and ash drawer. Suitable for combining with a ashpan for solid fuel or gas fire.
£710.00
---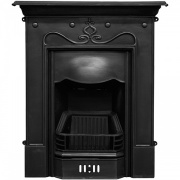 The Tulip is a fairly simple design with a classic, Art Nouveau design being the main feature above the shaped canopy. Available in all matt black or fully polished, this cast iron combination fireplace will create a bold statement and can be used with the optional solid fuel grate or with a gas fire.
£405.00
---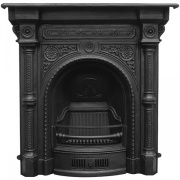 A charming, Victorian style cast iron fireplace which is suitable for combining with a dedicated gas fire or Ashpan Tray to burn wood or coal. The Carron Tweed numerous outstanding features include a chain link pattern that highlights the fireplace's arch, framed majestically with a sunflower detail.
£505.00
---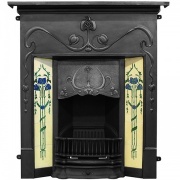 The Carron Valentine is a combination cast iron fireplace in the beautiful Art Nouveau style. Featuring a symmetrical pomegranate design that extends from the centre of the frieze to fill the legs of the framework. The Valentine can be further accentuated with a vast selection of decorative tile designs.
£555.00
---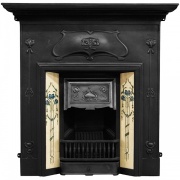 Featuring a straight-stemmed floral design which climbs the length of the cast framing and complimenting embellishments on the chest and canopy, the Carron Verona combination fireplace is especially suited to period properties. Art Nouveau design cast iron fireplace finished in matt black.
£740.00
---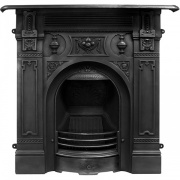 The large version of the Carron Victorian cast iron fireplace is perfect in size, design and stature for placement within a variety of rooms in classical homes. The sunken archway and intricate fruit and urn artwork provides the ideal place to display your choice of gas fire or real, wood & coal burning fire.
£465.00
---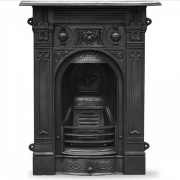 A highly decorative, cast iron combination fireplace offered in a choice of standard matt black or fully polished silver. The Carron Victorian Small is ideally suited to smaller living spaces that would benefit from a stylish feature without being too overpowering. Several fire options can be added.
£360.00