Take a look at our new fires – they're electric!
It may not be everyone's favourite time of the year but here at the North West's premier fire and fireplace showroom we are looking forward to another very busy autumn/winter. So much so in fact, we are now open 7 days a week.
Electric fires remain a popular choice for homeowners thanks to the fact they are competitively priced and need little or no installation. This new season we are delighted to see British fire manufacturer Gazco has make some handy improvements to some of their – and our – most popular collections.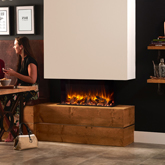 Gazco Skope 70W Electric Fire
Contemporary Homes
If you like the look of an inset fire then go to Gazco Skope to see the lovely Skope collection. These fires promise to deliver a hint of drama to any contemporary room set and are available in a range of sizes. From the smallest 85R to the largest 195R, Skope fires boast incredible flame effects and visuals to suit your home and mood.
For the really bold, let us introduce the Radiance collection. These fires are available as inset or wall mounted models and have to be seen to be believed. Offering the latest in state of the art fire design you will be sure of creating a true centerpiece. Check out the 195R which offers an LED flame effect nearly 2 metres wide!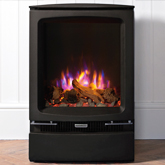 Gazco Vogue Midi Electric Stove
Classic homes
We all love a stove but many don't love the hard work that comes with it. Gazco has a smashing collection of electric stoves and their name, Vogue, really sums up the range. They are truly stylish and their good looks will never go out of style.
New for the season is the Electric Vogue Midi – so captivating you won't be able to take your eyes off the 3D flame effects. The Midi T version even lets you stock the bottom with logs for an extra touch of realism. We love it as it provides a simple solution to add a stylish, timeless feature to almost any room in your home including main living areas, dining rooms, conservatories and even bedrooms!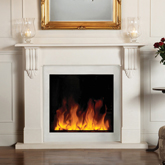 Gazco Riva2 70 Inset Electric Fire
Your Home
Finally, if you are not quite sure how to classify your design style, have a look at the latest designs from the Studio 2 and Riva2 ranges. Gazco has made improvements to these popular fires to ensure their look and efficiency remain modern. The Gazco Studio 2 Glass Electric Fire is great for small spaces and has two adjustable heat settings, while the Verve Electric fire offers DIY installation – but nobody will believe you did it yourself.
Meanwhile for those who like sleek, clean lines something from the Gazco Riva2 range will do the job nicely. The Riva2 670 Evoke Glass offers a choice of eye catching fascia's including cool white glass - it's the perfect frame for this work of art.

If you want your home to be electric, pop into our showroom or give us a call and together we will find the perfect fire for you.