Perfect Purple
If you are keen to keep your finger on the pulse of the latest in interior trends then you should be aware that this year, according to colour experts Pantone, purple is the colour to have at home – although they have called in Ultra Violet.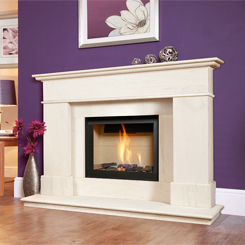 Verine Avignon Suite shown on a purple chimney breast
The colour purple is often associated with royalty, spirituality and wealth but it's not a colour that most people would immediately think of for their home. However, Pantone have usefully provided some guidance on colour palettes that harmonise with it, which include brighter hues, pastels and metallic shades. This mean that whether you decide to go to town with this dramatic colour – or whether you opt for a subtler accent, you should find something to suit your home.
If you enjoy drama than using purple on an accent wall will add power and passion to your room. Repeat the same shade elsewhere in the room on furniture, curtains and other accessories. You need to commit to the drama to get it right and so this is a look for confident interior designers. This darker purple works really well in a bedroom, great for anyone looking to create a romantic boudoir and in a dining room, where it is more elegant than shades of red.
For subtler tones which will still bring your home bang up to date, think lavender, plum or even dark pink. These look nice with fresh whites and will give your room a light, stylish vibe and it is also really calming. Accessorise with artwork or decorative vases to give your home a contemporary feel.
If you do decide to go for a feature wall in any shade of purple, one of the best places to have it is on the same wall as your fireplace. The fire is always the central point of the room and so it makes sense to use your colour there. You can see how well this colour looks behind this stunning Elgin & Hall fireplace. Accents are found on the rug and in the flowers and so it doesn't overpower the room.