Dressing your home for Halloween
Here are our key tips for dressing your home and hearth for Halloween.
Pumpkins are a must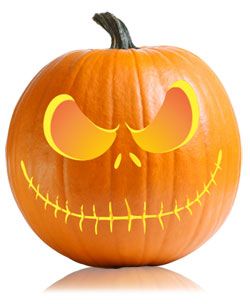 Halloween wouldn't be Halloween without a pumpkin or two. For those people who are good with crafts and nifty with a knife, carve out a real pumpkin. Start by cutting off the top and then with a spoon scoop out the inside. Use a marker to draw the appropriate face and then carefully cut out the design. Use tea lights inside to light it up – for safety purposes we advise using battery operated tea lights which are just as effective.
If you are not convinced you have the skills then buy one of the numerous plastic ones now available in the shops. It's less mess and you can use them year after year.
You can display your pumpkins outside, in a porch, in the window or give it pride of place on the hearth.
Make the fireplace the focal point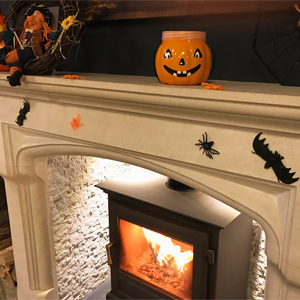 Our Chesney's Beaumont 8 Series Wood Burning Stove is perfect for the Halloween theme
There has been a lot in the press regarding Halloween costumes and fire safety. So, for your Halloween event, turn the fire off completely so that your little witches and wizards can have fun safely.
There is a lot of Halloween paraphernalia available in the shops and so you won't be short of accessories to make your fireplace the focus of your scary theme. You can display mini skulls and bones and lots of mis-matched candles of different shapes and sizes sit well on the fire place and around a hearth – but again if you have young children – opt for the battery-operated ones.
If you have any old wine bottles, just cover the original label with one that says 'poison' – write it or print something using an online design. A candle in the bottle with add ambiance.
If you have a monster face mask, squash it into an old jar and then add some water – it's brilliantly effective for the mad scientist body parts in a lab look!
And of course, you can't go wrong with fairy lights whatever the time of year, so dig out the Christmas lights a bit earlier and drape them around the fire place or put them inside glass vases and jars.
If you have a picture above the fireplace, take it down for the night and replace with some pictures of Halloween images, a skull, a vampire or Bellatrix Lestrange. If you have a mirror, use washable red paint to make bloody hand prints or write a warning to your guests – REDRUM or You're Next will make their blood run cold.
The great thing about Halloween is it can be just as entertaining for adults as it can for the kids – have fun and we'd love to see your pictures!