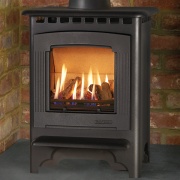 The smallest model in the Gazco Marlborough range, this model is designed to be fitted against a external wall and is supplied with a rear exit balanced flue kit that expels the fumes horizontally through the wall. The Gazco Marlborough Small balanced flue gas stove offers up to 85.1% efficiency.
£1,269.00£1,495.00
---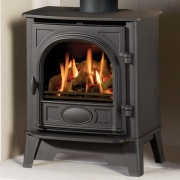 The Gazco Stockton 5 balanced flue gas stove is a popular sized model for average room sizes that do not feature a chimney or flue. Authentic styled stove body manufactured in heavy gauge steel combined with the latest gas fire technology boasting 84.5% efficiency!
£1,299.00£1,539.00
---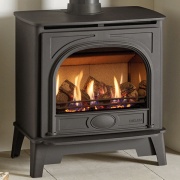 With simple, understated lines and Gazco's latest living flame technology, the Stockton2 Medium balanced flue gas stove will suit a variety of interior styles in properties that do not feature a chimney or flue. Powerful heating performance combined with high efficiency for lower running costs.
£1,639.00£1,929.00
---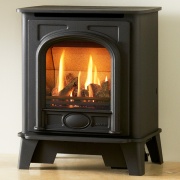 A neat, compact gas stove that is designed for homes without a chimney or flue. The Gazco Stockton2 Small balanced flue gas stove provides the charm and ambience of a real log burning stove combined with a high efficiency gas fire. Rear exit balanced flue kit option only.
£1,269.00£1,495.00
---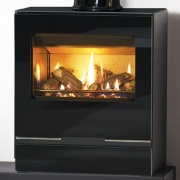 The ultra contemporary Gazco Riva Vision Medium balanced flue gas stove incorporates a highly-realistic log effect fire with a glowing ember feature and an unparalleled flame picture. Sleek and stylish, this 'no chimney' model will provide any modern home a striking, ambient focal point.
£2,069.00£2,439.00
---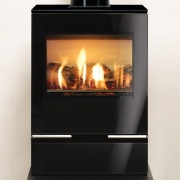 Featuring a newly enhanced fuel bed and highly realistic flame effect, the strikingly contemporary Gazco Riva Vision Midi balanced flue offers an excellent solution to add a much needed focal point into properties without a chimney or flue. Highly efficient gas stove available which remote control.
£1,599.00£1,889.00
---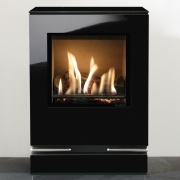 A small, compact balanced flue gas stove finished in contemporary black glass with a sublime, log-effect fuel bed. The Gazco Riva Vision Small balanced flue offers home owners without a chimney or flue the opportunity to add a striking, modern stove with optional bench plinths.
£1,499.00£1,779.00
---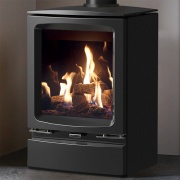 For those looking to create a charming stove feature in their home but doesn't have the necessary chimney or flue, the balance flue version of Gazco's gorgeous Vogue Midi gas stove allows you to combine with a choice of three balanced flue kits which vents the fumes directly outside.
£1,964.00£2,315.00
---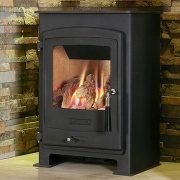 A delightful, stylish gas stove designed for properties with no chimney or flue. The Portway 1 Balanced Flue Gas Stove is supplied with a fully automatic control system and will instantly create a warm and welcoming atmosphere, whilst delivering an impressive 84.2% energy efficiency.
£1,549.00
---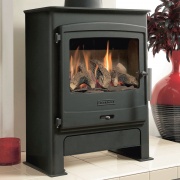 The Portway 2 Contemporary stove is one of the most realistic gas fuelled stoves on the market. Based on the popular styling of the Portway 2 Contemporary stove it is available in a choice of log or coal fuel bed and is operated by a fully automatic remote control system.
£1,439.00