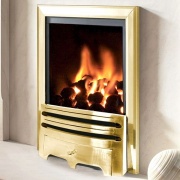 If your home does not feature a chimney or flue but you still want to have the warmth and ambience that a open-fronted gas fire brings, the look no further than the Flavel Kenilworth Contemporary Powerflue gas fire!
---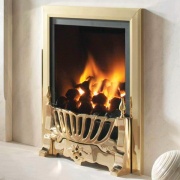 The Flavel Kenilworth Traditional Powerflue will create instant warmth and ambience in properties that don't have a chimney or flue. Enjoy the beauty of a open-fronted gas fire that is supplied with a dedicated electronic fan unit to draw the fumes through a external wall.
---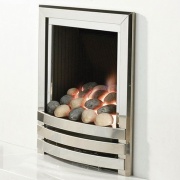 A modern inspired gas fire designed for properties without a flue. The Flavel Linear Powerflue is a open-fronted gas fire that is offered with a choice of coal or pebble fuel effects and complete with a contemporary polished silver fascia that will compliment a wide variety of modern fireplaces.
---
Retaining the beauty and ambience of open flames, the Kinder Black Magic Powerflue gas fire is designed exclusively for homes without a chimney or flue. An electronically driven fan unit fitted on the outside wall draws the fumes produced through a horizontal pipe to the outside.
---
Incorporating a electronically driven fan unit that draws the fumes produced horizontally through an external wall, the Kinder Camber Powerflue is an ideal model for anyone looking for a cutting edge, open-fronted gas fire which has been specifically designed for homes with no chimney or flue.
---
The Kinder Nevada Powerflue offers home-owners living in properties without a chimney or flue the chance to enjoy the warmth and ambience of a open-fronted, living flame gas fire. This slimline model is ideally suited to installation with a fireplace on a flat, exterior wall.